If you enjoy this review and decide to grab the deal, please consider clicking through one of my links before you buy. I earn a small commission at no cost to you, which helps support this site and keep the reviews coming. Thanks!
Over the summer, I had the pleasure of joining 3,000 or so music aficionados in helping Aston develop their new mic, the Aston Element. A few days back, I got my new Aston Element out of the box and checked out all the goodies inside. But how does it sound? In this review, we're going to compare the Aston Element to a large diaphragm condenser at the same price point, the AKG P420, to determine whether it's a good fit for your home studio. Check out the video here, or scroll down to read more details:
---
Looks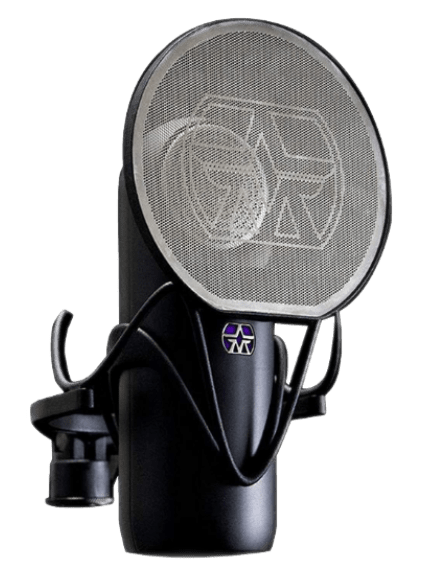 The Aston Element has a sleek, rounded, satin black plastic shell with a silver metallic grille. On the front is a large, purple Aston badge that doubles as a power LED when you apply phantom power. When lit, it has a pleasant but not overpowering glow that fades on and off when you turn on the power.
On the sides are two push-in clips for mounting the element on the included black plastic shockmount, which keeps the Element upright with ease. The included metallic pop shield has a colorful rainbow appearance when viewed at an angle, and doesn't mount, but rather clips onto the front magnetically. Pretty, unique, and sleek in appearance, it's an easy 5 stars for looks.

Features
Let's find out what makes the Aston Element tick:
Microphone Specs
With a cardiod polar pattern, 20Hz-20kHz frequency response, and 132dB SPL at 0.5%THD, the Aston Element can be subbed in where you would normally use any condenser mic. What really sets it apart (besides the capsule, which we'll cover in a second) is its extremely low self-noise. In this regard it beats even some of the lowest-noise mics on the market, like the Rode NT1, and far surpasses mics that cost fifteen times as much. Coupling that with the cardioid pattern of the capsule, and you've got a recipe for great off-axis rejection.
Ridyon Capsule
The Aston Element has a moving coil transducer which Aston has dubbed the Ridyon capsule. If you're familiar with how speakers work, a moving coil transducer is a common property of a loudspeaker, not a microphone. A little-known fact about loudspeakers is that if you correctly hook them up to an input, you can actually use them as a microphone. Aston has created a whole new class of microphone in the Element in that its Ridyon capsule has the consistent low-end performance, noise floor, and off-axis rejection of a dynamic mic, the detail of a condenser, and the pleasant voicing and a touch of the subtle darkness of a ribbon.
Shock Mount and Pop Filter
To say that the shock mount and pop filter are 'included' is an understatement. 'Integrated' is probably closer to the mark. Unlike other Aston mics, it doesn't have the screw-in stand mount on the bottom and must be used with the shockmount, which clips into the sides with minimal force. The pop filter is easily attached or removed via magnetic mount, and can be reversed so you can keep it on the mic for later.

Usability
If you watch the video above, my face says it all. Compared to any mic I've ever used at a similar price point, and nearly any mic I can recall at higher price ranges, the Aston Element is an absolute knockout. The midrange voicing is what struck me the most, which I suppose is why they had over 3,000 producers, engineers, and audiophiles help them fine-tune the voicing by comparing it to other mics side by side, including far more expensive mics from Neumann, AKG, and other brands.
In my testing it outperformed my AKG P420, a large diaphram condenser that is available at the same price, in every way. That says a lot for me, since the P420 isn't something I happened upon by chance, but instead was a purchase I made after testing literally dozens of budget condensers at my local music shops. The Element is great on vocals and acoustic guitars, and though I didn't test it on drum overheads I would imagine it being a solid choice for that as well. Simply put, anywhere that I'm using a condenser now, I'm probably going to use the Element from now on.


Hear it in Action
Here are the samples from my testing. First up is the Aston Element on vocals:
Here is the AKG P420 mounted at a coincident angle for comparison:
Next is an acoustic guitar sample employing the element at the 12th fret:
Here's the AKG during the same test:
Aston Element Review – The Bottom Line
This mic retails for $150, but competes with mics at double to triple the cost – or more. It couldn't be anything but a solid 5 for value based on that alone. Couple that with the integrated shock mount and pop filter, plus Aston's ten-year warranty, and I would challenge anyone to find a better mic for the money.
The one downside, which isn't drastic enough to warrant taking away points for value, is that it doesn't come with a box for storage or transport. It does come with individual carboard boxes for each piece, but you have to completely disassemble the mic to use them, and that means carrying or storing the rather large product box, which isn't ideal for transport. That said, if Aston decided to start selling an optional hard case, I'd buy it in a heartbeat and would still consider this mic an incredible value.

I am so glad that I bought the Aston Element. At this price point, it can't be beat for vocals, acoustic guitars, and more. It easily punches above its weight and has a pleasing tonal character and subtle high-end roll-off that will make this my new go-to vocal mic going forward. In conclusion, I give the Aston Element an enthusiastic five stars and my recommendation for both budget users and gearheads everywhere. Mics come and go, but this one will remain in my collection for life.

---
Mic sound developed through several rounds of public blind listening tests against competitors' mics
Ridyon capsule technology combines the best elements of all 3 existing classes of microphone
Glowing backlit-LED purple badge 48V phantom power indicator
Includes an ingenious, proprietary magnetic pop filter which attaches in a split second to keep plosives and 'esses' at bay
Stylish and highly effective shock mount designed specifically for the Aston Element to eliminate undesirable vibrations