If you enjoy this review and decide to grab the deal, please consider clicking through one of my links before you buy. I earn a small commission at no cost to you, which helps support this site and keep the reviews coming. Thanks!
There's nothing better than when a company solves a problem you didn't even know you had. That's the case with the MV-BT Professional Bluetooth Input Module by Kali Audio, which promises to connect your standard Bluetooth devices like phones, tablets, laptops, etc. to your mixer, interface, or directly to your studio monitors via XLR or TRS connections. There are tons of applications, as you'll see below. Let's take an in-depth look at this distinctive piece of gear.
Looks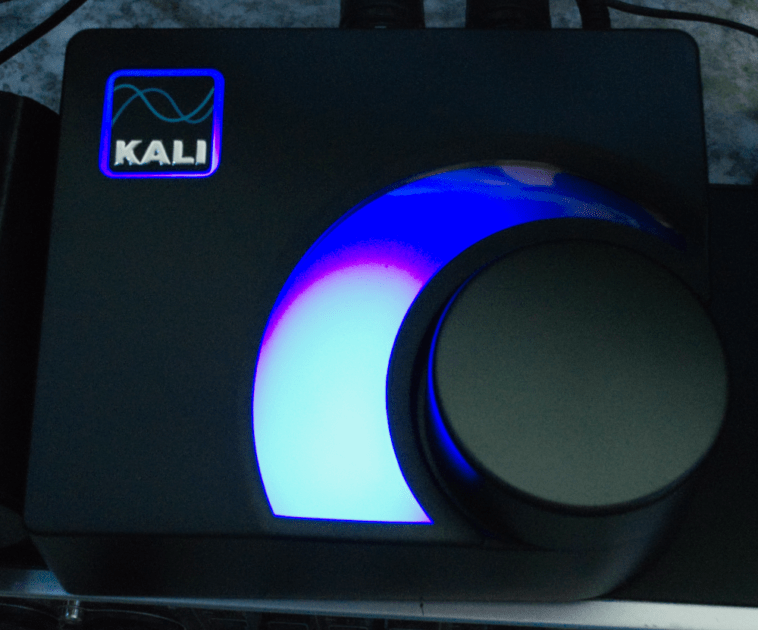 When I got the MV-BT (the MV is short for Mountain View) out of the box and powered on, I was impressed with its sleek and compact look. Its black color fit in nicely on my desk with all the rest of my gear, and its cool blue light surrounding the volume knob made it easy to see and use without being overly gaudy. The light surrounding the Kali logo in the corner had the familiar blink of any Bluetooth device, letting me know it was ready to pair with a single press. As I turned the knob, the lights went up and down accordingly, providing easy at-a-glance feedback on the volume level. So far, so good.

Features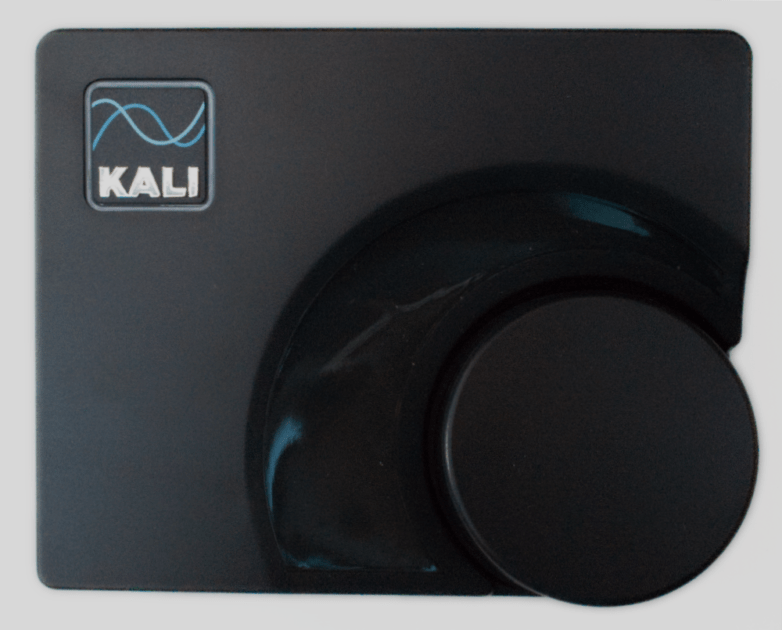 The Kali Audio MV-BT is a very simple unit with one button and one huge knob. The button in the top-left of the unit with the Kali logo controls device pairing, and the big knob on the bottom-right does what big knobs do best – make loud happen. Once the unit is plugged into the mixer, interface, or directly into monitors using the XLR or TRS outputs, audio can be routed into the unit by either pairing with a Bluetooth device or by "passing the AUX" and plugging directly into the unit via 1/8″ (3.5mm) stereo jack. Having both XLR and TRS outputs as well as Bluetooth pairing and an AUX input gives this unit a lot of flexibility in terms of use cases.
One disappointment for me was that the MV-BT doesn't have any kind of pass-through operation for my smaller studio setup. In order to use it, I either needed to run it through two channels on my interface or plug my monitors directly into the unit, which means powering them down, unplugging them from my interface, then plugging them into the MV-BT.
It would be very cool if the MV-BT had balanced inputs as well as balanced outputs so it could be used as a passthrough device. If I had a mixer or interface with tons of inputs, that wouldn't be an issue, but with only 4 channels on my interface, I have to unplug it when I want to use other gear. If I had a single-channel interface the only choices would be to run either left- or right-channel audio through the single input on my interface or to plug directly into the monitors, neither of which is a great option.


Usability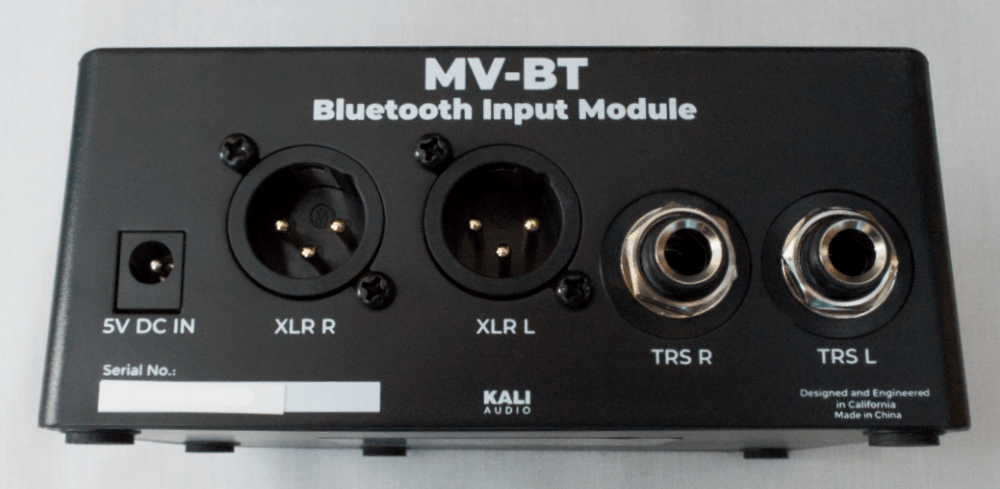 Pairing the Kali Audio MV-BT is a snap. I pressed the Kali button once until the familiar Bluetooth pairing light started blinking, found the device on my phone, tapped on it, and I was off to the races. I loaded up my favorite song for testing speakers – 'Roundabout' by Yes – and hit play.
It took just a few moments of tweaking to set all of the volume levels properly. I turned the Bluetooth volume all the way up on my phone, turned both inputs on my interface all the way down, disengaged the pad, then turned the volume up on the MV-BT until I saw the clip lights flash and backed off slightly. Then I was able to use the monitor volume to control the output.
I was pleasantly surprised; the song sounded just as good playing through my phone into the MV-BT as when I played the same song back on my computer. When plugged into my interface, there was zero noise. Also, the MV-BT allows for multiple connections via Bluetooth, perfect for collaborations or multi-source playback.
If you've read this far and haven't yet had a flood of applications for this unit running through your head, here are a few examples of what the MV-BT could be used for:
(If you can think of additional applications that I missed, send me a note and I'll add them!)
In all of my testing, I only found one caveat with the audio. When used directly with monitors – no interface or mixer in between – there was an audible hiss when Bluetooth was used. Through a process of elimination, I determined that the Bluetooth connection itself was the culprit. When I turned the volume all the way down, the hiss went away, but when I hit pause on my phone it remained. When I switched to using a 1/8″ stereo cable, the hiss disappeared altogether.
To be clear, the hiss was fairly quiet, and not at all noticeable when music was playing, however, any time music wasn't playing I would either have to unpair from Bluetooth or turn the unit all the way down to eliminate the annoying hiss. When used through my interface, there was no noise at all. If I had bought it with the intention of using it directly with monitors, I would be disappointed with the hiss.


Kali Audio MV-BT Review – The Bottom Line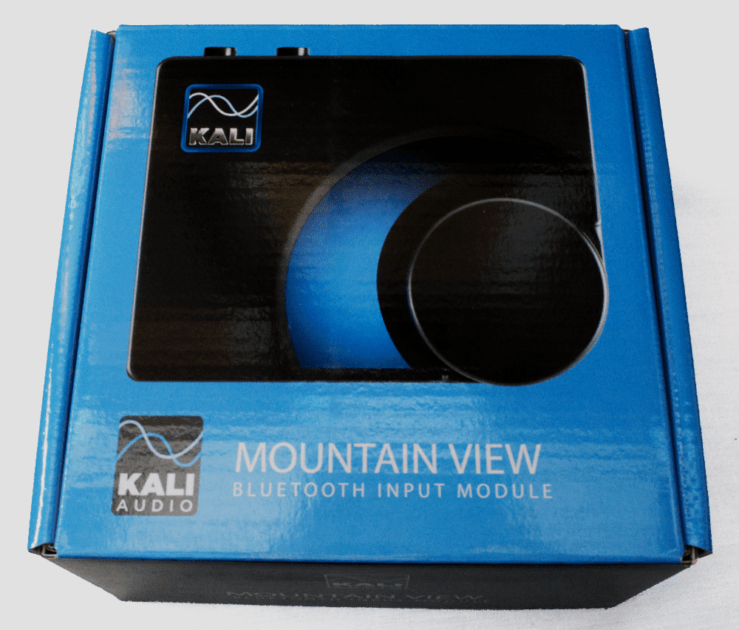 Overall, I was very impressed with the Kali Audio MV-BT. In terms of value, there are a ton of applications for the MV-BT, the sound quality is fantastic, and the price is totally fair for a unit that marries stereo, CD-quality Bluetooth audio connectivity with balanced outputs.

This unit is suitable for both home use and for professional applications like broadcast studios. In summary, I give the Kali Audio MV-BT a total of 4.5 stars and my recommendation for anyone wanting to integrate noise-free Bluetooth connectivity into their professional audio setup.


---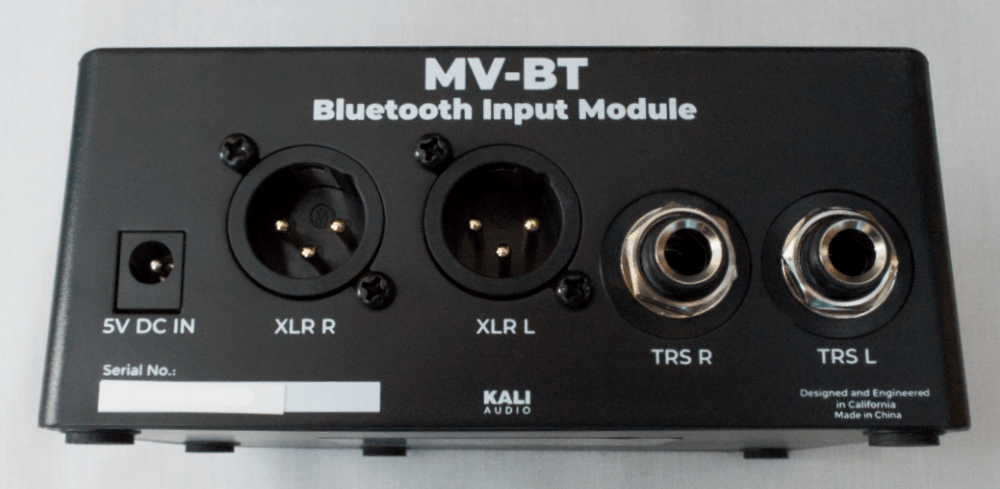 Provides balanced (TRS and XLR) outputs to allow quick and easy Bluetooth connectivity to to professional audio systems.