If you enjoy this review and decide to grab the deal, please consider clicking through one of my links before you buy. I earn a small commission at no cost to you, which helps support this site and keep the reviews coming. Thanks!
If you're not familiar, a 'sphene' is a semi-precious gemstone with yellowish-green hues. Today we're taking a look at a new plugin that Audified is touting as their 'gemsTone solution' for distorted bass tones, Audified Sphene Pro. I've got the bass plugged in and ready to rock, so let's check it out!
Looks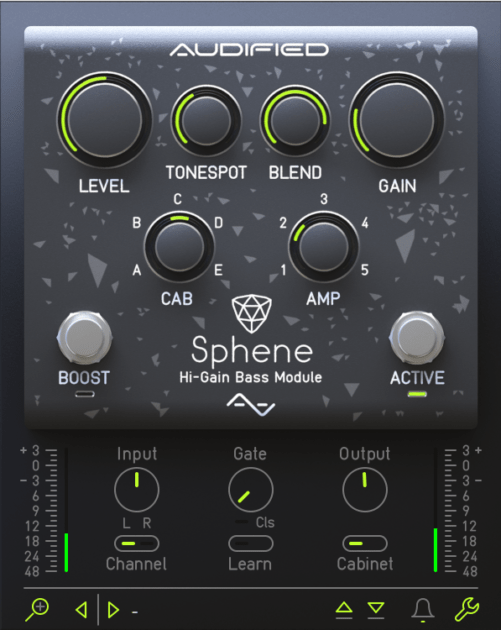 Sphene Pro has a very similar look to several other Audified plugins I've reviewed, including ToneSpot Voice Pro and VocalMint Saturator. Designed to look like a bass pedal, the plugin has a shiny gray, black, and green motif with lights around the knobs and buttons. Lighter gray triangle shapes adorn the dark gray pedal section at the top, while the backstage controls sit on a field of black at the bottom.
Along the top are Level, ToneSpot (EQ), Blend, and Gain knobs, and below that are dials for Cab emulation and Amp model, plus switches for Boost and Active (On/Off). At the bottom are input and output knobs and meters, Channel and Cabinet toggles, Gate with Learn function, preset loader and settings menu. Everything is logically laid out and the interface is clean and attractive.

Features
Sphene Pro has a bunch of features packed into its small interface. Let's take a look at the pedal section and backstage in more detail.
Levels, ToneSpot, Amps, and Cabs
The pedal section at the top of Sphene Pro has your typical Level, Gain and Blend controls for setting volume, gain and mix. The ToneSpot EQ control functions differently than a normal linear tone circuit and is modeled after their ToneSpot plugin series, making it usable throughout the dial. At the lower ToneSpot settings, the 1-2kHz ranges get a boost and the lower frequencies are cut, while on the higher settings the 60-100Hz range gets a kick in the shorts while the highs are shelved.
The Cab and Amp dials offer five choices each for a total of 25 combinations. The Boost switch kicks on a high-gain overdrive circuit in front of the amp, while the Active switch turns the whole plugin on and off.
Input/Output, Gate, Learn and Cabinet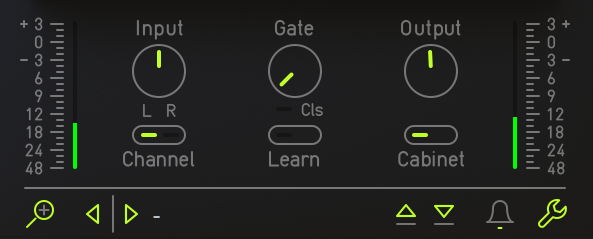 The Input and Output knobs in Sphene Pro's backstage set the volumes coming from and returning to your DAW and each has a separate meter. The Gate acts as an open/close circuit based on the input gain and ranges from -60 to 0dB, and Learn sets the Gate automatically to match the input signal. (Make sure to hit the Learn button while not playing so it can grab the correct noise floor.)
Rounding out the backstage controls are channel settings to determine which input signals are acted upon and a Cabinet toggle for using just the Amp sims with no cabinet impulse responses. The backstage functions independently of the presets, which allows you to dial in the correct gain and gate settings for your mix once, then just use the pedal functions for controlling your overall tone.

Usability
The signal path in Sphene Pro is designed for gritty bass tones, full stop. With five different cab and amp models, there are a ton of different high-gain tones available. The Boost overdrive circuit adds a whole new level of grind to the tones, but when combined with some of the amp and cab combos I found it hard to dial in tones that weren't harsh to my ears with the Boost engaged. I will concede that I'm not a Djent player, so I chalk that up to personal preference, but be aware that this plugin is for nasty, bold, distorted bass tones and little else.
Overall I was pleased playing with the Cab and Amp simulations, which in tandem with the ToneSpot EQ control gave a whole galaxy of different dirty, usable bass tones. As soon as I plugged my bass in and kicked Sphene Pro on, I had that "new amp, who dis" feeling and didn't want to stop playing to write the review. My wife even poked her head in the studio to see what all the commotion was, which is always a good sign.
Because the Gate acts as a pad and not a complete closed gate even when turned all the way up, setting the gate to closely match or exceed the overall input gain creates a very cool "dying battery" effect. This added an interesting flavor to the Boost and Gain options and was fun to play with. Perhaps an unintended feature, playing with the Gate set this way created interestingly raw tones for cool solos and leads.


Hear it in Action
To showcase the versatility of Sphene Pro, I went with two distinctly different high-gain tones that I enjoyed, a lower-gain tone with solid dirt that I loved in tandem with an LFO added to the ToneSpot control for a fun phaser effect, and a dry track for reference. These were all applied to the same short bass sample for easy side-by-side comparison:
Audified Sphene Pro Review – The Bottom Line
In terms of comparative value, Sphene Pro is a unique plugin for which there really isn't a directly-competing product. Sure, there are bass amp sims out there, but none that I found that are designed exclusively for distorted, heavy bass tones like this one. As such, Sphene Pro stands on its own as an amp/cab and distortion emulator with tons of tonal possibilities. It's a perfect complement to many of the big-name amp sim suites, as bass tends to be neglected in most if not all of them and is more of an afterthought than a main feature. If the full price of Pro isn't in your budget at the moment, there is also an LE version that includes one amp and cab combo with all of the other features, which in itself is an incredible value and not to be overlooked.

I had a lot of fun playing with Sphene Pro. The insane amount of dirt paired with the 25 different amp/cab combos and the ToneSpot EQ control gave me a ton of usable tones to play with. I will certainly audition Sphene Pro on all of my heavier tracks in the future and will enjoy having it in my toolkit from now on. If you're looking for a weapon of bass destruction, Sphene Pro will not disappoint. I give Sphene Pro a solid 5 stars and my full recommendation for raw, thumpy bass tones for your next heavy creation.

---
An insane amount of dirt, 25 amp/cab combinations, plus the ToneSpot EQ makes this a great all-in-one solution for distorted bass tones.