If you enjoy this review and decide to grab the deal, please consider clicking through one of my links before you buy. I earn a small commission at no cost to you, which helps support this site and keep the reviews coming. Thanks!
Imagine if you could take the largesse of Hans Zimmer's string sample library (composer of sountracks of such films as Days of Thunder, The Lion King, and Crimson Tide, just to name a few) and drop it into a DAW plugin with simple operation and a bunch of built-in effects. What would you do with that power at your fingertips? UJAM's latest offering, Symphonic Elements STRIIIINGS, promises to do just that. Today we'll take an in-depth look at the controls and capabilities of STRIIIINGS, hear a lush audio sample created with just a few presses of a MIDI keyboard, and decide if this plugin is a good choice for your home studio.
Looks
STRIIIINGS has a dark grey and black background with a figured appearance that mimics the look of a well-luthiered cello. The controls and gauges have a glowing teal or orange-yellow appearance, including the f-holed look of the two string meters. The controls are broken into five sections: the presets, Low Strings, High Strings, Finisher, and the Play Range, which looks similar to a piano roll but is broken out into Phrases, Bass Notes, and Play Range. The Low and High Strings sections have two effects busses each, and the Finisher includes Low/High Crossfade and Ambience controls. STRIIIINGS is neat, clean, visually appealing, and full of easy-to-find controls.

Features
Let's dive into each of the control sections in detail:
Presets
I don't usually talk much about the presets in a plugin review unless they are worth noting. There are nearly 200 presets in STRIIIINGS, which is obviously a lot to choose from. What makes that far more impressive, however, is that each of the presets comes with six performance phrases and four additions, giving you thousands of musical ideas to work with. I played with STRIIIINGS for several hours and just barely scratched the surface of the presets.
Low Strings
The Low strings controls affect the sound of the cellos and double-basses in the string ensemble. There is a power button to toggle the entire section, plus two effects busses for Character and Motion effects, an EQ slider, and a Decay with Link control for matching to the High Strings section. There are thirty different Character effects and dozens of Motion effects to choose from.
High Strings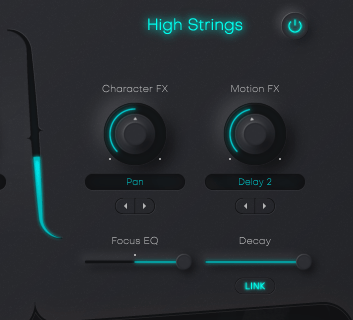 The High Strings section has identical controls to the Low Strings, but affects the violas and violins. The addition of a second on/off toggle, two more effects busses, another EQ, and a linkable Decay provides independent effects control between the bass and treble strings.
Finisher
The Finisher section has four controls: the main Finisher knob, the Highlighter, an Ambience effects buss, and a Crossfade for the High and Low Strings sections. The Finisher knob has over 25 presets to make broad changes in the sound output, while the Highlighter provides a crossfade between a low and high cut and boost. Ambience acts as a master reverb control and comes last in the effects chain.
Play Range

The star of the show is the Play Range, which provides one-press access to phrases and additions across a two-octave range and independent bass note control. STRIIIINGS maps the pitch and mod wheels on your MIDI keyboard to a high/low crossfade and a crescendo effect for varying the play style from pianissimo to fortissimo. The Style control allows you to choose from the library of phrases and additions, and the key control locks your keyboard to only notes in the selected key. Finally, the Sync control forces STRIIIINGS to wait for the next beat before playing the next note or phrase, assuring perfect timing without tedious MIDI editing.

Usability
From a usability perspective, it's important to understand what STRIIIINGS does and who it is designed for. STRIIIINGS allows for easy, one-touch playback of both simple and complex musical phrases using the Hans Zimmer string library with a large complement of effects and controls for creating lush soundscapes in short order. It is not a tool for composing intricate orchestral pieces from scratch, so advanced symphonic composers would likely be better suited elsewhere. Their mission, according to the manual, is "to let people write and compose with instruments that they don't play by inventing instrument concepts that make them easy to use, without sacrificing the professional result." At this, STRIIIINGS does an amazing job.
I played with STRIIIINGS for hours, and frankly the only thing that I don't like about it is the name. (Yes, I get the joke, but after typing the name a few dozen times to write this review, I'm no longer laughing.) Having independently-controlled effects for each section really allows you to dial in interesting and dramatic sounds. From a sound output perspective, I was the most impressed with the Finisher, which makes popping the track out in your mixes easy. Each preset I auditioned was well-named, sorted into a logical category, and had a unique flavor compared to even its closest neighbors. Most of all, I was able to make orchestral string music with just a few key presses, a usability benefit that simply can't be overstated.

Hear it in Action
I spent quite a few hours with STRIIIINGS, but this short little composition was probably my favorite. I started with the 'ARP Friendly Arps II' preset, threw a little Low Boost on the Low Strings, plus a touch of Delay 2, then on the High Strings I smacked it with about 5% tube saturation for a little pizzazz and a similar touch of Delay 1. The Finisher was set to about 60%. In terms of the overall simplicity, there are a total of 24 MIDI control messages in this entire sample including the hold pedal and all notes off at the end, which is astounding when you hear the results:
UJAM STRIIIINGS Review – The Bottom Line
For what you get in terms of the sound library and effects, the retail price of UJAM's STRIIIINGS is totally fair when compared to other string plugins. Its ease of use and gigantic preset library pushes that value proposition to a whole different level. Though the price of admission is higher than what some novice producers would like to spend, the cinematic experience is well worth the cost, and the ability to add distortion, glitches, and other modern flavors makes this a welcome addition for electronic producers as well.

STRIIIINGS takes the Hans Zimmer string library and packages it into an incredibly easy-to-use plugin with tons of usable presets and a sizeable complement of effects, all within a considerably small footprint. UJAM STRIIIINGS gives far more expensive and intricate string libraries a collective run for their money. If you're looking for an orchestral string virtual instrument plugin for film, TV, commercials, or for adding flavor to tracks in other genres, STRIIIINGS is worth a long look. Adding it all up, STRIIIINGS is an easy five-star rating and recieves my full recommendation for those wanting to add strings to their tracks quickly and easily.


---
The Hans Zimmer string library packaged into an incredibly easy-to-use plugin with tons of usable presets and a considerably small footprint.