If you enjoy this review and decide to grab the deal, please consider clicking through one of my links before you buy. I earn a small commission at no cost to you, which helps support this site and keep the reviews coming. Thanks!
What if amp sims didn't have to consist of complicated routing matrices, but instead a simple, top-down view of a dozen or so effects, each with their own in-depth settings and presets? That's what the folks at Muramasa and United Plugins have just released in their new amp sim called Electrum. I took a look at Electrum and made a demo video using the different settings, which you can check out here, then scroll down for an even more in-depth review.
---
Looks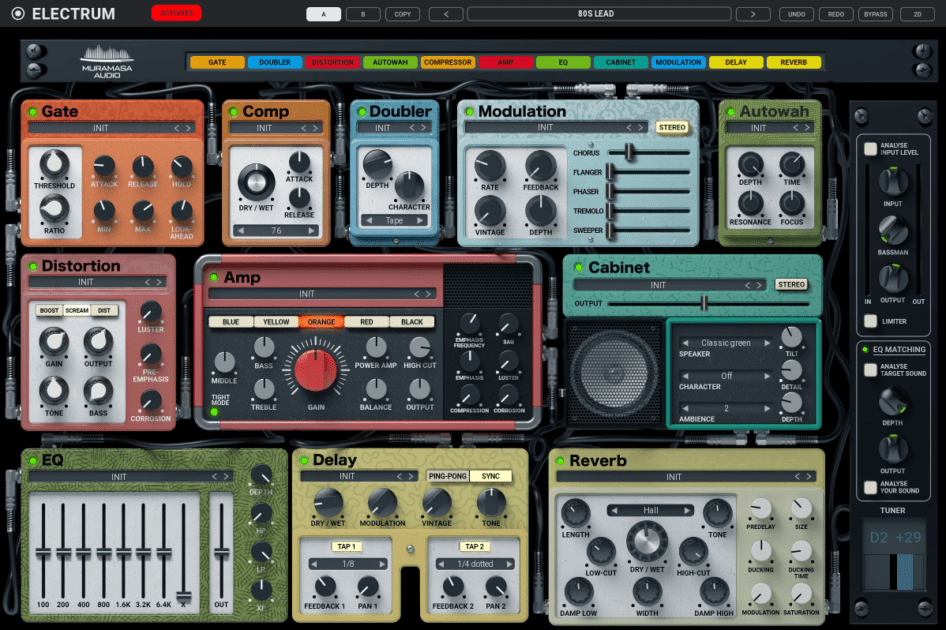 Electrum is very much a what-you-see-is-what-you-get plugin. Eleven brightly-colored stop boxes greet you when you open Electrum, each labeled and neatly wired. On the right-hand side is an input/output control and limiter with built-in octaver, as well as an EQ matching module and a nifty polytuner. Each of the individual stomps has its own preset loader and far more knobs than you'd see in their real-world counterparts to help dial in perfect settings and save for later. WYSIWYG and well laid-out puts Electrum off to a good start with 5 stars in the looks department.

Features
Gearheads will love the sheer number of knobs and sliders in Electrum. There are far too many seetings to go over each one individually, so let's take a high-level look at all the main features:
Gate, Compressor, Doubler, Modulation, and Autowah

The first five effects boxes in the top row include a Gate, Compressor, Doubler, Modulation, and Autowah. The Gate employs a threshold and ratio to help cut out unwanted noise between riffs, with lots of fine-tuning settings like attack and release. The Comp has three main models, including an 1176, VariMu, and Distressor, plus combinations of the above. The Doubler is a stereo widener with depth and character, and has settings for Tape, Spectral, and more. The Modulation stomp has tons of tones, including a chorus, flanger, phaser, tremolo, and sweeper, each with their own dry/wet slider. Finally, the Autowah has depth, time, resonance and focus controls to add a hint or a blast of wah depending on what you're looking for.
Distortion, Amp, and Cabinet

The Distortion box has three main settings: Boost, Scream, and Dist, with gain, output, tone, bass, and more. The Amp has five main models named Blue, Yellow, Orange, Red, and Black, with higher gain as you move from left to right. (How much more black could this be? And the answer is: none. None more black.) With more control than any other box, the Amp control includes an EQ with Tight Mode switch, power amp and output, sag, emphasis, luster, compression, and corrosion. And let's not forget the big red Gain knob right in the middle. Finally, the Cabinet emulation has 16 different speaker models like Heavy American, Classic Green, and Mid 30s, with an added Character control with names like Sparkle, 57, and Nasal. There's also a Tilt, Detail, Ambience, and Depth.
EQ, Delay, and Reverb

The EQ stomp is an 8-band graphic equalizer with high/low-pass, depth, and "X," which is the "magic frequency" according to the manual. The Delay is a dual-tap delay with ping-pong, vintage knob, tone, modulation, and dry/wet. The Reverb box has 18 modes like Spring, Hall, and Multi-tap, and tons of EQ, modulation, and saturation options.
Input/Output, Bassman, EQ Match, and Tuner

Far from a standard input/output section, Muramasa tucked away a very cool Bassman knob which blends in an octaver pedal sound, along with a built-in limiter for high gain applications. The EQ matching is reminiscent of the Guitar Match in BIAS FX 2, but allows you an unlimited number of models by analyzing guitar tones and then matching your tone to the sampled guitar using an algorithmic EQ curve. Last but not least, the polytuner lets you tune single strings or whole chords at once, and is fast and responsive.

Usability
Brass tacks, Electrum has tone for days, and mapping all the effects to my MIDI footcontroller made it an absolute blast to play with. With some prep work, Electrum could easily be used in a live rig. I do wish that the Amp and Cabinet effects had more presets, but as it stands there is plenty of control to dial in your own settings to save. The EQ matching worked like a charm to make my humbuckers sound like singles and vice-versa, and the polytuner is an absolute treasure. The factory presets include some very cool recreations of familiar tones, with names like Bohemian preset, Seattle Champions, and King Edward, plus a bunch of new ideas to get you started. All of this is wrapped in an easy-to-use and very efficient package, meaning that running multiple instances didn't make my aging DAW computer even break a sweat.


Hear it in Action
My test track absolutely loved Electrum. Here's a two samples, with mid-gain "Stoner's Pick" and high-gain "Black Death" presets on both rhythm and lead with just a few minor tweaks:
United Plugins Electrum Review – The Bottom Line
Electrum was released as a paid public beta with an incredibly low price for what you get, but sales don't last forever, so I do need to evaluate the plugin at its full retail price. At that price, it's lacking some features that its direct competitors have, like branded and easily recognizable gear models, manual wah functionality, IR loader, advanced stereo routing options, looper, and more, and I have to knock off two stars for that. But, if you're reading this while the public beta sale is on, Electrum is very likely a "don't think twice" addition to your guitar tone arsenal.
(Note: If the features of Electrum change significantly as it comes out of public beta, I am happy to re-evaluate this score in the future.)

If you're recording guitars in the box, Electrum is a rock-solid option for its bevy of usable tones and easy and lightweight operation. Though a bit on the pricy side at full retail, it's an absolute steal while it's on sale and has already become a welcomed addition to my guitar tone arsenal. I'm excited to see how Electrum progresses from this 1.0 public beta. In conclusion, I give Electrum a solid 4.5 stars at retail and my full recommendation for in-the-box tones for days.

---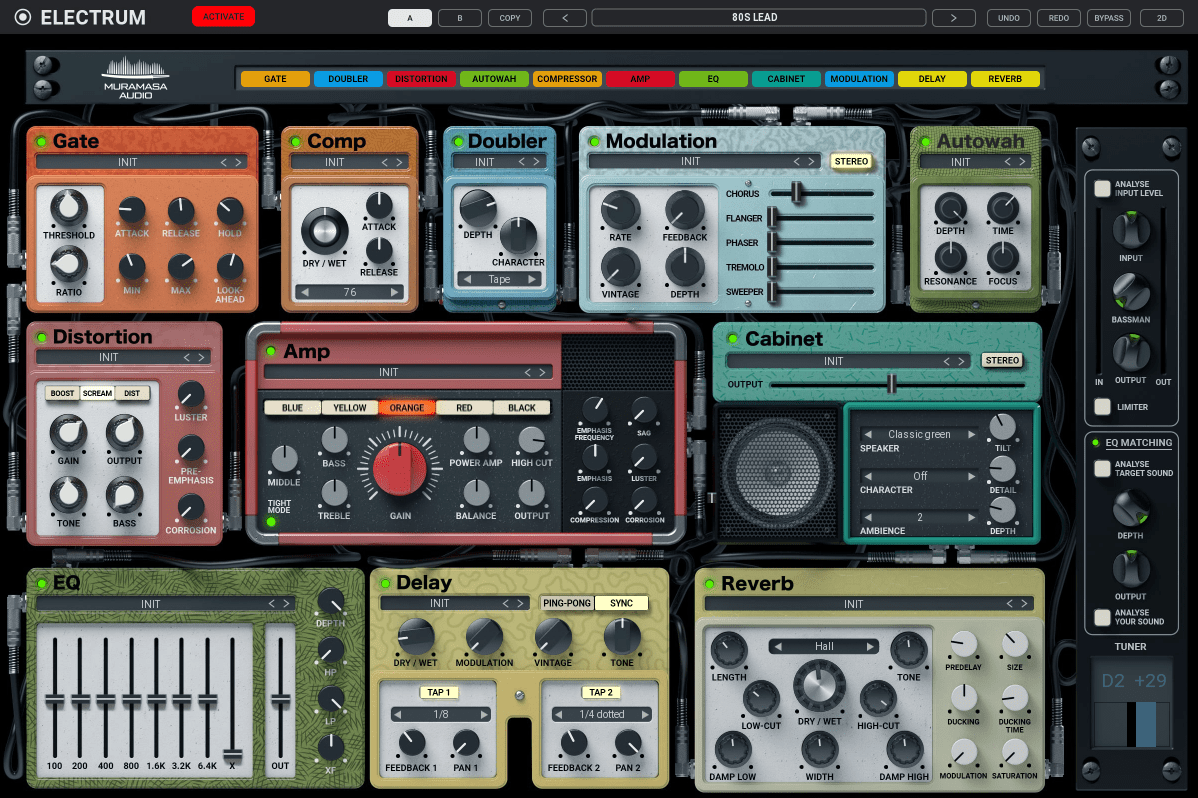 A WYSIWYG guitar amp and effects simulation with a dozen effects and hundreds of presets for dialing in virtually limitless tones.