If you enjoy this review and decide to grab the deal, please consider clicking through one of my links before you buy. I earn a small commission at no cost to you, which helps support this site and keep the reviews coming. Thanks!
One of the most popular plugins for distortion and saturation just got a complete overhaul. Today we'll take a look at FabFilter Saturn 2, highlight some of the changes from the previous version, and hear how it sounds on some tracks. Let's get started.
Looks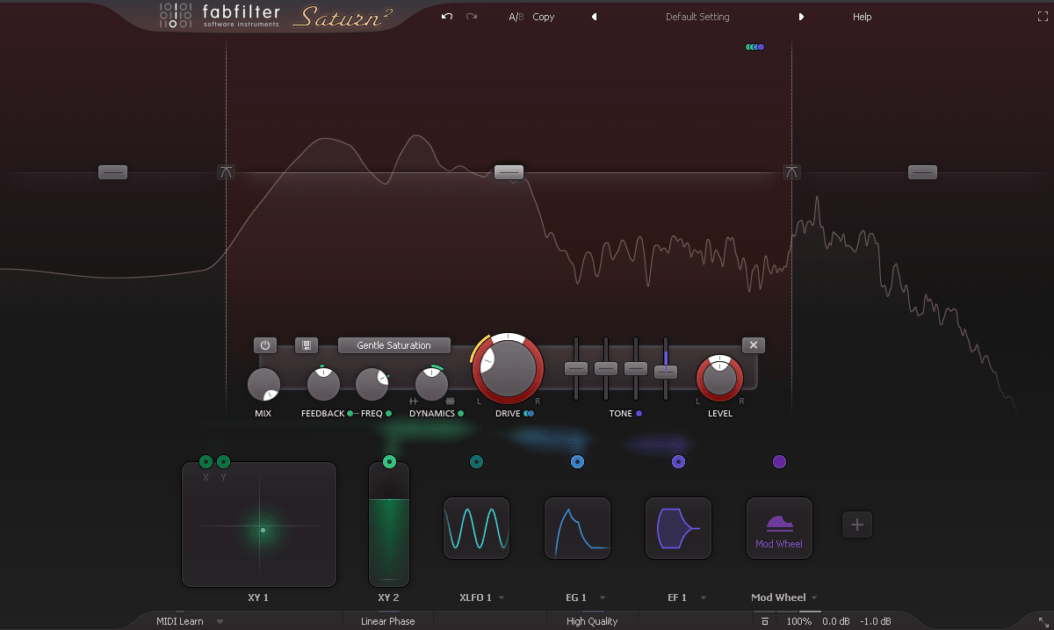 FabFilter Saturn 2 opens to an innocuous-looking bar full of knobs in front of a red-and-charcoal gradient background. Along the top are undo/redo and A/B controls, preset loader, help menu, and fullscreen button. Hovering the mouse below the top bar reveals a plus sign that allows users to add additional bands, set crossovers, and adjust band volumes. The main controls are situated along a floating bar in the middle which shifts from right to left as bands are selected for tweaking. Below the floating bar is another plus sign that allows users to add LFOs, XY and slider controls, envelope controls and MIDI inputs with multiple curve settings. At the bottom are MIDI controls, phase, quality, and output settings. Users of the original Saturn will be instantly familiar with the controls, but will also enjoy the complete visual overhaul the new version has to offer.

Features
What makes Saturn, now in its second major version, a tour de force among saturation/distortion plugins is its breadth of features. Let's walk through the huge array of control options offered.
Presets and Saturation Models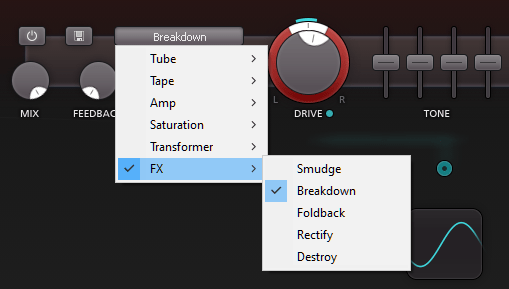 Saturn 2 comes with 77 presets which take advantage of the plugin's 25 different saturation models to create a huge variety of sounds from subtle warmth to sonic annihilation. I was surprised to find several guitar amp models included in the new version as well. Many of the factory presets were created by sound designers like bManic and Stephan Musch, and are labeled as such in the preset menus. The presets are organized into submenus, which include Color, Drive, Guitar, Lo-Fi, and FX. Scrolling through each of the presets, I found tons of useful starting points to spark creativity. The saturation models are similarly organized into submenus including Tube, Tape, Amp, Saturation, Transformer, and FX. From what I could tell, every different way to tickle and torture your sounds is included in this plugin.
Multi-Band Display and Controls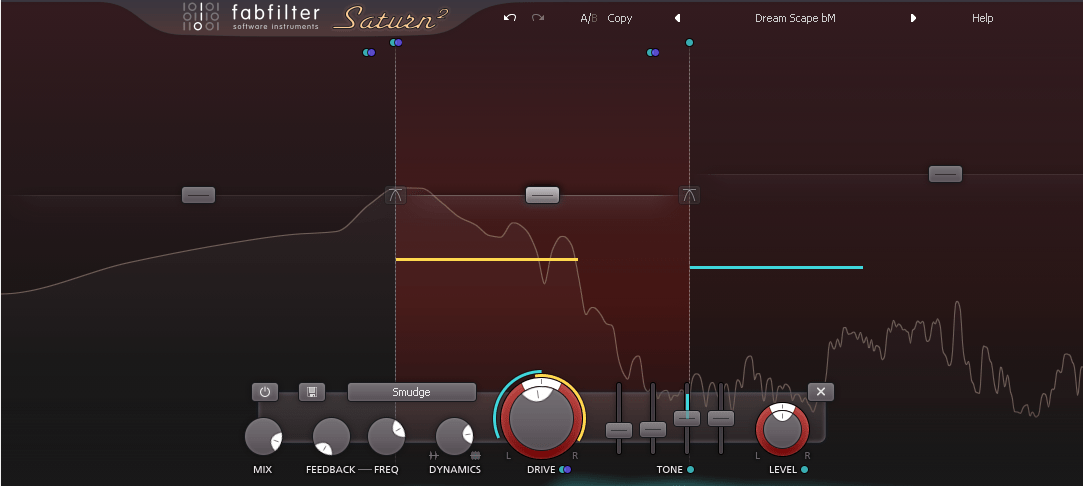 The completely independent multi-band operation of Saturn 2 is easily one of its coolest features. Clicking the small plus sign below the top menu bar creates a divider with a crossover button, and on either side of the divider a volume control is displayed. Dragging the divider changes the crossover frequency, and clicking the crossover button lets you set crossover slopes between 6 and 48 dB. When you click any of the volumes, the floating control bar shifts over to sit under the band you selected to allow independent control of the band. Clicking the plus button again adds additional bands. Up to six bands can be created at once, each with its own totally independent saturation/distortion model and oscillator control.
Floating Band Control

Once you've established the frequency bands you want to saturate or distort, the band control in FabFilter Saturn 2 lets you fine-tune the output. In short, this is where the sausage is made. The floating band controls include power, presets, saturation style, mix, feedback, feedback frequency, dynamics, drive, pan, 4-band tone, level, and remove band controls. The feedback controls make a very cool and welcome addition to the new amp models, while the dynamics add a variable amount of gate/expansion/compression to the band.
Modulation Controls

Every single one of the controls in the floating band control in Saturn can be used in tandem with the modulation controls to take your saturation and distortion to the extremes. Sliders, XY pads, LFOs, Envelope Generators and Followers, and MIDI sources, up to six of each, can be added, to allow both automated and manual control of every knob, including the knobs within the mod controls. For example, you can set an LFO to control an LFO, then chain that into the pan control, which would allow a variable panning. The possibilities are really only limited by your imagination.

Usability
The UI in FabFilter Saturn 2 is extremely intuitive. Once you have the lay of the land – bands on top, controls below, and modulators on the bottom – it's easy to sweeten, skew, and smash to your heart's content. All the controls work with click-and-drag or with the mousewheel. Setting up a modulation parameter on any one of the controls, including other modulators, is as simple as dragging the colored dot above the modulator to the control, then setting the parameters. MIDI mapping is a breeze. There are lots of presets to get you started, and building a new saturation profile from a clean slate is easy as pie. There wasn't a single thing that I wanted to do that I couldn't figure out in a few tries.


Hear it in Action
Below are some samples of FabFilter Saturn 2 in use. First up is an acoustic guitar sample, followed by a dry track for comparison. You can really hear how all the rich harmonics pop out of the first sample:
Next, I decided to take a vocal sample and just distort the hell out of it for fun:.
Finally, since Saturn 2 comes with guitar amp models, I decided to see what would happen if I plugged my electric in and picked a stock preset. This is called Cranked 70s Stack and uses an American Plexi Amp model for the distortion:
FabFilter Saturn 2 Review – The Bottom Line
In terms of value, although FabFilter Saturn 2 is one of the most expensive options among saturation/distortion plugins, its hefty featureset more than makes up for it. There is an upgrade path for Saturn users as well, allowing previous users to add the multi-band crossover slopes, new interface, visualizations, and amplifier distortions, just to name a few. For those wishing to buy once and buy right, FabFilter Saturn 2 deserves a long look.

Far from a one-trick pony, FabFilter Saturn 2 is easily the most robust saturation/distortion plugin I've ever used. The multi-band and side-chain operation, the oscillators, and the depth of the included presets make this an extremely attractive all-in-one saturation option for home studios. I give FabFilter Saturn 2 a full 5 stars and my recommendation for anyone looking to add a bit of 'oomph' into their tracks.

---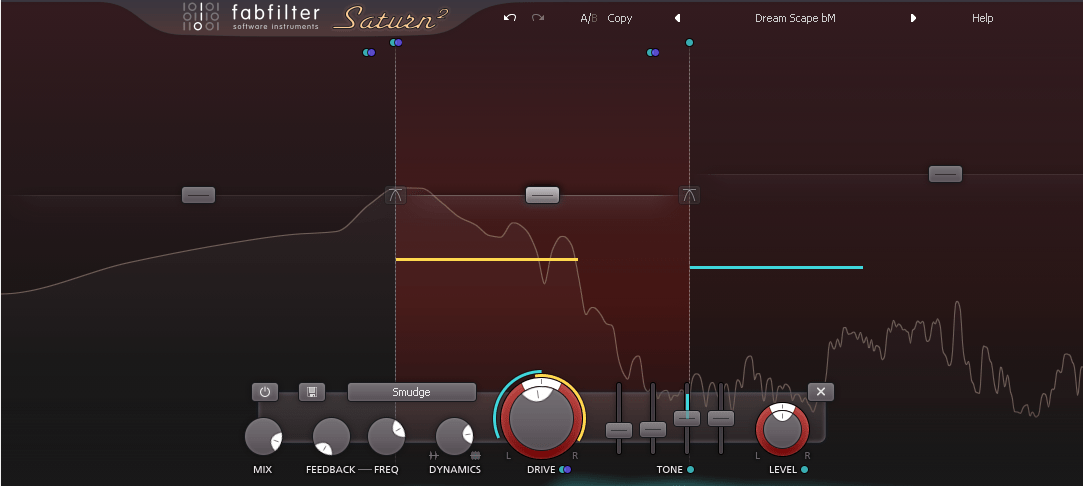 An extremely robust saturation/distortion plugin with options ranging from slight warmth to total harmonic destruction.