Easily one of the most important components in a home studio is the audio interface. But which one should you get? There are dozens available on the market ranging in price from under a hundred into the many thousands of dollars. Today we're going to look at the popular options available on the market and decide what is the best fit for your home production studio. But first, let's find out more about what an audio interface is, and what options you should look for.
If you enjoy this best-of roundup and decide to grab one of the items listed, please consider clicking through one of my links before you buy. I earn a small commission at no cost to you, which helps support this site and keep these best-of lists coming. Thanks!
What is an Audio Interface?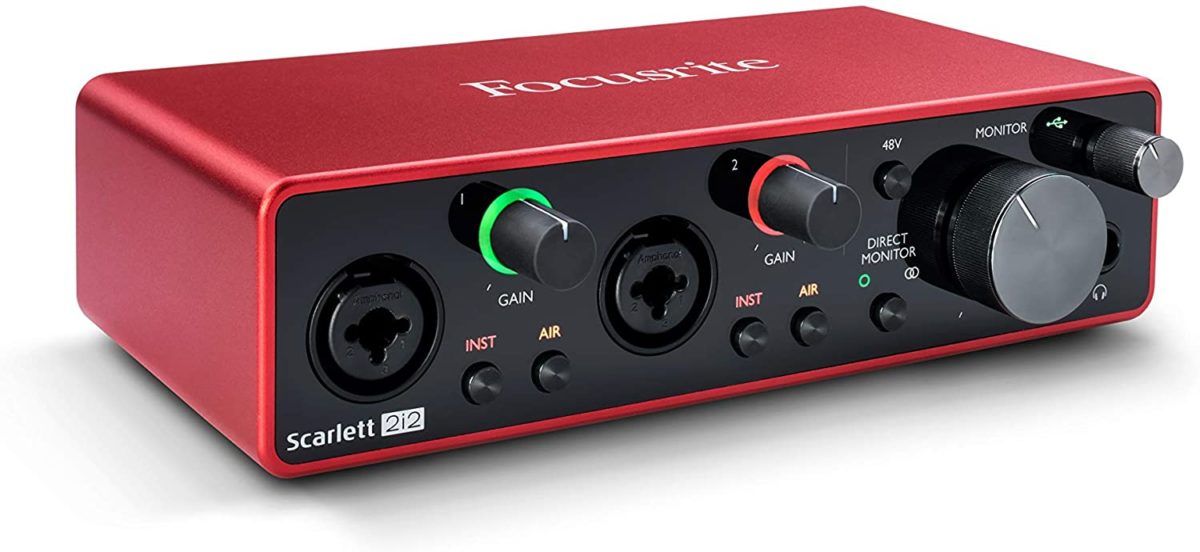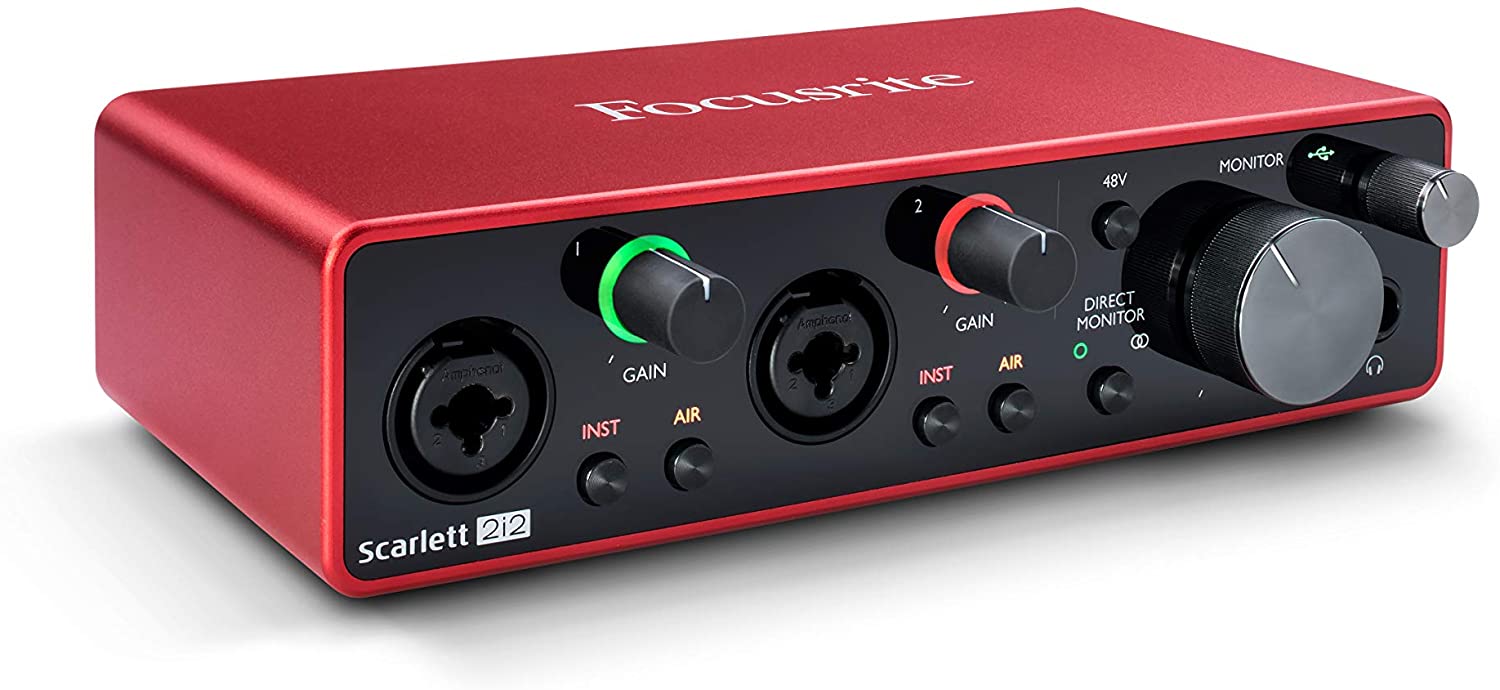 An audio interface is a specialized piece of equipment that plugs into your computer. It is usually connected via USB, Firewire, or Thunderbolt cable, and allows you to pass audio signals back and forth between the parts of your home studio. Audio interfaces have connectors that let you hook up microphones, guitars, and other equipment using XLR or 1/4″ cables. Many also have MIDI connectors for connecting vintage MIDI equipment that doesn't plug directly into your computer.
Inside the audio interface is a special chip called a Digital Signal Processor (DSP). The DSP takes your analog audio input signals from your mics and instruments and converts them in real-time to digital signals that can be used in your Digital Audio Workstation (DAW) software. Then, once the DAW processes the input signals, it returns the "wet" (processed) signal back to the audio interface for playback over headphones or specialized speakers called studio monitors.
What Features Should I Look For in an Audio Interface?
There are several important factors that will help determine which audio interface is the right one for you:
Computer Connection Type
Most audio interfaces are USB, which is standard among nearly all computers. Some computers may also have Firewire or Thunderbolt connectors, which are higher-speed connectors and can be useful for increasing throughput between the computer and interface. USB has plenty of bandwidth for most applications, so for most home studio applications there isn't a compelling reason to choose one over another. It is important to note which connector type the interface has before purchasing, however, or you might have to buy additional adapters or computer components before you can start using it.
Preamp Inputs
Preamplifier inputs, or 'preamps' for short, take the weak signals coming from microphones or instruments and amplify them to a level that is usable for recording. The number and type of preamps is one of the most important factors in the cost of your audio interface, and also contributes directly to its usability. An audio interface with one preamp can only record one mic or instrument at a time, whereas a four preamp interface can do up to four.
If you're using condenser microphones, they require power to operate. This is called 'phantom power' and is a standard feature on nearly every interface. Some interfaces have a single phantom switch which affects all of the inputs, while others have multiple or even individual phantom switches. This is an important factor in more complicated setups, as some microphones can actually be damaged by phantom power, while others are unaffected.
If you're only recording one track at a time, then a single preamp could be enough, however most studios will benefit from having at least two for stereo recording applications like acoustic guitars, or as many as eight or more for recording full drum kits. Many higher-end interfaces have optical connectors for adding more outboard preamps.
Inputs, Outputs, and Inserts
Some interfaces come with additional channels for more advanced routing capabilities. This is especially useful for connecting outboard gear like hardware compressors, equalizers, and effects without affecting the original input signal. In your DAW, you can choose which input and output to use on each track, which allows for a technique called bussing. An effects buss, for example, is a track that passes audio out via one of the outputs on your interface into external equipment, then back into your master via an input (or another buss).
There is also a special connector available on some interfaces called an insert. Inserts behave similarly to an effects loop on a guitar amp. The input signal goes into the preamp like normal, but then outboard gear is connected to your interface using a specialized insert cable. The insert cable has a stereo connector on one end, and two mono connectors on the other. This passes signals to and from the outboard gear seamlessly, baking the effects directly into the track.
MIDI In and Out
Some interfaces have MIDI inputs and outputs. MIDI is an older method of connecting gear that doesn't pass any audio signals, but instead converts input into numerical values that represent how a performance was played. This is most often used with plugin software called virtual instruments which emulate the sound of their real-life counterparts. Most modern equipment is connected to your computer via USB or other connection, so MIDI isn't as important as it used to be for home recording, but is still a consideration if you're using vintage gear.
Monitor and Headphone Outputs
Studio monitors are special speakers that provide a flat output signal for mixing and mastering your tracks. All interfaces have at least one set of monitor outputs, but some have two or more for quick A/B comparisons. Some interfaces also have multiple headphone outputs which are useful for connecting more than one pair of headphones without the need for a separate headphone amplifier or splitter cables.
Pad and Line/Instrument
Most interfaces have a switchable pad on each channel, which is useful for quieting hot signals for proper gain staging. Most also include Line/Instrument switches for changing the input impedance of individual preamps. This allows for plugging in both instruments, which have high impedance, as well as microphones, which have far lower impedance.
DSP Accelerators
Some higher-end interfaces come with Digital Signal Processor (DSP) Accelerator chips which allow them to run proprietary plugins. Universal Audio, Antelope, and other interface manufacturers use this technology to share some of the processing load with your home studio computer and allow for recording and playback with nearly zero latency, which is a word for how long it takes a signal to be processed. These proprietary plugins are some of the most expensive and sought-after by audio professionals as they recreate the sound of outboard gear with breathtaking accuracy. If you have the money, DSP Accelerated interfaces are a luxury that is worth having.
Other Features
Some interfaces also come with additional switches, inputs, and outputs that expand their usability. Some may have EQ switches that boost or cut certain frequencies, or different connectors like SPDIF for working with other outboard gear. Word clock, which is common on higher-end interfaces, provides a timing signal that is used by other external equipment to help stay in phase with your interface.
A Word about Mixers
You may note that in this article I don't recommend any computer-connected mixers. There are tons of great options out there for mixers, however for most home studio applications I would recommend using an interface instead. Many mixers don't have the ability to split inputs into separate signals, meaning that whatever signal leaves the mixer is baked into your recording forever. It may seem like a great way to save money, especially if you're recording a lot of mics all at once, but if you want to adjust individual mic levels after tracking is done you'll need separate mic tracks in your DAW, which isn't possible with most mixers.
Best Audio Interfaces Under $100
Without further ado, here are the best audio interfaces under $100. Keep in mind that in this price range you will be limited as far as inputs are concerned, but should get the same recording quality you would expect from interfaces in a slightly higher price range.
(Please note that since studio gear goes in and out of stock frequently due to high demand and low supply, prices can and will vary. If the listed price for an item doesn't fall within the category I've placed it in, it's likely because it's out of stock. In that case, you may want to seek out another vendor, pick a different item, or wait until the one you want is back in stock.)
Behringer U-Phoria UMC22
The Behringer U-Phoria UMC22 is least expensive interface I can honestly recommend. This USB interface has one preamp XLR/instrument combo jack, plus a second instrument jack, each with independent gain, clip and signal lights, and a switchable phantom power for the mic. Instead of the monitoring blend knob found in most interfaces, the UMC22 has a direct monitoring switch that allows you to choose to hear either the sound direct from the inputs, or the sound as colored by your DAW.
There is a headphone jack on the front and monitor outputs on the back, both of which are controlled by a single output volume knob. It doesn't come with any software. I would recommend this box for beginners who have no intention of ever using more than one mic at a time, as for just a few bucks more you can get other interfaces with two or more inputs.
PreSonus AudioBox USB 96
The only other sub-$100 box I can recommend is the PreSonus AudioBox USB 96. With two preamp combo jacks and switchable phantom, this USB interface allows for running stereo mic pairs for acoustic guitar or rudimentary two-mic drum kit recording. Each input has a separate gain knob with clip light, and there are separate volumes for headphones and monitor outputs. (Plus the headphone knob goes to 11, Nigel.) On the back are the headphone and monitor outs, plus a MIDI in and out for connecting non-USB MIDI keyboards and other gear.
The AudioBox comes with a copy of PreSonus Studio One Artist, which normally retails for $99 on its own, plus the Studio Magic plugin suite. A friend of mine purchased the AudioBox USB 96 and has been extremely satisfied with it so far. I would consider this to be a great value for starting a home studio, especially if you don't need some of the advanced features found in more expensive models.
Best Audio Interfaces Under $200
There is considerably more choice among audio interfaces in the $100-200 range. Instead of including every single option, I have curated the list to what I consider the top three options based on features. That said, just because an interface isn't on this list doesn't mean it necessarily isn't a good option.
Focusrite Scarlett 2i2
You'll probably find the Focusrite Scarlett 2i2 in more project studios than nearly any other audio interface. Extremely popular among home musicians, this USB-C interface has two combo inputs with phantom, impedance switches, and 'Air' boost switches for increasing mid-high EQ. Focusrite Scarlett preamps are known for their relative warmth and clarity and command a slightly higher price as a result.
The Scarlett 2i2 has a direct monitoring switch to toggle between input-only and blended input and output monitoring. There are also volumes for both monitors and headphones. This interface also comes with the Focusrite Red DAW plugin suite, Softube Time and Tone plugin bundle, your choice of one XLN Addictive Keys instrument, and a 3-month subscription to Splice.
PreSonus Studio 24c
For a similar price, the PreSonus Studio 24c has similar features, but with a few key differences. This interface comes with the same number of preamp inputs with phantom, but doesn't have switchable impedance or EQ boost. Instead you'll find input and output LEDs for monitoring signal directly on the unit, and blend knob for direct or output monitoring.
The Studio 24c comes with a copy of Studio One Artist. There is a MIDI input and output on the rear of the unit, and a USB-C connector for high-speed connection.
MOTU M2
For just a few bucks more than the previous options, the MOTU M2 has the same two combo input jacks as the previous options but with independently switchable phantom power and input monitoring. Separate phantoms means you could use a condenser and a ribbon mic at the same time, for example. There's also a large, colorful LED screen on the front for monitoring input and output levels.
The M2 comes bundled with MOTU Digital Performer Lite, which includes 100 virtual instruments that can be used in Performer or in any other DAW that supports the free UVI workstation. On the rear of the interface is a MIDI input/output, parallel output jacks for multiple monitors, and a high-speed USB-C connection.
Behringer U-Phoria UMC404HD
The Behringer U-Phoria UMC404HD comes packed with a lot more features for just a smidgen more money as compared to others in the category. This interface has four XLR/instrument combo jacks with phantom, gain knobs, clip and signal lights, plus a pad and impedance switch on each channel. All four inputs also have an insert for adding outboard effects. A monitoring blend knob with mono/stereo switch and headphone volume give you options for playback and tracking, and two sets of monitor outputs allow for quick A/B comparisons when used with multiple monitor pairs.
On the back of the UMC404HD are both XLR and balanced monitor outs, plus RCA outputs for all four channels. There's also a MIDI in and out. This is the interface I primarily use, and easily the most affordable 4×4 interface available on the market. It does not come with any bundled software that isn't otherwise free to download, which is part of the reason why it's so affordable for a 4-preamp and 4-input/output interface with phantom.
Best Audio Interfaces Under $500
The interfaces in this category are considered 'prosumer' models, since they fit into a higher-end consumer budget but can often be found in pro studios, especially when paired with external preamps.
Behringer U-Phoria UMC1820
The Behringer U-Phoria UMC1820 is easily the most fully-featured audio interface at anywhere near this price point. Eight combo inputs, each with switchable impedance and pad, plus grouped phantom for using ribbon mics and condenser mics at the same time. Input monitoring can be blended between either just inputs 1 and 2, or all 8 inputs, and the main playback. The main output has a dim and mute control, and there are two headphone outs that can be switched between outputs 1-2 or 3-4.
The UMC1820 is rackmountable, and there's a power switch on the front. On the back are ten line outputs, two RCA SPDIF outs, and switchable optical inputs and outputs for connecting to ADAT and SPDIF gear. There's also a MIDI in and out. Like the other Behringer boxes, it doesn't come with any software, but as the most affordable option in the prosumer class it leaves plenty leftover for the software of your choosing.
Focusrite Scarlett 18i20
The Focusrite Scarlett 18i20 has many of the same features available in the UMC1820, but comes with eight Scarlett preamps and an LED display on the front panel for monitoring input levels. The first two preamps have switchable impedance, and all eight have 'Air' EQ boost and pad controls. Phantom is switchable in two groups, and there are mute, dim, and monitoring A/B options.
A unique feature of the Scarlett 18i20 is the Talkback mic built into the front panel. Pushing the Talkback button routes the mic audio to the headphone outputs, which is useful for talking to performers in a closed booth during a session. The Focusrite Control software allows for additional Talkback routing options, and is where the Air controls are located as well. The interface ships with the same software suite as the Scarlett 2i2.
Best Audio Interfaces Over $500
Most interfaces above the $500 mark tend not to have a ton of additional features compared to the less expensive options, but instead offer higher-quality preamps and advanced DSP chips. These chips, called DSP Accelerators, take some processing load off of your DAW computer and allow you to run their proprietary plugins. The disadvantage, of course, is that you're locked to their particular brand if you want to upgrade down the road, or risk not being able to use the plugins you paid for.
There are interfaces that cost into the many thousands of dollars, but as this is an article geared towards the home studio I'm capping my suggestions at $1000.
PreSonus Quantum 2626
The PreSonus Quantum 2626 is an ultra-low-latency USB-C interface with eight front-mounted combo preamps. The first two preamps have insert loops, and there are 8 balanced line outs on the rear, plus MIDI, word clock, and SPDIF I/O. What commands the extra money compared to other 8-preamp interfaces are the dual optical ins and outs which expand the Quantum 2626 up to 26 channels when paired with external ADAT preamps. Like the other PreSonus interfaces in the lineup, it comes with a copy of Studio One Artist.
Universal Audio Apollo Twin X DUO
The Universal Audio Apollo Twin X DUO has only two preamp inputs and four line outs, including the two monitor outputs. Why does it cost nearly a grand, then? Because it has a DSP Accelerator chip that allows for near-zero-latency recording using Universal Audio Unison plugins, and comes with the Realtime Analog Classics Bundle of plugins and Luna DAW. Sold separately just the bundled software costs in the thousands, so from a certain point of view the Apollo Twin X DUO is a bargain.
Antelope Audio Discrete 4 Synergy Core
Similar in function to the Apollo, the Antelope Audio Discrete 4 Synergy Core is a four-preamp interface with two DSP chips and a processor chip, allowing for up to 32 realtime effects to be loaded at once. It comes bundled with 36 of Antelope Audio's plugins, including an AutoTune and dozens of hardware emulations. Far more expandability is found on the rear panel, including SPDIF, ADAT optical, word clock, and multiple USB connectors. Up to 14 inputs and 16 outputs are available when paired with external preamps.
Best Audio Interfaces for Home Studio 2021 – The Bottom Line
There you have it, a round-up of the best audio interfaces on the market according to thousands of reviews online and the opinions of our Home Studio Enthusiasts Facebook Group. If you're still confused about which audio interface is the best for you, join us in the group, where we discuss all things home studio every day. We'll be happy to help you weigh the pros and cons and get the box you'll be the happiest with. While you're here, check out the rest of our Best Of's here!