If you enjoy this review and decide to grab the deal, please consider clicking through one of my links before you buy. I earn a small commission at no cost to you, which helps support this site and keep the reviews coming. Thanks!
Welcome to the first of a new review series in which I am trying to find the best virtual drummer plugin on the market right now. I'm taking an in-depth look at each of six different drum virtual instrument suites over the next several weeks, followed by a complete round-up review where I crown the winners in each category. As stated in my previous round-up series on piano plugins, I'm a fan of Toontrack's EZDrummer 2, so I thought I would start there as a familiar benchmark as I evaluate the other options. I'll also offer my unbiased opinion of the newest version of Toontrack EZDrummer 2. Let's get started with the review!
Looks
EZDrummer 2 defaults to a large picture of a white DW Collector's Maple seven-piece set with a DW Edge snare and six Sabian cymbals. Including the DW kit, there are three modern and two vintage kits to choose from. The tabs along the top take you to the main Drums screen, MIDI library Browser, Search screen, and full Mixer with 12 volumes, distortion, drum controls and Delay. Finishing out the top bar are the preset loader and menu.
At the bottom is a MIDI window that will look familiar to fans of EZKeys and other Toontrack EZ-series plugins. Playing the drums and cymbals triggers animations that play in real time along with the beat, which is fantastic visual feedback that isn't available in some competitor products. Nothing is buried in a menu or hard to find, and the tabs ensure that there's plenty of controls available without feeling crowded. Off to a good start.

Features
Let's take a look at all of the options in EZDrummer 2 tab by tab:
Drums
As you would imagine, the Drums tab is where you'll likely spend most of your time in EZDrummer 2. From here you'll select your kit and swap out individual drums and cymbals to your taste. You can choose up to four cymbals, ride, hats, snare, three rack toms, two floor toms, kick, shaker, tambourine, and a one-shot pad for adding claps, snaps, and of course, we're going to want that cowbell. In addition to allowing for quick selection of the different drums in the kit, the Drums tab also provides excellent visual feedback. As you play, each drum in the kit has a cool animation that shows the drum heads bending inward or the cymbals rocking on the hardware like they were hit by phantom sticks.
Browser and Search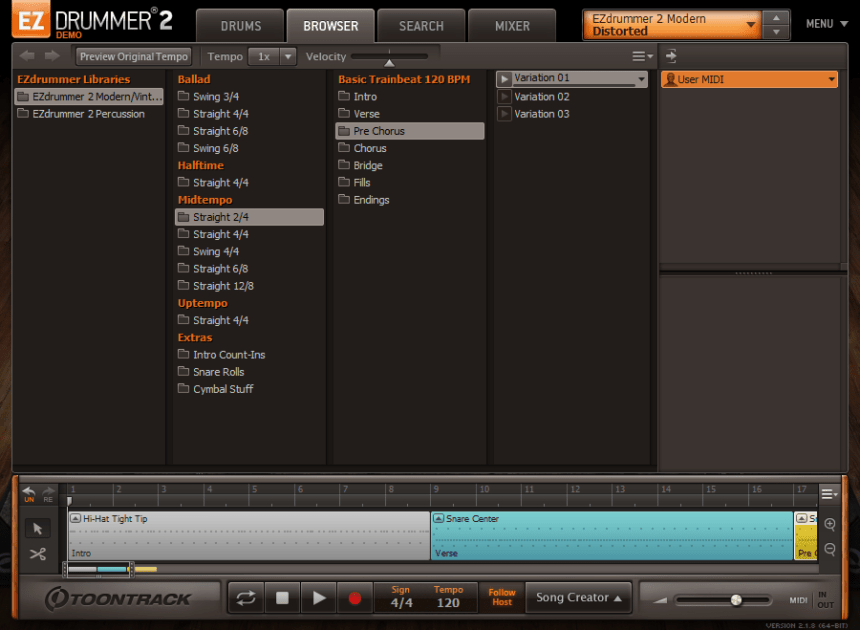 The MIDI section at the bottom of the plugin window stays persistent regardless of what tab you're on. The MIDI Browser tab pairs up with the MIDI section to allow drag-and-drop arrangement of MIDI loops on the track in the plugin. Each MIDI item has an audition button for finding the right groove before adding it. Similar to EZKeys, tracks can be played back from inside the EZDrummer 2 window, or MIDI items can be dragged over to the DAW for playback there.
Clicking the triangle button in the corner of a MIDI item brings up an Edit Play Style overlay that allows you to set how each item in the current MIDI selection is played; for example, a ride can be set for Mute Hit, Edge, Bell, or Bow. Also, the number of hits per loop can be set for each individual item. These two features are particularly nice for adding variations of the same MIDI item to capture different feels without tons of MIDI editing.
Also included is a Song Creator. Pick a song pattern such as 12-Bar Basic or ABAB, then drop in a MIDI item to get suggestions on other patterns to use. Hitting Load Structure Onto Track populates the multi-pattern structure into the MIDI window, which can then be further customized and dropped into your DAW. This functionality provides access to numerous backing tracks with easy one-click operation.
The Search tab adds to the Browser functionality by arranging all of the MIDI into a table that includes columns for Family, Intensity, Power Hand, Bars and beats, and native Tempo. There is also a 'Tap2Find' feature that allows you to search by pattern by actually playing the sort of beat you're looking for and showing the closest matches. The Show Web Shop MIDI button adds items from the Toontrack store so you can audition MIDI loops that you don't own yet.
Mixer and Effects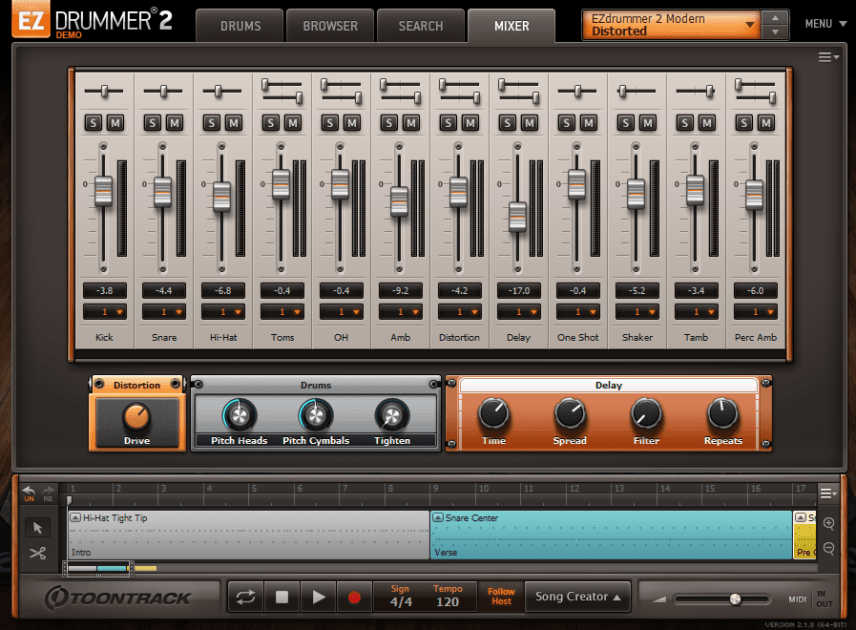 The Mixer tab provides between ten and fifteen virtual mixer sliders depending on the preset selected. The faders include volumes, panning, solo/mute, and output selector for Kick, Snare, Hat, Toms, Overheads, Ambient, One-Shot, Shaker, Tambourine, Percussion Ambient, and two effects. Some presets have multiple mic settings for kicks, snares, and ambient.
The effects available are tied to the presets as well. The effects include Dynamics/Compression, several Reverbs including Gated, Plate, and Reverse, Mic Bleed, Pitch, EQ, Low Pass, Distortion, Delay, Ambience, Phaser, Tape saturation, Snare Decay, and Sustain.

Usability
In terms of overall usability, I greatly enjoyed the visual feedback in the Drums tab. This allowed for far more accurate finger drumming on my MIDI pad because I could see each drum light up as I played. Also, the MIDI Search tab with Tap2Find feature made it very easy to find great starting points to build upon, and the Song Creator allowed me to quickly populate 100 or so bars on backing track. The sounds coming out of EZDrummer 2 are very realistic, due in part to the built-in Humanize feature in the settings. The Mixer window, though somewhat limited by the presets, really made the drum kit come alive with the Overhead and Ambient faders as well as the effects.
That said, the same usability issues that I had with EZKeys are present in EZDummer 2 as well. Having items on both the in-plugin MIDI window and the items in your DAW play back at the same time can definitely be confusing for new users, but I'm willing to overlook that issue. Choosing to lock different effects and mixer settings to particular presets, however, is particularly frustrating. For example, there is a compressor on the Basic and 80s kits, but in scrolling through the presets the next four just don't have compression available.
Also, some presets have mic controls for above and below the snare or multiple kick mics, while others just have a single fader for each. To me, having the full complement of effects and mic options is one of the most important aspects of in locking down a solid MIDI drum tone that sits well in your mix. It's confusing to me why Toontrack would program in so many effects and mic placement settings but not allow you to utilize all of them on all presets in order to fully customize your tones.
Hear it in Action
Before starting my review series on drum virtual instrument plugins, I created a single MIDI drum track to use as a universal audition piece for fair and unbiased comparison between the different options. Below is a sample of EZDrummer 2 using this MIDI track, with no other effects but a limiter on the master to bring up the volume. I used the DW Collector's Maple kit with the Basic preset and tweaked the Mixer settings to my liking:
Toontrack EZDrummer 2 Review – The Bottom Line
As far as value is concerned, I think Toontrack is charging a fair price for the functionality, sound quality, and attention to detail EZDrummer 2. One caveat, however, is that it has a smaller amount of kits available in the core version as compared to the other drum plugins in this review series. There are tons of additional kits and MIDI packs available via their web store and EZX expansions, possibly more than any other plugin in the round-up, however in terms of out-of-the-box number of kits for the price EZDrummer 2 is towards the back of the pack. Their business model appears to focus more on selling additional kits, which is evidenced by the fact that I was unable to find a bundle that includes the entire line of EZX expansions and MIDI for one round price.
Overall, I was impressed with EZDrummer 2. The sound is rock solid and realistic, the visual feedback is great, and the ability to quickly generate whole tracks of MIDI drums with little effort is a definite plus. I enjoyed all the mixer options and the included drum kits, however for the price I did feel a little limited with only 5 kits, and wished that I could use compression, reverb, and all the rest of the effects and mic options regardless of which preset I started with. In conclusion, I give Toontrack EZDrummer 2 a solid 4.5 stars out of 5, and my recommendation for an easy out-of-the-box experience creating backing tracks for your next song.
---
Five fully customizable modern and vintage drum kits with multiple effect chains. EZX expansion packs offer dozens of additional kits and MIDI loops for unlimited options.