If you enjoy this review and decide to grab the deal, please consider clicking through one of my links before you buy. I earn a small commission at no cost to you, which helps support this site and keep the reviews coming. Thanks!
I have to believe that every one of us at some point in our lives has pantomimed like we were Ray Manzarek. Whenever the intro to 'Riders On The Storm' plays, in particular, we all have had the urge to air-keyboard along with that iconic riff, right? Or is that just me?
The second I loaded up Lounge Lizard Session by Applied Acoustics Systems, it was suddenly 1971 in my home studio and Jim Morrison was in the booth next to me stinking of Chivas. That instantly recognizable Fender Rhodes electric piano sound filled my ears, and I just had to try to recreate that intro. I'm obviously no Ray, but the way this plugin absolutely nails that Rhodes sound made me feel like I could be, even if just for a moment.
Looks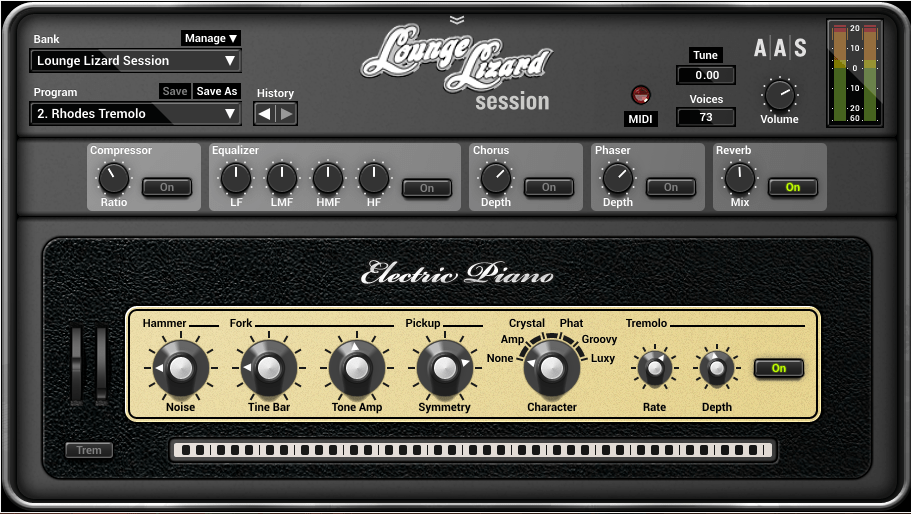 Lounge Lizard Session has a very straightforward presentation. The top section has all of your preset functions, a MIDI light with a cool vintage jewel light look, a fine-tuning tool, MIDI voice control, output volume control, and a handy meter. The middle section has the appearance of rackmount effects, complete with compressor, EQ, chorus, phaser, and reverb. The bottom section is where the real magic happens with this plugin, which we'll detail in the next section. It contains hammer noise, fork tine bar and tone amp, pickup symmetry, character and tremolo controls, and has a switch to toggle input from your keyboard's pitch/mod wheels. There is also a handly 7-octave piano roll for the mobile musician.

Features
Right off the bat, I have to say that this plugin's preset functionality is fantastic. Clicking the 'Manage' dropdown brings up a whole menu for saving, copying and deleting presets (called 'Programs' in this plugin), all arranged into banks: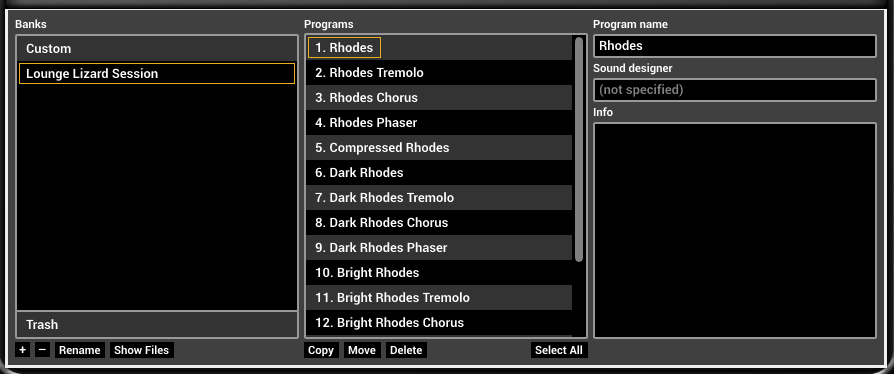 This allows for the existing presets, which are very well thought-out and wonderfully tuned, to be copied into separate banks in order to add quick access to different flavors of the same presets to suit the user's taste. And believe me, once you dig into the actual piano controls, you're going to want to save a bunch of cool presets.
The rest of the controls in the top two sections are fairly self-explanatory; though advanced users will probably prefer to chain in their own favorite plugins for compression, EQ, and reverb, having all of the essentials built into the plugin will definitely help users with less powerful computers save on some valuable clock cycles, since turning on all of the functions at once did not cause any noticeable spike in CPU usage during my testing.

Usability
As I mentioned in the introduction, the real magic happens in the bottom section of Lounge Lizard. Starting from left to right, the Hammer Noise knob adds a very cool 'spank' to the sound of higher-velocity notes; starting at around -15dB is where it really becomes noticeable, especially with the onboard compressor disabled. The Fork Tine Bar control adds an interesting sparkle to the notes, while the Tone Amp acts as a master gain control for the simulated electric piano's circuitry, with a very pleasant breakup starting just above 0dB. The level of detail put into this functionality is incredible, as you can actually turn the Tone Amp all the way down and recreate the sound of the hammers hitting the tines with no power to the amp, a very neat addition.
The Pickup Symmetry knob is probably my favorite out of all – it allows you to fine-tune the virtual pickup inside the Fender Rhodes in relation to the hammers and tines. When I first tested out this plugin, I assigned the knob to an outboard MIDI controller to get more instant control, and simply had a blast playing with it. The control ranges from 0.00 to 2.00; most of the presets are either at 0.63 (standard), 1.05 (dark), or 1.44 (bright), but there is so much control there to play with that it's hard to really describe. The knob changes which harmonics sing out and just a slight change makes a huge difference in the overall tone. I recommend playing with this control a bunch and setting up more presets, as I found this knob brought out the biggest variation in usable tones overall.
Finally, the Character and Tremolo controls round out the bottom section. The Character controls are very subtle, so I only noticed very slight differences from setting to setting. I particularly enjoyed the Groovy setting in conjunction with a noisy Hammer, as it had a very grungy, overdriven feel. The Tremolo is fairly standard, like the controls in the middle section, but it adds so much addictive depth and warmth to the tone that I found that simply couldn't leave it off. Being able to control it with the mod wheel was a huge plus in my book.

Hear it in Action
Here is a short sample of Lounge Lizard Session:
This was done with preset 2, Rhodes Tremolo, with the compressor engaged and set to 3:1. As you can hear, in conjunction with a sustain pedal, the tremolo creates an addicting 'whooshing' from side to side, especially with headphones. I could play with this one preset for hours, and there are 15 others to try which barely scratch the surface of the functionality of this plugin.
AAS Lounge Lizard Session Review – The Bottom Line
As a bargain hunter first and foremost, I tried several free Rhodes VST plugins before I tried this one, and after just a few minutes I was hooked. I couldn't ger enough of the vintage Rhodes sound and the whooshing tremolo effect. I consider it a bargain at its normal price point, so if you see it on sale, don't hesitate to scoop it up.

The Fender Rhodes is an archetypal sound from the 60s, 70s and beyond. Stevie Wonder, Ray Charles, Queen, Led Zeppelin, The Doors, Steely Dan, the list goes on and on. The original Rhodes had an incredible range on its own, so coupled with the amazing level of customization available in this plugin, Lounge Lizard Session by Applied Acoustics Systems will quickly become a favorite in your keyboard arsenal. I'm happy to give this plugin 5 stars and my a full recommendation.


---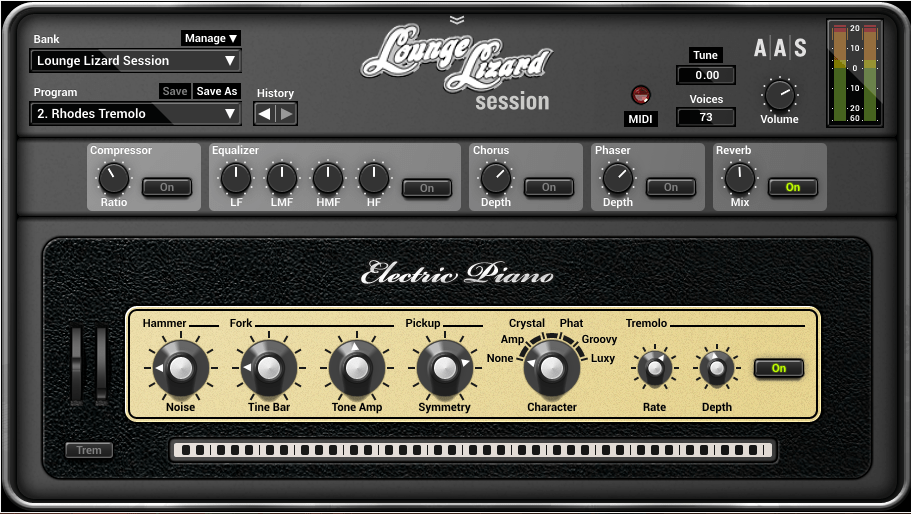 16 electric piano sounds based on the legendary Fender Rhodes.