If you enjoy this review and decide to grab the deal, please consider clicking through one of my links before you buy. I earn a small commission at no cost to you, which helps support this site and keep the reviews coming. Thanks!
Though it's been out for over a year now, MeldaProduction's MSoundFactory, Melda's enormous synth and sampler suite, has just been beefed up with a new, free sample library called Monastery Grand. I spent some time this week playing with both MSoundFactory and the new Monastery Grand library. Let's check them out in detail and decide whether MSoundFactory is worth the price of admission.
Looks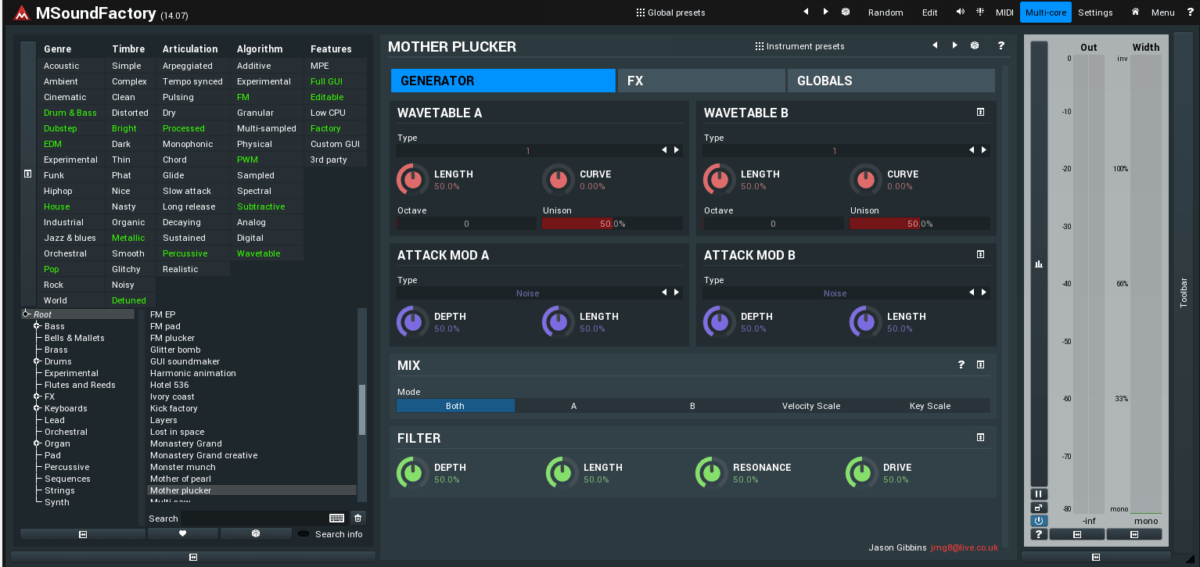 MSoundFactory has the standard MeldaProduction bluish-gray look with colorful buttons and knobs. The default view is called the Easy screen and provides a simplified interface for controlling the selected preset. On the left is a preset loader including categories and a tree view to narrow down the list, and on the far right is a meter with output volumes and stereo width, plus 8 preset selectors for quickly flipping through favorites, A/B, copy/paste functions, undo/redo, and arpeggiator toggle. In between are the knobs and buttons for the currently-loaded preset broken out into three tabs: Generator, FX, and Globals.
Hitting the Edit button brings up the Edit mode, which gives you far more granular control over the current preset. Broken into the same three tabs as the Easy mode, the Edit mode has a modular routing grid with a huge array of modulation sources, ADSR settings with an enormous graph for setting the perfect envelopes, and an effect routing matrix with a vast selection of effects. Everything is laid out well, and there are tons of toggles to expand and collapse various control sections for customized views.

Features
There is so much to the MSoundFactory interface that I was compelled to pull out the manual within a few minutes of loading it up to help guide me. Bear in mind as we go through the plugin's features that although I've done my level best to cover all the important parts, there's surely some controls or features that I've missed.
Presets and Preset Browser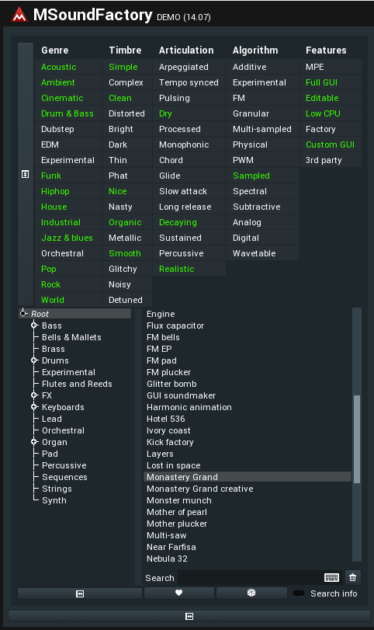 I don't always talk about presets in my reviews, as they seem largely an afterthought on some plugins. That is not the case with MSoundFactory. With nearly 1100 different patches, the preset library is almost a little insane. That's probably why they included the Genre, Timbre, Articulation, Algorithm, and Features keyword lists, plus a folder-style browser with search bar. There is also a separate preset loader with search, save, upload and download capability. This means that you can browse through and try out presets that other MSoundFactory users found useful enough to save. Clicking Download Presets in the loader performed an online exchange, beefing up my library with an additional 151 presets. (One called Planetary Pads sounded an awful lot like the pads in the opening to Star Trek: The Next Generation. I was instantly in love.)
Edit Mode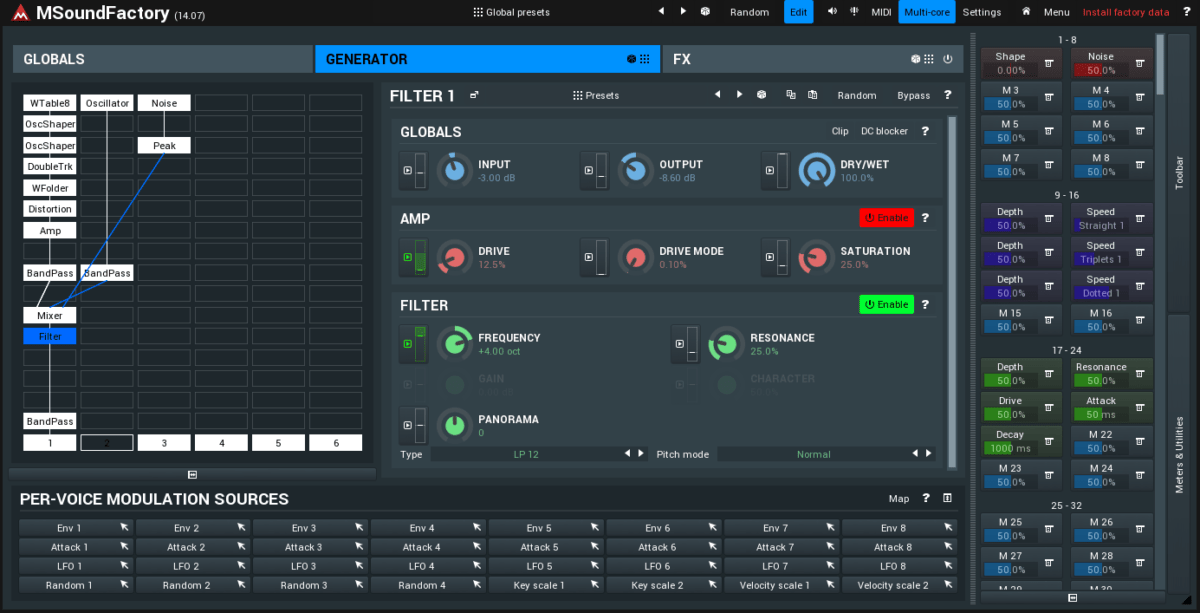 Without a doubt, Edit Mode is where the magic happens in MSoundFactory. I could spend a bunch of time talking about the Easy Mode, but in the interest of time I'll skip straight to Edit Mode, as that is where the sausage is really made. Suffice it to say that in terms of control, the Easy Mode is like driving a car, and Edit Mode is more like flying a plane.
The Globals tab in Edit Mode includes the coolest ADSR Envelope control panel I've ever seen on any synth, bar none. When you strike a note, it travels down the ADSR graph from left to right in realtime to show you the attack and sustain times. This makes it incredibly easy to nail down the perfect ADSR settings for your custom patches.
Next up, the Generator has a giant matrix view for toggling and adding oscillators and effects. Clicking any of the blanks on the matrix brings up a huge menu of generators, filters, and various effects. I spent hours just playing with the generators, making cool sounds, and messing with knobs, and I feel like I just barely scratched the surface of what MSoundFactory is capable of.
In addition to the individual effects on the matrix in the Generator tab, there is a separate FX matrix that gives you access to any of your installed MeldaProduction effects. Compressors, Limiters, Delays, Choruses, Vocoders, and a whole galaxy of other effects are available. Between the two matrices and the ADSR controls in the Globals tab, every synth sound you could imagine is at your fingertips.
Monastery Grand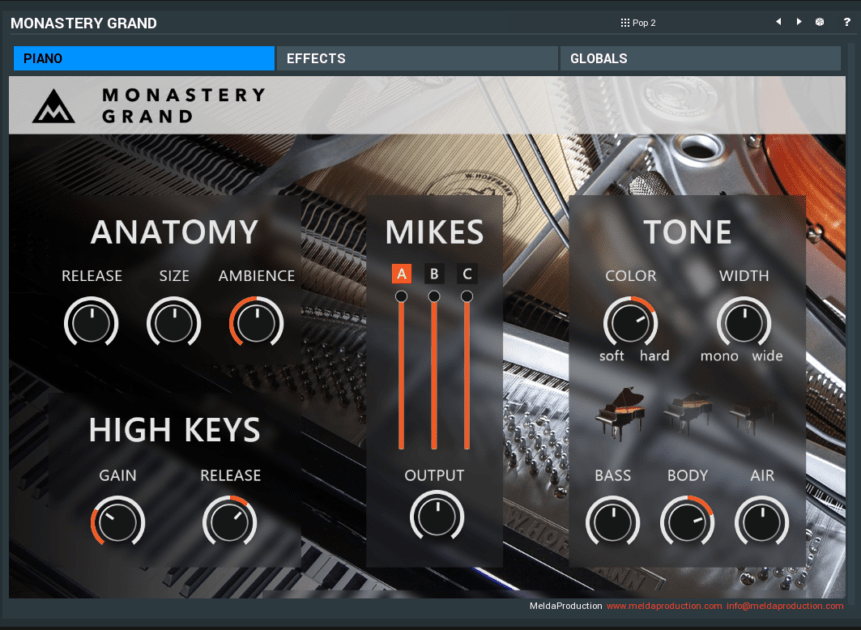 Sampled from a stage piano in a brilliant concert hall in the Czech Republic, Monastery Grand is a free instrument for the MSoundFactory platform. Weighing in at about 3.5GB to download, this sample library gives you a realistic piano tone whole remaining easy on CPU use. In addition to the dry samples, there are a Delay, Compressor, Reverb, and Enhancer, several tone and mic blending controls, and all of the Edit Mode controls to boot. Ever imagine a grand piano with ADSR envelope controls? You don't have to imagine, it's here.
An important thing to note is that free means free with Melda. If you download MSoundFactory and Monastery Grand and let the demo expire, you still get to use the Player version and Monastery Grand for free forever with no limitations. I did a round-up review of piano plugins to find the best of the best, and though I don't know if Monastery Grand would have won that round-up, it certainly wouldn't have come in last place. Without a doubt, I now have a new favorite free piano plugin to recommend.

Usability
Let me start off by saying that if you're not into modular synthesis and/or digging into manuals to learn a new plugin, this probably isn't the plugin for you. If you are, however, MSoundFactory has an absolutely enormous featureset. With nearly 1100 stock presets and a manual that spans 154 pages, it would be impossible for me to fully describe the largesse of this plugin in the context of this review. Simply put, I don't think there's a synth sound on the planet that MSoundFactory isn't capable of producing, and the depth of presets included is incredible. Coupled with the free Monastery Grand, the number of usable tones and instruments is virtually limitless.
Some default presets that stood out, in particular, were the 808 Maker with 46 presets, the surprisingly convincing electric bass, the Near Farfisa presets that ape the sound of the Farfisa electric organ, and the Retro Arcade instruments with 129 different settings for Atari, Nintendo, and more. Adding the ability to submit your own presets for sharing, and to download other user's submissions, is a brilliant addition that I can't wait to see grow in years to come.


Hear it in Action
First off, here's four tracks of nothing but MSoundFactory. There's an 808, Brass, and two arpeggiated synths layered on top of one another:
Next, here is a sample of Monastery Grand in all its glory with nothing but a mastering limiter. The stereo width control really goes to work in this sample:
MeldaProduction MSoundFactory Review – The Bottom Line
Though the price is steep to say the least, the one-time cost of MSoundFactory includes lifetime updates and future Melda instruments as well. Owning MSoundFactory also effectively gets you Melda's MDrummer as well, since all of the MDrummer kits work in MSoundFactory and are free to download on the MeldaProduction site.
Melda claims that MSoundFactory is "most likely our last instrument" and that most of the new instruments they roll out will be free as part of your MSoundFactory license. In addition, if MSoundFactory isn't in your budget right now, you can grab the demo and keep the Player version after the trial period expires, which includes full access to the Monastery Grand sample library and a few other presets. All it will cost you is hard drive space to try it out and you can keep the Player version forever. With nearly 1100 presets as of this writing, free Monastery Grand library, and the ability to load all the MDrummer packs, I couldn't imagine giving MSoundFactory anything but 5 stars for value.

I can't reiterate enough the bounty of features that MeldaProduction included in MSoundFactory. The nearly 1100 presets barely touch the capabilities of this instrument. I'm not kidding when I say that MSoundFactory is by far the most feature-rich synth I've ever used, and I have quite a few. Add in the free Monastery Grand library and the ability to download and use all the MDrummer content packs for free, and MSoundFactory is essentially three very good plugins for the cost of one. With fives in every category, MSoundFactory is a 5-star product and has my wholehearted recommendation. Don't buy another synth plugin until you demo this one, and if you're not in love like I am, keep the Player version with Monastery Grand anyway.

---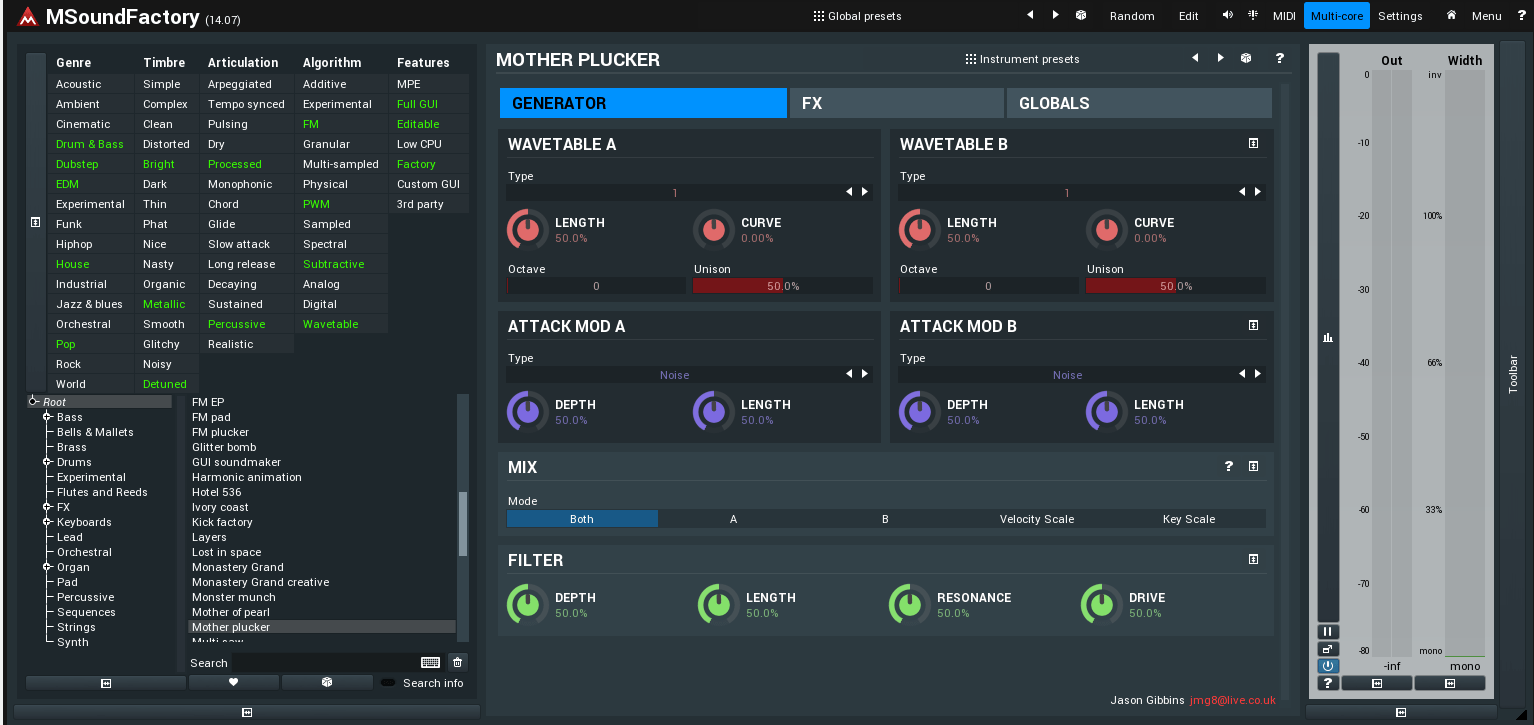 The most feature-rich synth I've ever used. Add in the free Monastery Grand and MDrummer sample packs and this plugin is an absolute tour de force.