If you enjoy this review and decide to grab the deal, please consider clicking through one of my links before you buy. I earn a small commission at no cost to you, which helps support this site and keep the reviews coming. Thanks!
Audified's AmpLion has been a mainstay of the budget amp sim realm for nearly a decade, but the years were starting to show and as such it was due for a refresh. That day has come with their newest plugin, AmpLion 2 Rock Essentials. I took an in-depth look at AmpLion 2 Rock Essentials and ran it through its paces. Check out the video, then scroll down for screenshots and even more audio samples:
---
Looks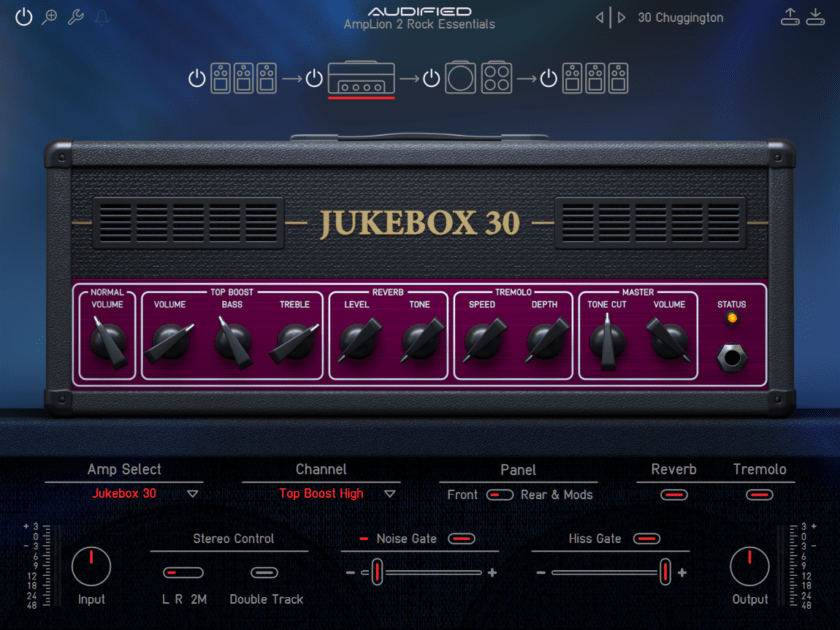 AmpLion 2 Rock Essentials opens to an amp face view with drop-down selectors for amp model, channel, and toggles for the various amp features. Along the top are tabs for viewing the pre board, amps, cabs, and post board views. The controls along the bottom are red and black, with the familiar silver, purple, and gold faces on the three amp models, plus very cool knock-off looks for each of the various pedals. With everything right there, easy to find and use, this is an attractive start to the plugin.

Features
Audified broke AmpLion 2 Rock Essentials out into four main sections, which we'll deep-dive into now:
Amps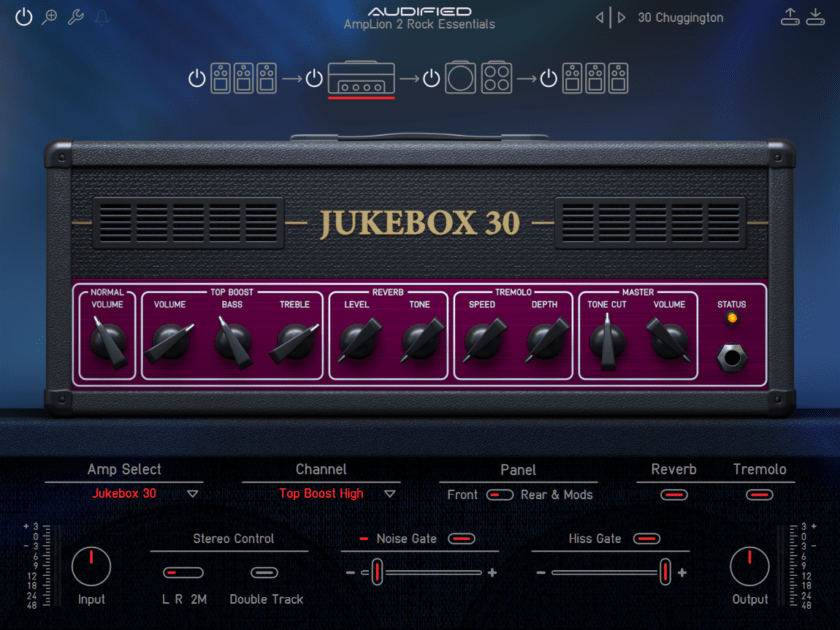 There are three main amp models to choose from in AmpLion 2 Rock Essentials: The Bartender Deluxe 65, which is a Fender emulation; the Martial 59, a Marshall clone, and the Jukebox 30, which is like a Vox AC30 Top Boost. Each amp model has multiple channels and a very nifty panel switch for looking at mods and options, like the 'Brown Sound.' The Bartender and the Jukebox both have reverb and tremolo built in, and across the bottom is a universal input, output, stereo control, double track, noise gate, and hiss gate.
Cabs and Mics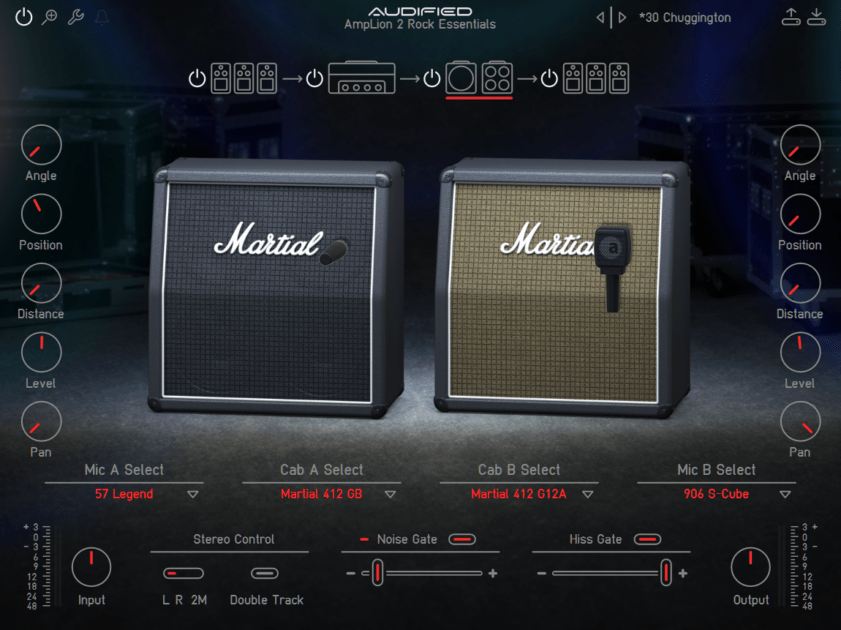 The cab view in AmpLion 2 Rock Essentials has four different cab emulations, including a 1×12 for the Fender, a 2×12 for the Vox, and two 4x12s for the Marshall with Greenback and G12 speaker models. Each cab can be miked up with nine different mics, including SM57, SM7B, e906, MD421, and i5 dynamics, C451, U87 and C414 condensers, and an R-121 ribbon. Each mic can be adjusted for position, distance, level, and pan using knobs or clicking and dragging the mics on the GUI.
Pre Board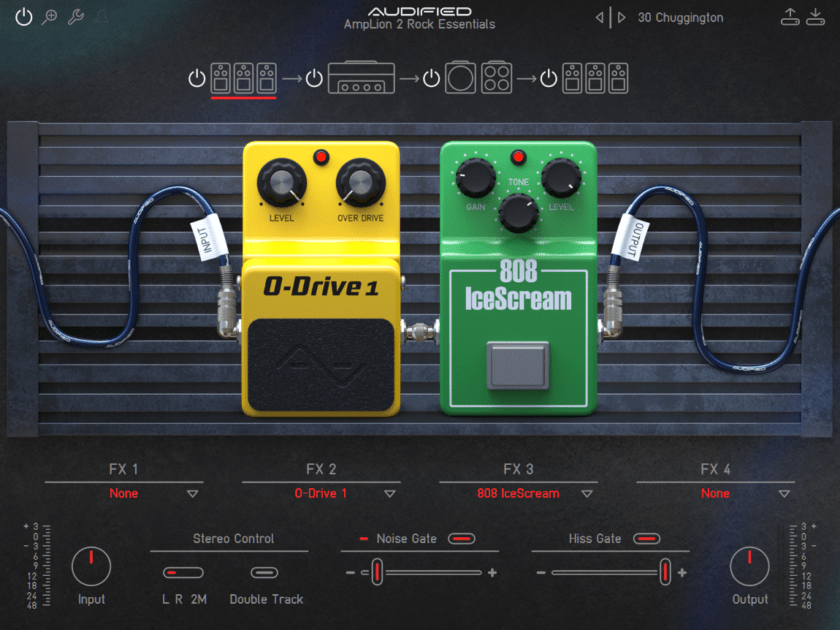 The pre board lets you choose from the Drive, Jukebox Wah 84, Modulation, EQ, and one of the Delay pedals, up to four at a time. The Drives include the 808 IceScream, O-Drive 1, Distortion Puls, MeltedFace Fuzz, Corny T-Boost, and the Ravemaster T-Boost.
Post Board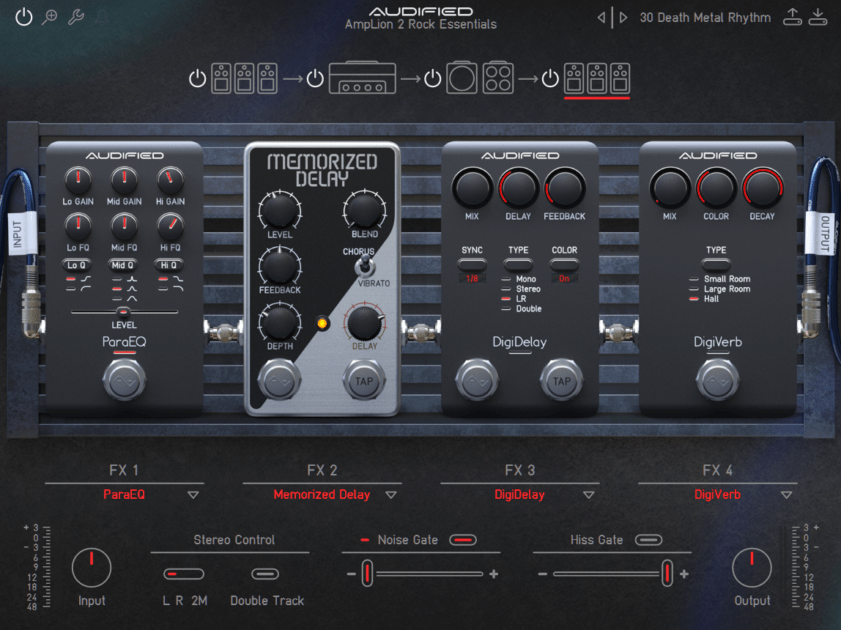 The post board has a slightly more limited selection of pedals that make more sense after the amp emulation, like the Modulation effects of Mrs. Flanger, Stoner Phaser, and Cloned Chorus, the DigiDelay and Memorized Delay, the DigiVerb, and the GraphEQ and ParaEQ.

Usability
There are two sides to the coin with AmpLion 2 Rock Essentials. Starting with the good stuff: the sound is amazing. This is a guitar amp and effects suite that is filled to the gills with tones. Three very versatile amps with input selection, switchable cab and mic impulses, and lots of effects to play with make this a formidable tour de force of tonal options. I had an absolute blast playing with it – most especially with the AC30 emulation, which is a total beast. The noise and hiss gate are great for dialing in heavily distorted tones as you add more crank, and the mods are a very cool touch. All the makings of a fun and usable amp sim.
Now the not so great part: There are some things that I have just gotten used to working in the box that aren't present in AmpLion 2 Rock Essentials, and it's a bit of disappointment. First up, when I plug in for the first time or switch guitars, I'm used to turning on a tuner view that isn't present anywhere in this plugin. Yes, I do own a tuner, but I can't think of a single amp suite I've tried out that doesn't come with a tuner until now, so it's surprising and a little inconvenient. You can load up a separate tuner or Audified's inTone software, which according to the developer is free when you buy Rock Essentials and does have a tuner built-in, but it's still not a great option compared to just having one built in.
Much more concerning is the lack of MIDI functionality. I've become accustomed using my MIDI foot controller in the guitar suites I own – loading up a ton of effects, then assigning each one a switch on my footpedal, plus using the expression functions for wah and a volume. Considering that AmpLion 2 Rock Essentials comes with a wah pedal emulation, it should really have some way to connect an expression pedal. Because of that, you can't really use AmpLion 2 Rock Essentials for a live rig, and the wah has to be manually painted in after the fact. Again, it's possible to put the plugin in a wrapper that enables MIDI, like Audified's inTone, but I wouldn't consider that more usable than a plugin that just has that built in.
Again, this is a great sounding plugin with sweet emulations and lots of usable presets. Overall, I find the parts of AmpLion 2 Rock Essentials that are present to be great. The parts that are missing, however, do drag down my opinion of its overall usability.
(Note: In the first version of this review, I did not mention Audified's bundled inTone software as an option for adding the missing MIDI and tuner features. I wasn't aware that inTone is included because there is no mention of it in the manual or on the Rock Essentials sales page. I have edited the review to note that is a possibility, but it didn't change my opinion of the plugin's usability or my overall rating of the plugin. Thanks to Jarek Musil from Audified for reaching out to clarify.)

Hear it in Action
I have lots of samples for you today, starting with two guitars, using the 30 Crunch 2 preset for the lead and the 59 Crunch 4 setting for the rhythm guitar:
Here's the same sample with the bass and drums added to create a mix:
Changing presets to bring out a different flavor, here's the lead with 30 Boulevard of Broken Amps and the rhythm with 30 Rolling Drive Double:
Again, here's the same sample with bass and drums:
Here's the completely dry guitar tracks to hear the raw performances:
And finally, here's how the track was originally recorded using a competing product, BIAS FX 2:
Review Name – The Bottom Line
Looking at AmpLion 2 Rock Essentials through the eyes of a budget player, I'm curious about how they arrived at the retail price. There are two main competitors around this price point, and both offer a lot that AmpLion 2 Rock Essentials doesn't have for less money, and a whole lot more for a few bucks more, and that's without factoring in sale prices. There are no bass amp emulations, only three amps – albeit very good ones – and a little over a dozen effects. Comparing this to the competition, which has dozens or even hundreds of amps and effects, it just doesn't hold up. Pair that with the lack of tuner and MIDI functions and I can't give this plugin full credit for value. All in, I consider it a 3-star value with its current featureset.

I have to say I'm a bit confused by AmpLion 2 Rock Essentials. The old version of AmpLion was in need of a refresh, but I fail to see how taking out features like MIDI, a tuner, and the lion's share of the hardware emulations, then increasing the price to boot, makes any sense. I hold out a lot of hope for future versions of this plugin, but as it stands I would probably recommend you look elsewhere (like BIAS FX 2, for example) if you're looking for your primary guitar amp and effects suite. That said, if you catch it on sale and you're looking to beef up your arsenal with additional tones, there are mods and mic options in this that you can't find in a lot of competitors, and the tones are very, very nice. All in, I give AmpLion 2 Rock Essentials a total of 4 stars, and look forward to seeing how they improve it over time.

---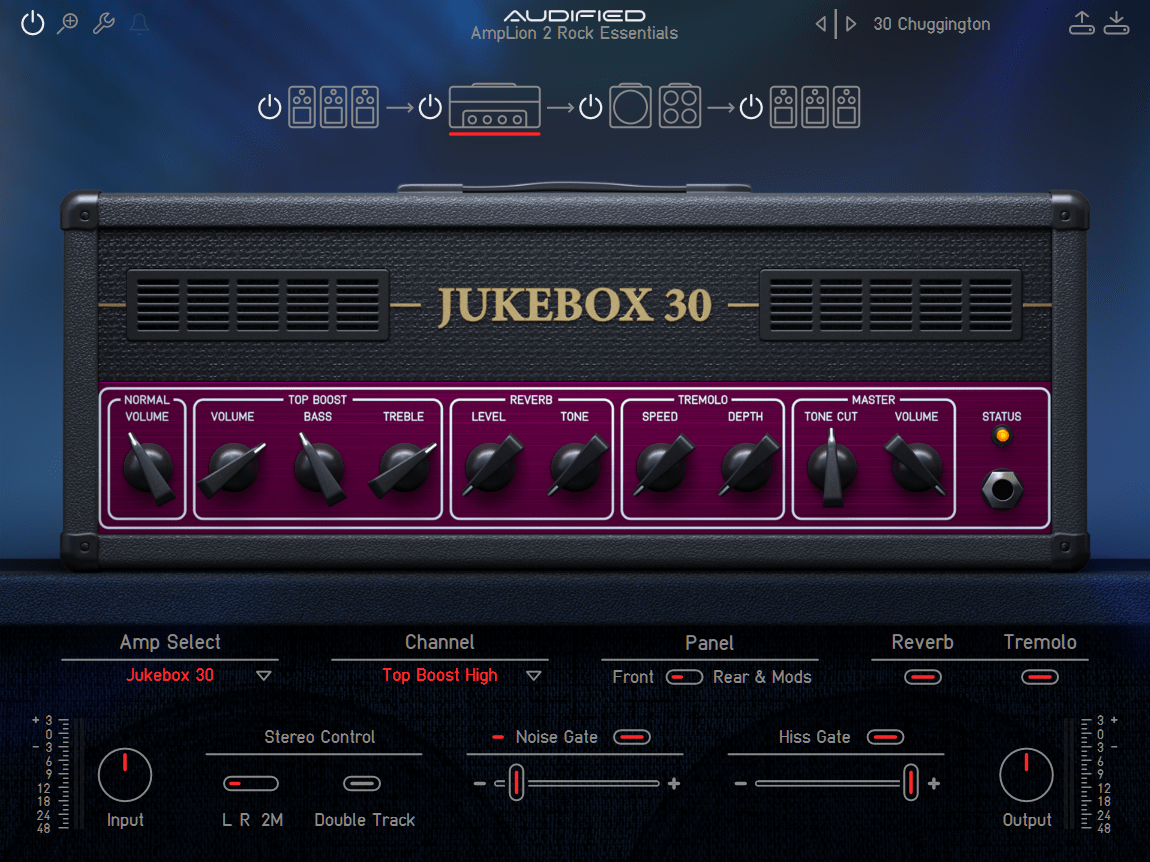 Three very versatile amps with input selection, switchable cab and mic impulses, and lots of effects to play with make this a formidable tour de force of tonal options.
Software - HomeStudioToday