If you enjoy this review and decide to grab the deal, please consider clicking through one of my links before you buy. I earn a small commission at no cost to you, which helps support this site and keep the reviews coming. Thanks!
You've just finished a drum tracking session and one of the mics ended up too hot in the recording, and now the track is practically unusable, or a remote drummer sent you a track, but their recording technique is less than ideal. In the past, you would have had no choice but to start these recordings over from scratch, but modern audio technology has a new solution. MeldaProduction's MDrumReplacer is designed to listen to your tracks, detect the drum hits, and build new tracks as replacements using your own samples, or any of the samples from the enormous MDrummer library. As a big fan of MDrummer, I was excited to take a look at MDrumReplacer and try it out on some old tracks.
Looks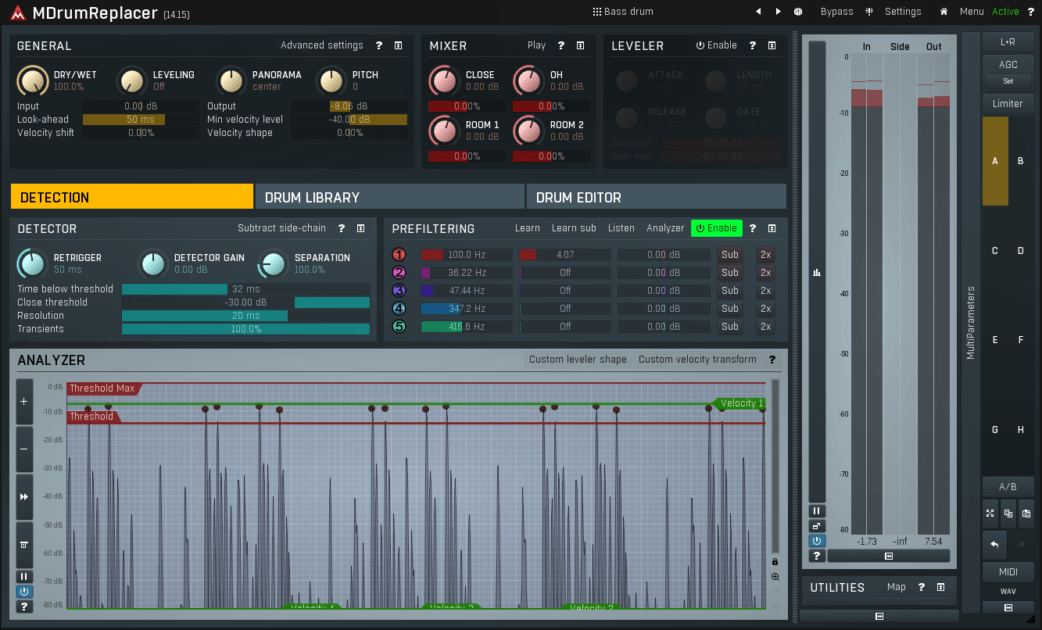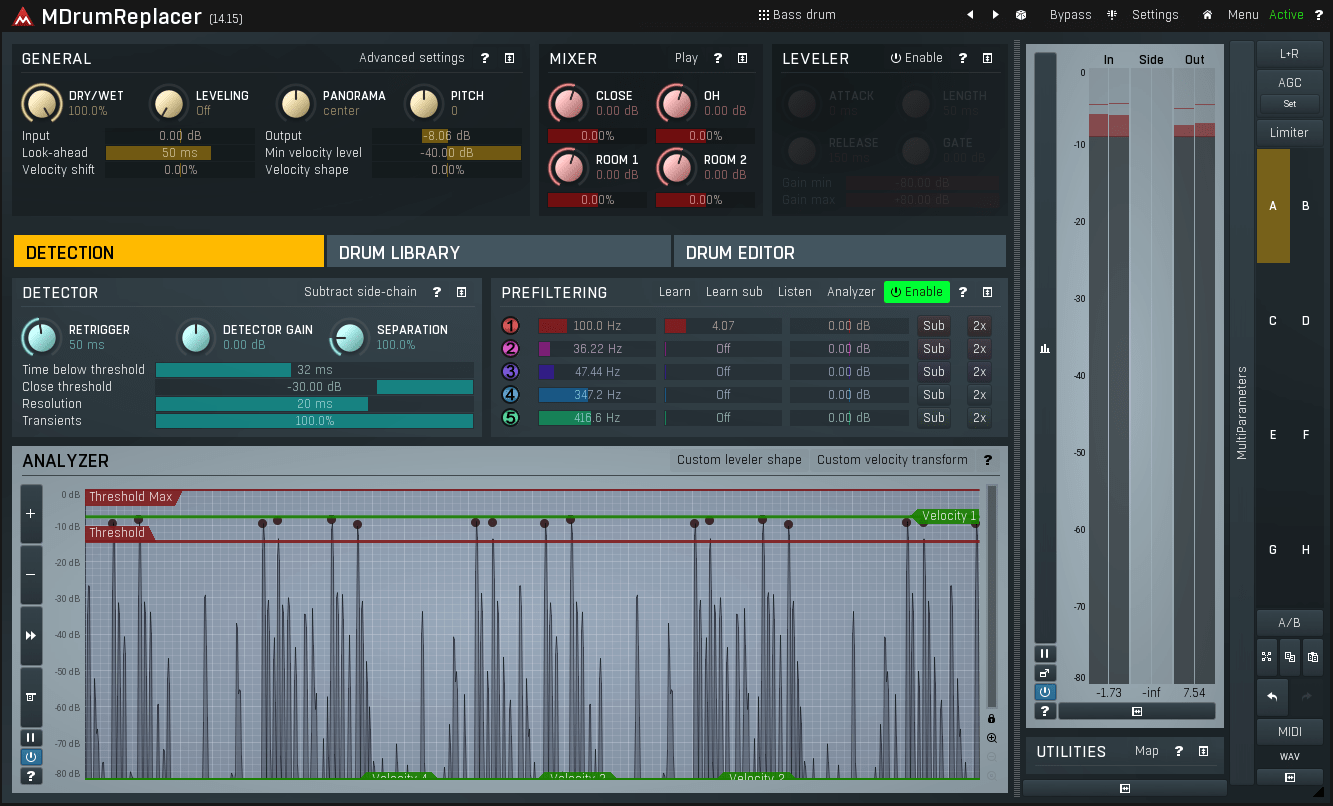 MDrumReplacer has the same look as other Melda plugins, which default to a bluish-grey motif with rainbow-colored buttons and sliders, with the option to apply skins to change the colors and fonts. Along the top are General settings, Mixer, and Leveler boxes with relevant knobs and sliders. Below that are the Detection, Drum Library, and Drum Editor tabs. The Analyzer, the star of the show, is in the Detection tab, and features Threshold and Velocity bars for setting the detection parameters. There are also fold-out sections for metering, extra parameters, and utilities similar to other Melda offerings. There are tons of controls, but everything is laid out logically and nothing is hard to find, with lots of visual customizations possible.

Features
Par for the course for Melda plugins is an overabundance of controls, so there's no way I could possibly cover every single knob, slider, and button in MDrumReplacer. Let's check out the meat and potatoes:
Detection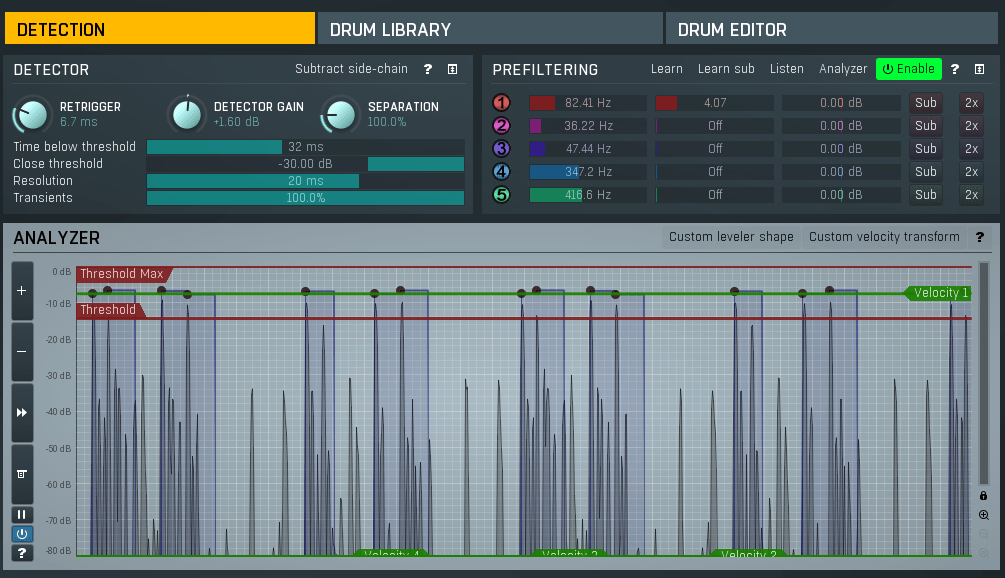 The Detection tab is where the magic happens in MDrumReplacer. Starting with the Detector, the Retrigger and Time Below Threshold controls set the speed of the algorithm, which is useful for preventing double hits in overdriven samples. The Prefiltering box is full of useful controls, like Learn, which attempts to set the detector up correctly based on audio you play through it, the bandpass EQ for dialing in certain frequencies in tracks with heavy bleed, and the Listen for fine-tuning the EQ by ear. The Analyzer graph shows the hits in realtime, and the Thresholds let you narrow down certain amplitudes to monitor for hits.
General, Mixer, and Leveler

The General box has a Dry/Wet for blending the input and output, as well as lots of controls for output pitch, analyzer lookahead, input, output, and velocity settings. The Mixer lets you blend in the various effects from the Drum Editor tab and is particularly useful when paired with the presets from MDrummer. the Leveler controls how the signals are passed to the detector by adding a sort of compression to the detection signal. This makes the detected signals on the Analyzer graph look stepped instead of spiky and shows how far the detection signal is being leveled before another hit can be detected.
Drum Library and Drum Editor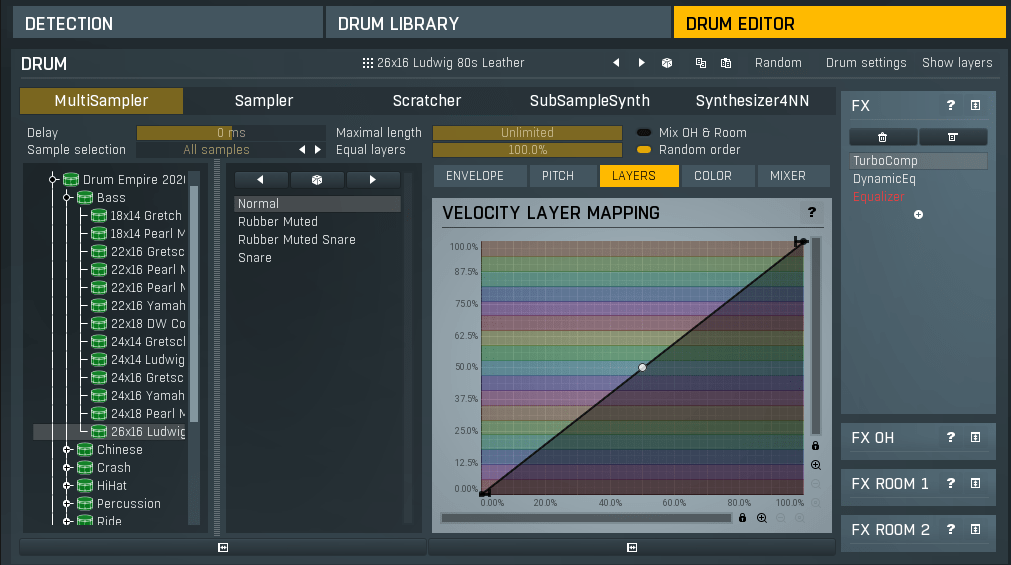 The Drum Library tab lets you choose replacement sounds from your sample library and is where you'll find any Melda sample packs you've loaded. Each kit piece is broken out into a nested list for finding samples easily. The Drum Editor will look familiar for users of MDrummer, and has effects controls for the direct, overhead, and two room sends. There is an incredible depth of controls in the sampler tabs, including synthesizing your own drum hits or layering multiple samples.

Usability
MeldaProduction's new MDrumReplacer uses powerful hit detection algorithms to seamlessly augment and replace drum sounds in your tracks. There are, however, a whole lot of controls involved in dialing in a good hit detection. If you're lucky enough to have your input drum tracks well-isolated, the operation of setting up hit detection is fairly straightforward, but for more damaged or heavily glued multi-track recordings you'll likely need to do some digging into the 126-page manual to figure out exactly how to set the numerous controls.
That said, it's important to set realistic expectations in terms of what the hit detection in any drum replacement plugin, including MDrumReplacer. After a half hour of trying to nail down the correct settings to pull a hi-hat from an extremely overdriven sample, I found it was easier to just get behind the kit and tap it out myself. There was probably a way to do it with a complicated multi-track sidechain, but there is something to be said for the law of diminishing returns. Overall, I feel MDrumReplacer is perfectly usable and has more functional depth than I could reasonably explore in the context of a review.


Hear it in Action
To really test the power of the hit detection in MDrumReplacer, I decided to point it at an intentionally dirty drum sample from Loopcloud from their Mark Fletcher Hip Hop Breaks sample pack. Could I point MDrumReplacer at it and have it pull out Mark's performance? Here's the original sample for reference:
The first task was to pull out the bass drum. Using the bass preset with a very narrow margin between the thresholds and a low-pass filter, I pulled out this sample using a dry Gretsch kick:
Next came the snare. The snare preset pulled both the snare and the hats, but a little tweaking in the thresholds and filtering, I was able to nail it down in just a few iterations:
Now it's time to grab the hats. After a bit of toying with the detection settings, the sample was just too overdriven, so I ended up tapping them in myself in MDrummer:
Finally, here's all three parts blended together with some reverb and a bit of panning to make it sound even better:
MeldaProduction MDrumReplacer Review – The Bottom Line
True to MeldaProduction fashion, buying this one plugin gives you access to the functionality of several of their plugins. When you get MDrumReplacer, you get the immense MDrummer library to replace drums with, plus tons of their effects to throw on the buses. Though MDrumReplacer doesn't take the place of MDrummer for creating your own drums, having the library for free makes this an incredible value. Most other drum replacer plugins come with very few if any samples out of the box, requiring you to buy another drum plugin or sample library to use them properly. From that perspective alone MDrumReplacer is a 5-star value, then when you factor in the enormous featureset, it's an absolute knockout.

I was thoroughly impressed with MDrumReplacer. Never having used a drum replacer before, I wasn't quite sure what to expect, but I was able to dial in the detector fairly easily after looking at the first few pages of the manual and watching the video on their website. MeldaProduction has created a powerful tool in MDrumReplacer that I'll be certain to try in the future when I get a nasty, distorted drum stem or want to decipher a complicated cadence, and the ability to use the whole MDrummer library for free makes it a fantastic value. In the end, MDrumReplacer easily earned 5 stars and my recommendation.

---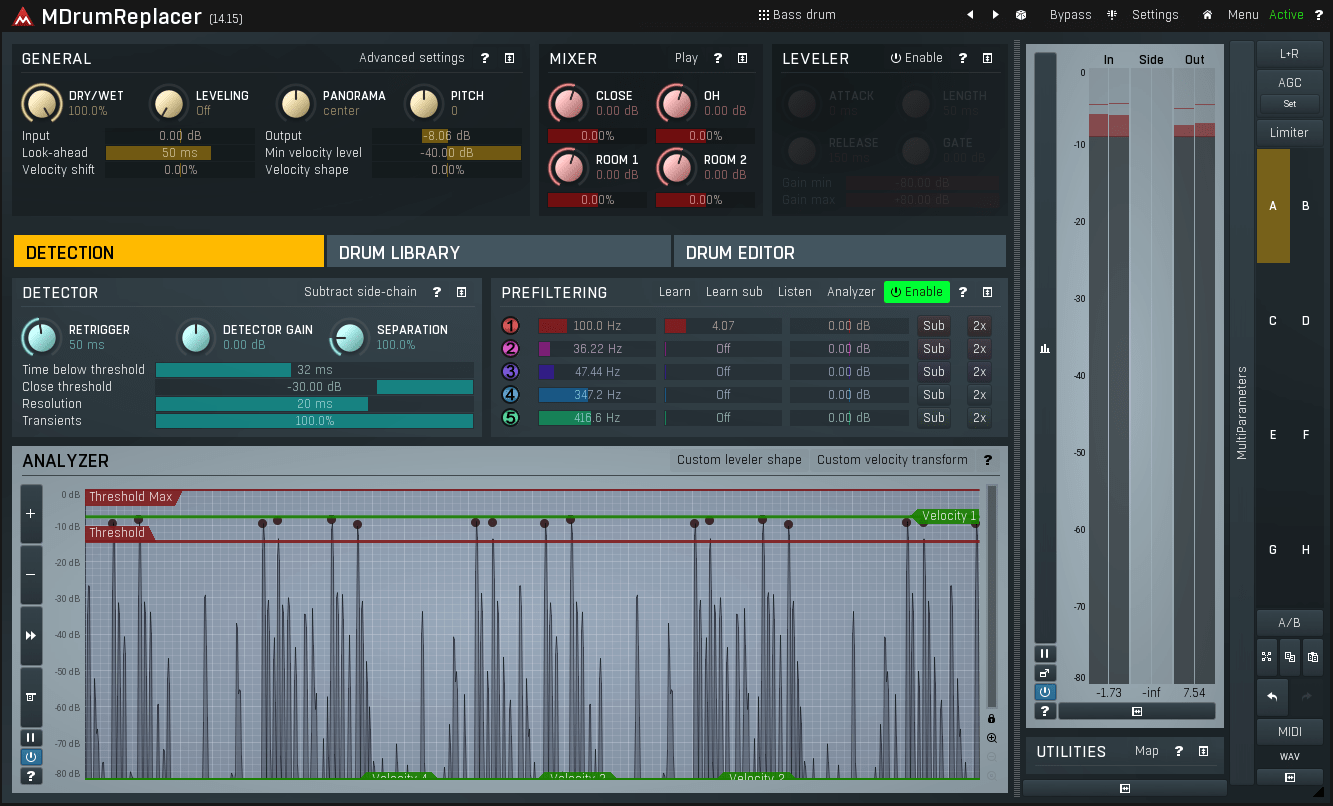 MeldaProduction has created a powerful tool in MDrumReplacer that I'll be certain to try in the future when I get a nasty, distorted drum stem or want to decipher a complicated cadence, and the ability to use the whole MDrummer library for free makes it a fantastic value.