If you enjoy this review and decide to grab the deal, please consider clicking through one of my links before you buy. I earn a small commission at no cost to you, which helps support this site and keep the reviews coming. Thanks!
If you're a hip-hop or EDM producer, finding fresh, high-quality samples is an important part of your workflow. Loopcloud, a desktop and browser-based sample app and plugin suite from PluginBoutique/Loopmasters, offers an alternative to hours of digging in crates of vinyl and pulling samples. Today I'm taking an in-depth look at Loopcloud and helping you decide which plan is right for you. I'll also build a song from scratch using their samples as a jumping-off point. Let's get started.
Looks
Loopcloud is actually a suite of five different apps and plugins. Loopcloud Desktop, Loopcloud DAW plugin, and the Loopcloud Sounds web app have the classic grey-and-blue look of other PluginBoutique plugins, while the Loopcloud Drum and Loopcloud Play plugins have interfaces that change colors and styles based on the currently-loaded plugin pack. After watching the tutorial videos, everything is easy to find and well laid-out.

Features
There are two main features to Loopcloud: the desktop and browser-based web apps, and the DAW plugins. Let's take a look at both:
Loopcloud Apps
Desktop vs. Sounds
Loopcloud Desktop for Mac or PC, and Loopcloud Sounds, the web-based browser interface, both give you access to Loopcloud's extensive collection of over 4 million sounds. The Loopcloud Sounds web app is a stripped-down version that retains all of the sample browsing and downloading functionality of the Desktop version, which is nice for digging through samples and using up your daily credits when you're on the go. The Loopcloud desktop version offers a whole lot more, including the ability to index your personal sample library and use it in tandem with the samples you get from Loopcloud.
The Home tab in Loopcloud Desktop allows you to browse through the thousands of sample packs available on Loopcloud. Clicking the Library tab takes you to a screen full of all of the samples you've downloaded from Loopcloud, including the free Loopcloud Welcome Pack, and any samples that you've imported from other sources. Along the top are dropdowns for filtering based on Instrument type, Genres, sample producer Labels, Formats, Beat, Key, or BPM. Hitting any of the filters takes you to a list of samples that you can audition, then download for free or purchase.
Samples can be purchased individually or as whole sample packs. Individual sounds are either 1, 2, or 4 'Points,' which come with your monthly subscription or can be purchased for about two and a half cents each. Entire sample packs are in the 900-1100 Point range and come with hundreds or thousands of samples. This is the only thing I don't fully enjoy about Loopcloud, as I don't like converting money to Points to spend and would prefer to have a single pricetag, but isn't a dealbreaker for me at all. I was able to bank my points for a few months and buy an absolutely awesome Mark Fletcher sample pack that is so deep I've barely scratched the surface.
Also, many of the samples, up to 25,000 at any time on a rotating basis, are free to download with your daily download allowance. Even with the Free plan, you get 5 downloads a day, which adds up to 150 samples a month if you make a habit of looking for samples every day.
Multi-Track Sample Editor

The sample editor is where the magic happens in Loopcloud. If you've ever gone through the painstaking effort of sampling a record or paid a bunch of money for sample packs only to find that the samples just didn't jive with the rest of your collection, Loopcloud has the solution. Click an open track, then click on a sample you want to audition and hit play. Then, click another open track and choose another sample, then use the measure, BPM, pitch, pattern, and editing controls to see if the second sample fits with the first. Using these features alone, you can find great samples to purchase and download, build beats, then export them to your DAW using the connection button. Alternatively, you can drag-and-drop single samples or entire multi-track creations to your DAW, desktop, or any other application.
Loopcloud Plugins
Loopcloud comes with three plugins called Loopcloud Drum, Loopcloud Play, and simply Loopcloud. Let's check them out:
Loopcloud Drum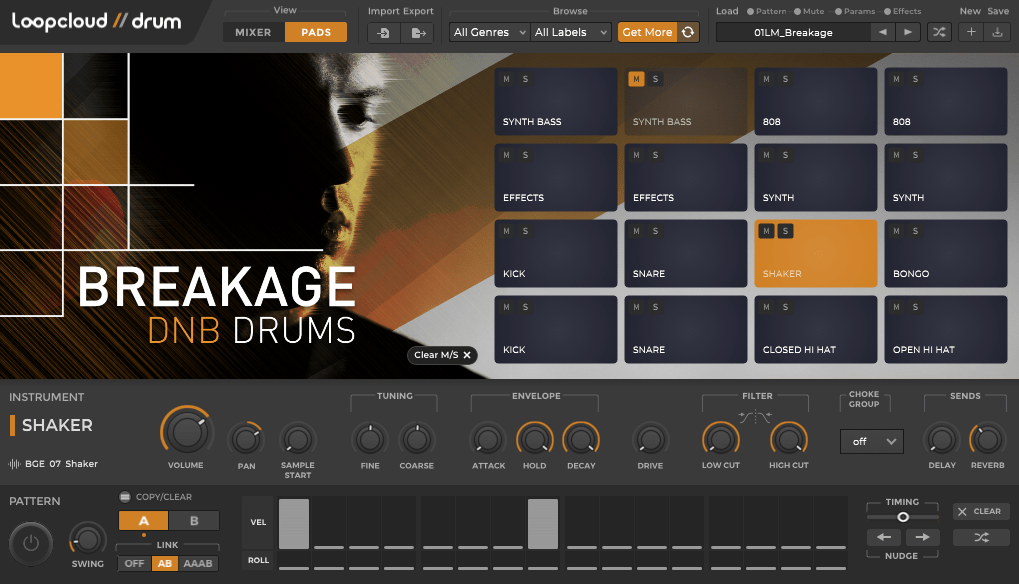 The Loopcloud Drum plugin allows you to paint in your own custom kits and patterns using the whole galaxy of one-shots and full samples on Loopcloud as your palette, and sounds from your other libraries as well. Just click New, give your kit a name, hit Import, then start dragging and dropping your sounds onto the 16-pad interface. Each pad has its own mute and solo.
Once you have created the kit of your dreams, click any of the pads to activate the pattern generator for that pad, draw in a pattern with velocity and roll, then do the same for the next pad. Each sample in the kit can be individually tuned, filtered, panned, and more. There are also delay and reverb sends. Click the Mixer button to bring up a mixer view with individual volume controls and adjustments for the send and master effects.
Loopcloud Play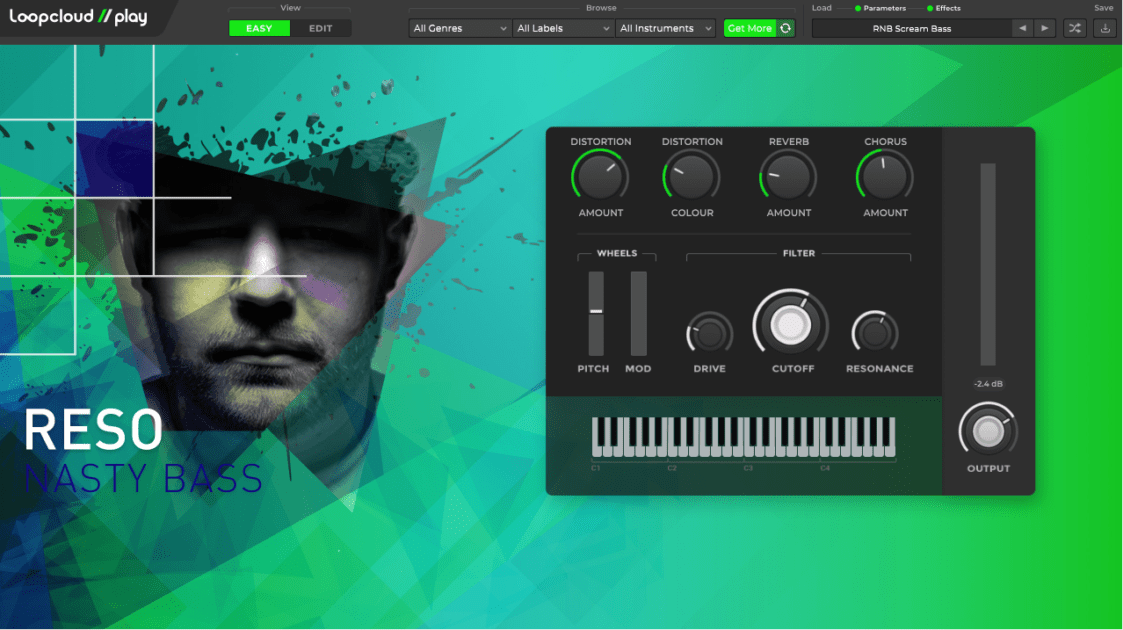 Loopcloud Play is a keyboard-style sampler that, similar to Loopcloud Drum, allows you to download tons of premade sample packs and arrange them on a keyboard view. It comes with a ton of free presets, then clicking the Get More button automatically opens the desktop interface to the section where you can audition and buy more Loopcloud Drum kit packs. Hitting the Edit button gives you tons of fun controls to play with, including filters, LFOs, and ADSR envelopes. Any of these are MIDI-assignable and work with DAW automations.
Loopcloud Plugin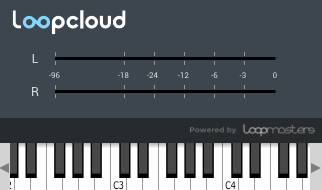 The Loopcloud plugin allows a direct connection between the Desktop app and your DAW. The piano roll allows you to pitch your creations in the multi-track sample editor up and down, and also works with a MIDI keyboard. No frills with a simple interface.

Usability
PluginBoutique/Loopmasters has done a great job of providing a series of video tutorials to help fast-track users on Loopcloud. Within a few minutes of watching the videos and playing around with the desktop app I was auditioning and downloading samples, arranging multi-tracks, then exporting them to my DAW to play with and create. The drag-and-drop functionality of Loopcloud is incredibly slick and makes working with my sample libraries, both from Loopcloud and other sources, far easier than digging through directory trees on my hard drive. The fact that I can go from nothing to a complete song concept in short order is astounding.
The ability to index your personal sample library makes it great for organizing your growing collection from multiple sources. This worked particularly well for sample packs that I have purchased from other vendors in the past. One caveat I found was that while Loopcloud was able to index the sounds from some of the other plugins that I own, it could not play them. I'm confident that this is a DRM issue and not in any way related to Loopcloud's core functionality, but I was a little disappointed that I couldn't use the sounds that I like the most from several favorite virtual instrument plugins and use them in Loopcloud.


Hear it in Action
With over 4 million sounds at my fingertips in Loopcloud, I knew that just playing a few samples wouldn't cut it – I needed to create a complete beat from scratch. I decided to create a challenge for myself: could I build a beat that I was willing to share on social media for #FeedbackFriday in our Home Studio Enthusiasts group on Facebook in an hour or less?
I started the timer, auditioned and downloaded samples, matched pitches and BPMs, then imported them into my DAW to add effects. At exactly 1 hour in I stopped, used the Master Assistant in Ozone to set a level, then exported the track below:
Here are the samples I used:
Everything was pitched to D and set to 85 BPM. All three tracks were doubled to create delay and stereo width. Here are the plugins I used:
Loopcloud Review – The Bottom Line
If you've read my book then you know I'm not normally a fan of subscriptions. The fact that I have a Loopcloud subscription, then, should be fairly telling about how I feel about Loopcloud's overall value. There are three subscriptions available for Loopcloud, plus the Free version. Here's a quick breakdown:
| Plan | Monthly Points | Daily Free Sounds | Cloud Storage | Price |
| --- | --- | --- | --- | --- |
| Free | 0 | 5 | 0 | FREE |
| Artist | 100 | 10 | 5 GB | $7.99/mo |
| Studio | 300 | 25 | 50 GB | $11.99/mo |
| Professional | 600 | 50 | 250 GB | $21.99/mo |
I personally have the Studio subscription, which allows for 300 points – about 75-300 premium samples – per month, plus 25 free samples per day, which adds up to 750 per month. That is more than enough to keep me in high-quality samples in perpetuity and cheaper than my Netflix subscription.

People who have read my reviews for a while know that I like to keep it 100. Frankly, I didn't want to like Loopcloud when I first heard about it. As mentioned above, I don't like subscriptions, and I don't make techno, so it seemed pointless to me. I decided to give it a try after hearing a ton of good things about it from others. After digging through their enormous library and downloading my first day's worth of samples, I was totally hooked. There are so many more genres in Loopcloud than just dubstep or techno – there's funk, hip-hop, rock, and a whole lot more. I find Loopcloud to be a great jumping-off point for songwriting or just jamming, and have really enjoyed building a sample library that is mine to keep forever even if I canceled my subscription. Overall, I give Loopcloud a solid 5 stars and a glowing recommendation. If you haven't checked it out yet, what are you waiting for?

---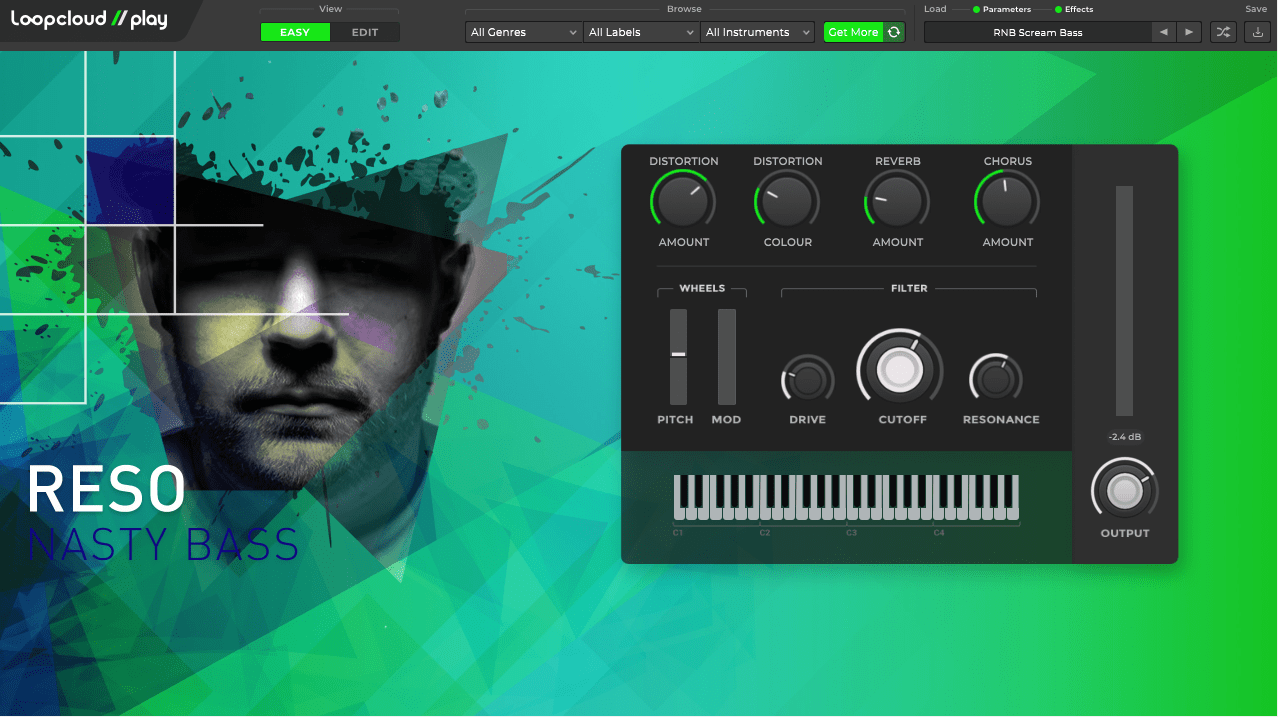 With over 4 million sounds and subscription options for any budget (including FREE), Loopcloud is the new de facto standard for virtual sample digging.