If you enjoy this review and decide to grab the deal, please consider clicking through one of my links before you buy. I earn a small commission at no cost to you, which helps support this site and keep the reviews coming. Thanks!
Chorus, flange, and other modulation effects add depth and variety to your tones, but can be difficult to layer without creating a huge auditory mess. United Plugins and JMG Sound aim to fix that with their newest offering, Orbitron. Combining four independently controllable modulators with twelve selectable effects and multi-function oscillator, Orbitron is designed to add flair and panache to your guitars, synths, vocals, and more. How does it fare? Check out the video review here, or scroll down for more details below:
(Note: the video above is an update to the first review, where I found a few bugs that the developers quickly patched, prompting an updated review. You can see the original video here.
---
Looks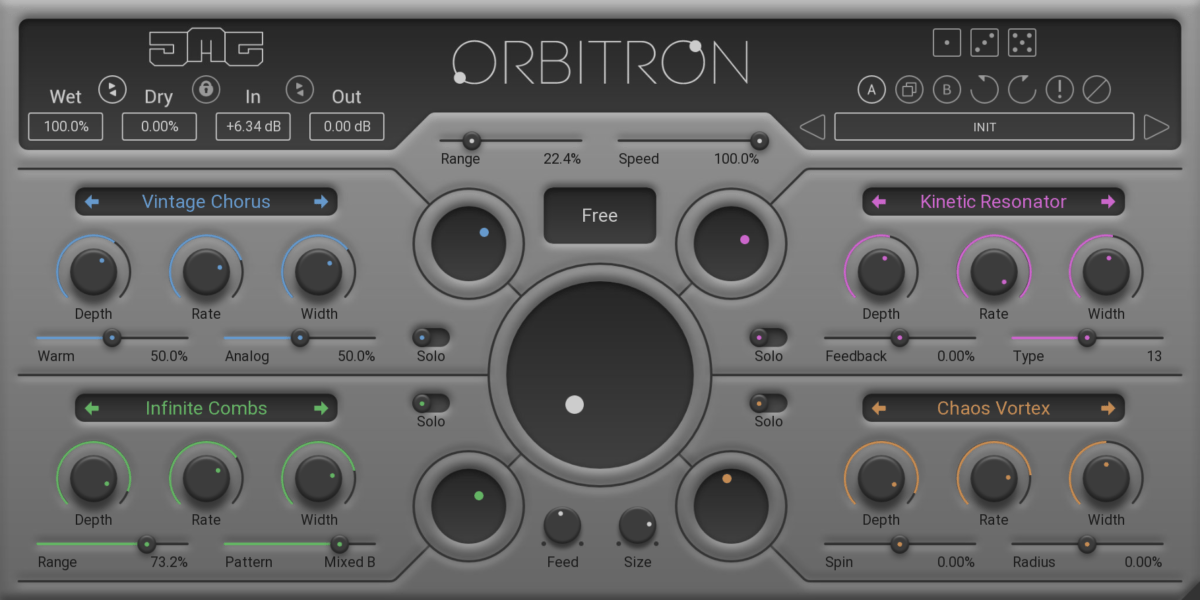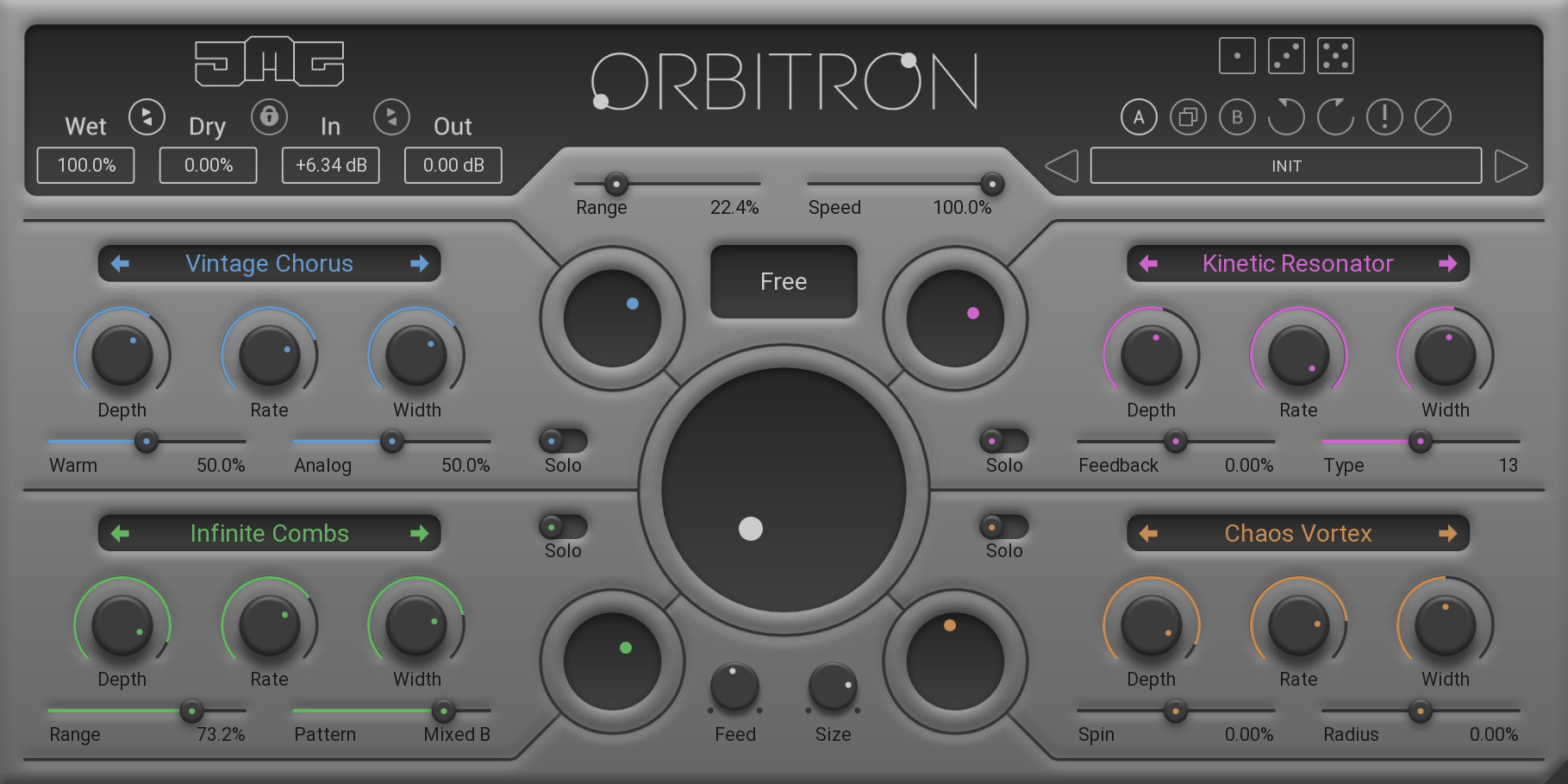 Orbitron has a grey-and-black color scheme with multi-colored controls delineated into four modulator sections by a large X-shaped mix modulator area in the middle. Each modulator section has a mode selector, three knobs, and two sliders, as well as a rotation visualization. The mix modulator consists of one large circular X/Y pad with controls for rate and speed of blending. Right-clicking the interface brings up GUI controls and oversampling modes. Overall, everything is easy to find and the layout is logical and attractive.

Features
Let's dig in and find out what makes Orbitron tick:
Wet, Gains, Randomize, and Presets

Easily my favorite UI feature in Orbitron is the lock control for the Wet/Dry and In/Out for easily varying both simultaneously in opposite directions. The lock button in between freezes these two controls when you load different presets, which is a very useful feature I wish was available in more plugins. The three Randomize buttons are an awesome addition to a plugin with as many buttons and knobs as this, and include small setting changes, mix and mode changes, and full random. The preset loader has A/B, undo/redo, copy, panic, and hundreds of presets in arranged into over a dozen folders.
Modulators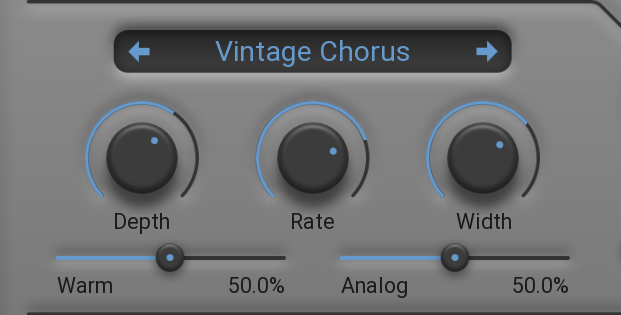 Each of the four modulators can load any of the twelve bundled effects: Cosmic Chorus, Vintage Chorus, Super Chorus, Tape Flanger, Future Flanger, Phat Phaser, Infinite Combs, Liquid Filter, Kinetic Resonator, Chaos Vortex, Rotary Speaker, and Space Time. Each has Depth, Rate, and Width knobs, plus two sliders based on the mode like Warm, Analog, Saturate, or Talk, and a solo for auditioning one effect at a time.
Mix Modulator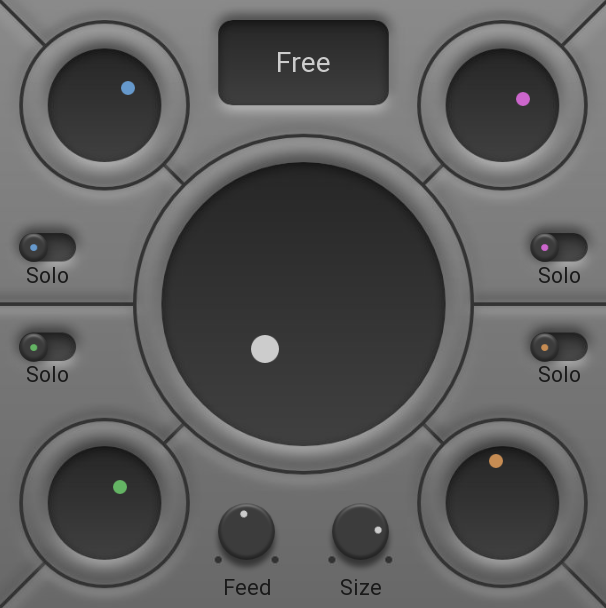 The Mix Modulator allows you to vary the Rate and Speed that Orbitron cycles through the effects. The Feedback and Size controls adjust the amount and delay length of the Circular Feedback, which feeds the output from one effect into the input of the other .

Usability
In terms of usability, I really, really like how Orbitron sounds. Each of the twelve modes has a unique vibe, and using the four channels to blend them makes for virtually unlimited sonic options. Kicking those features up another notch are the different time-based functions and blending controls, which can make some very cool sounds.
I also greatly enjoyed the solo feature, as it lets you use any one of the individual effects on its own. You can even set automations in your DAW to flip multiple effects on and off using the solo. Coupling all this with the hundreds of presets it comes with, and Orbitron is an easy five stars for usability.
(Note: In a previous version of this review, I expressed concerns with the Circular Feedback control, which in the 1.0 version of Orbitron could cause an infinite feedback loop and make an unpleasant noise. The developer quickly patched the plugin, resulting in a higher, updated score for Usability.)

Hear it in Action
For this review I made two full samples, plus a dry sample for comparison. First up is a rotary speaker effect on the guitars called Speak Easy:
Next, here's an effect called Evolving Vocal, which has Vintage Chorus, Phat Phaser, Chaos Vortex, and Space Time modes with time synced to the project tempo:
And here's a completely dry sample for a side-by-side:
United Plugins Orbitron Review – The Bottom Line
Simply put, i think Orbitron is slightly overpriced for what you get. Yes, there are a ton of presets and 12 different modes to choose from, but I'd be hard-pressed to pay the full retail price for it. Compared to other multi-effect options on the market the pricetag is a bit steep. On sale, however, I can see picking up Orbitron for its wide variety of sounds and cool randomize feature that allow for virtually infinite possibilities.

United Plugins and JMG Sound have a rock solid plugin in Orbitron. There are twelve usable effects and four channels, and the blending makes creating unique tones a breeze. In the end, I give Orbitron 4.75 out of 5 stars, and my recommendation that you definitely demo it and decide for yourself.

---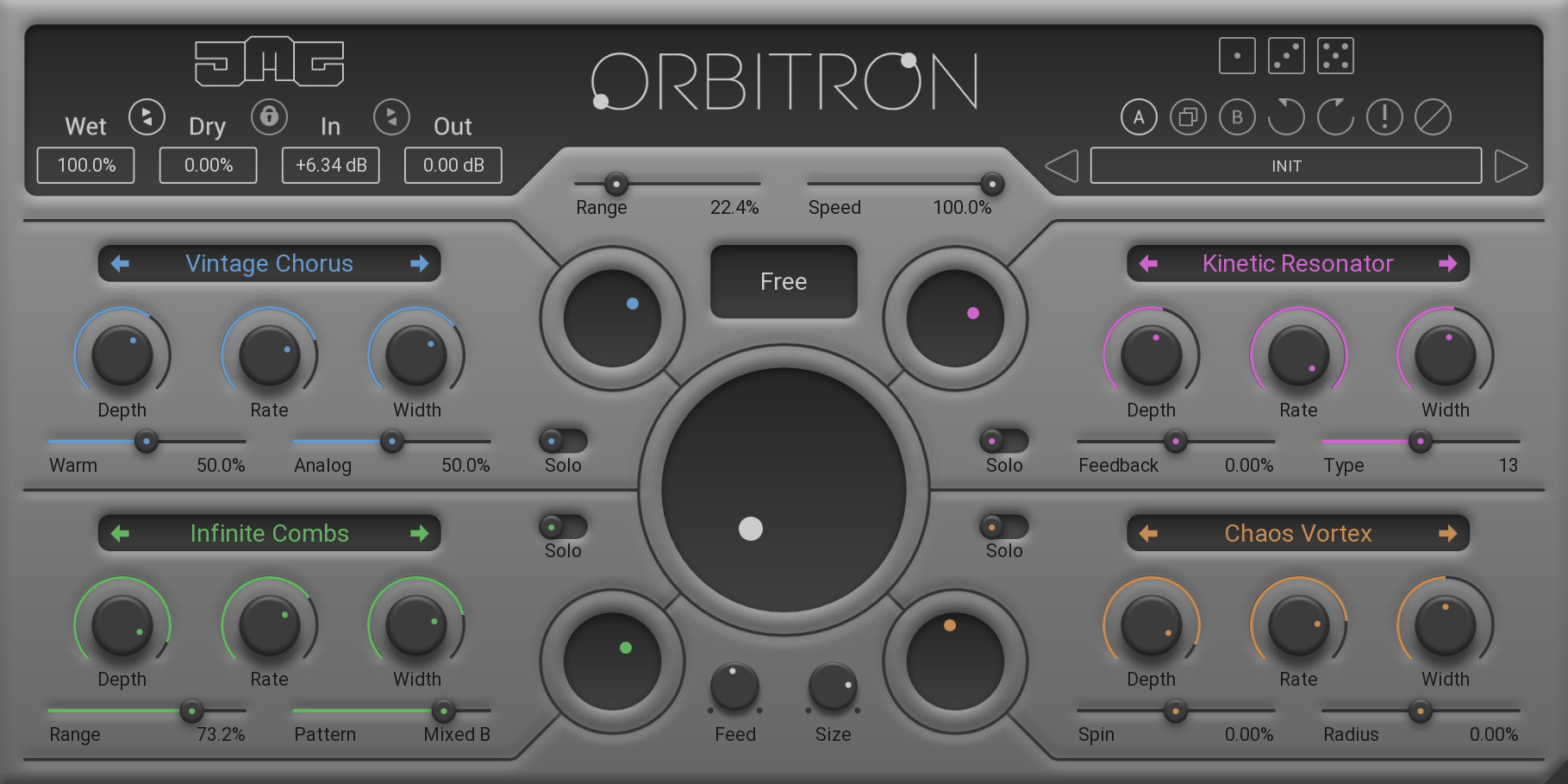 Four independently controllable effects channels with modulation and mixing controls for adding chorus, flanger, phaser, filter, delay, or all of the above to your tracks.