If you enjoy this review and decide to grab the deal, please consider clicking through one of my links before you buy. I earn a small commission at no cost to you, which helps support this site and keep the reviews coming. Thanks!
Welcome to the second article in my series of reviews where I'm on a quest for the best drum virtual instrument plugin. Next up in the series is Steven Slate Drums 5.5, a plugin that I have never used before but have heard a lot of positive things about. Sitting at the same retail price as several others in the review series, how will it compare in features and value? Let's dig in.
Looks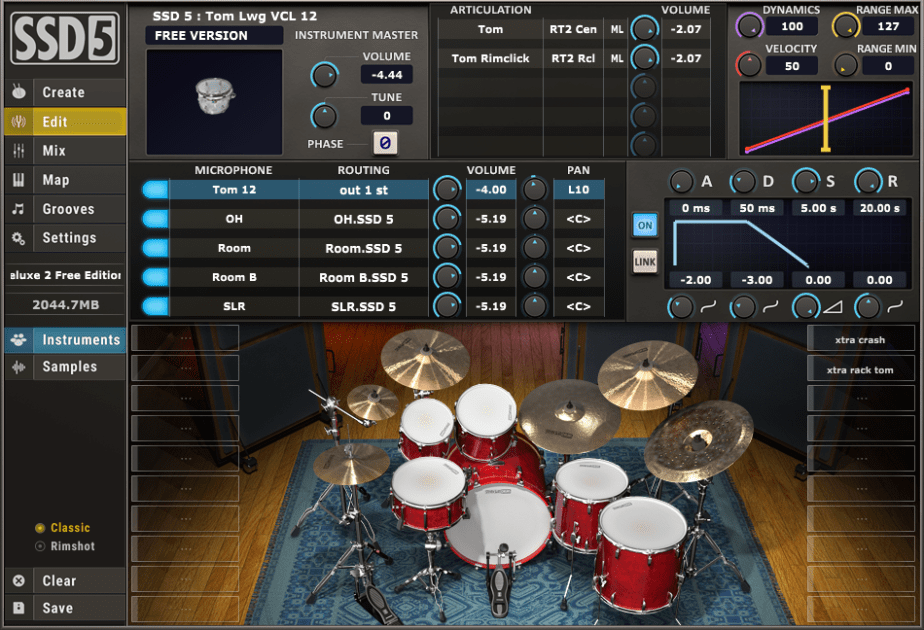 SSD 5.5 opens to the Kit view, a blank canvas of empty drum shadows which are ready to be filled in from the library of drums and cymbals. There is also a Cells view that breaks all the drums out into a grid instead. The drums sit atop of what I can only assume is Steven Slate's personal drum rug. (The rug really ties the room together, man.) The Create tab displays all the available kits and drums for drag-and-drop custom kit creation, while the Edit tab gives you granular control over each individual drum's settings, including volumes, articulations, dynamics, mic volumes, panning, and ADSR envelope.
The Mix button adds more controls to the Edit tab by adding individual faders with solo, mute, phase, and pan. Map displays a full 128-note MIDI mapping table for use with outboard MIDI gear, and Grooves provides access to the included drum MIDI library with audition features and drag-and-drop functionality. Rounding out the controls is the Settings tab with view toggle, detail, resampling, and streaming settings, UI scaling and master volumes. Nothing is hidden inside a complicated menu, and the controls are well laid-out in an attractive interface.

Features
Let's dive deeper into the features in Steven Slate Drums 5.5:
Create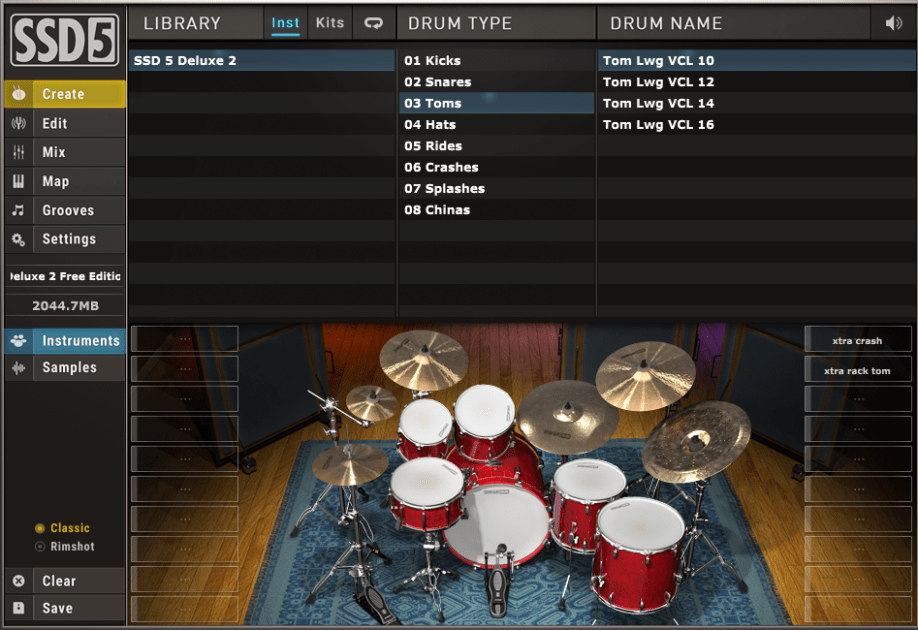 The Create tab has two sub-tabs along the top, Instruments and Kits. The Instruments sub-tab lets you build out your custom kit from the SSD 5.5 library, which includes hundreds of kicks and snares and dozens of toms and cymbals, each with multiple articulations available. The Kits sub-tab gives you one-click access to nearly 150 presets which load an entire kit at once, with multiple presets per kit for quickly finding the right tones. Clicking on a kit displays a load percentage on each drum and cymbal so you can see when the kit is fully loaded into memory. A memory counter shows how much space the currently loaded samples are taking up.
On the bar on the right are Instruments and Samples tabs. The Instruments tab shows the drum view, while clicking the Samples tab brings up a grid where you can load in the one-shots included with Steven Slate Drums 5.5, or any other WAV file in your personal library. Clicking the Edit or Mix windows after selecting a sample provides the same controls available for the other drums. Finally, clicking Rimshot changes all 127 MIDI velocities of the snare into a rim hit instead of a full hit, while Classic reverts you back to the original MIDI input.
Edit
The Edit tab in SSD 5.5 provides granular control over each individual drum or cymbal in your kit. Select a drum and it will be displayed in the Instrument Master window, which has master volume, tuning, and phase controls. Next to that are settings for the individual articulations, like snare rimshot, center, rimshot edge, snare side, and sidestick. Finishing up along the top of the window is a Dynamics control for cleaning up MIDI input to dial in the right velocities.
The bottom of the Edit tab has individual Microphone routing, volume, and pan controls for each mic that hears the drum selected, like snare bottom, snare ring, overhead, and room mics for example. Each mic can be routed into one of 32 channels, and the overheads, rooms, and SLR can be routed into any of the above. The SLR mic controls the amount of bleed from kick and toms into the snare bottom mic. Rounding out the controls is an ADSR envelope shaper, allowing you to pick the perfect attack, delay, sustain, and release for each drum similar to a synth. The link feature allows adjustment of all the mic envelopes for a single drum at once.
Mix

Clicking the Mix tab brings up both the Edit window and a group of faders below it for more fine control over the volume, as well as solo, mute, pan, and phase. This offers control over the entire kit at once regardless of which drum is selected for Edit. Also, holding CTRL and clicking on multiple faders allows you group control over their fader settings.
Grooves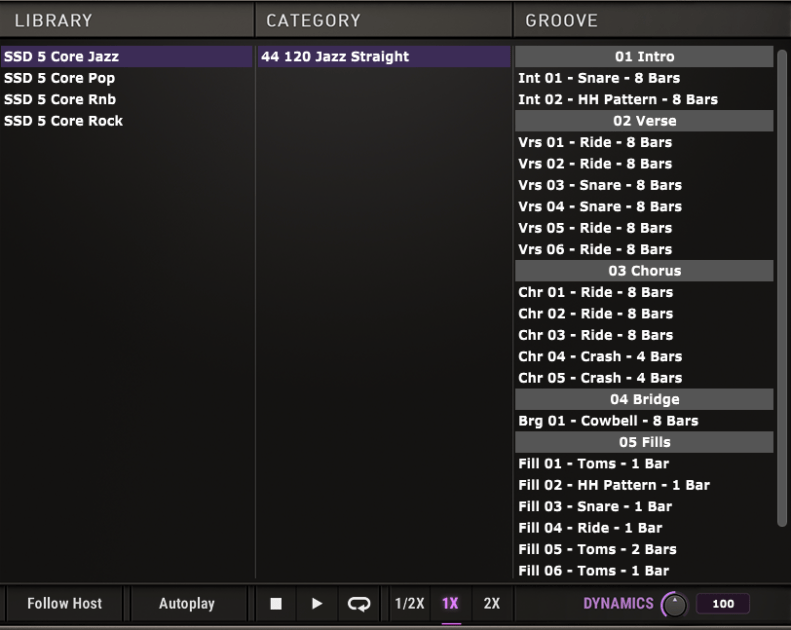 Steven Slate Drums 5.5 ships with over 2,400 MIDI grooves. Clicking on a Library, then a Category, brings up a list of matching Grooves. The Grooves are broken out into various categories like Intro, Verse, Chorus, Bridge, or Fills. There's a playhead with Autoplay button at the bottom for auditioning the grooves, which can be dragged into your host DAW for playback and tweaking in your MIDI editor.

Usability
Something that really stood out for me in SSD 5.5 was the level of detailed control available at drum-level. Far beyond just a few faders, the individual articulation volumes, dynamics, and mic-level granularity really make a big difference in fine-tuning the output. In addition to this, the MIDI mapping features are fantastic. The ability to customize every single note on the piano roll is very, very nice to have, especially if you're using a MIDI keyboard and/or drum pad. Coupled with the sampler feature, I was able to import my samples from Loopcloud as well as my other various libraries and assign them to the piano roll to create fun, hybridized drum and sample presets.
Early in my review process I noticed that Steven Slate Drums 5.5 doesn't have any effects per se, which I expected to be a big drawback. Some people may be off-put by this, however, after playing with it for a few days I found that the two levels of room mics add plenty of reverb, and the individual ADSR settings for each drum act as a compressor as well as adding some interesting feel to the input MIDI. Adding a medium attack to all the snare mics, for example, gives that just-behind-the-beat feel of a John Bonham performance. The SLR mic is another feature that adds a subtle and realistic-sounding mic bleed effect to the drum mix. Upon further reflection, I'm glad that Slate didn't pack a bunch of extra effects in, as I find that a solid drum tone with good room mic options is really all that is required. If I need a bigger reverb, delay, or compressor, I can easily add that in the chain using other plugins.

Hear it in Action
The sample below was created in SSD 5.5 using the same MIDI drum track and master buss limiter that I'll be using on all the reviews in this series to allow for a fair comparison. I used the Deluxe 2 Hugo preset, tweaked the dynamics on some cymbals, increased the volume on the overheads and room mics, and made a few slight adjustments to the panning:
Steven Slate Drums 5.5 Review – The Bottom Line
From a value perspective, having hundreds of kicks and snares to choose from, paired with tons of customization parameters, makes Steven Slate Drums 5.5 a fantastic value at this price point. I'm just getting started with this review series, but based solely on the reviews I've done so far and the product descriptions of the other plugins, SSD 5.5 is a strong front-runner for Best Value in my forthcoming roundup. Having the added sampler feature and extensive MIDI mapping is a definite plus in terms of value as well.

It's clear after spending some time with Steven Slate Drums 5.5 that it has become a popular plugin for a reason. It's attractive, has tons of control, a huge library of samples, one-shots, MIDI loops and fills, a solid MIDI mapping tool, plus a built-in sampler to boot. Though some may be off-put by the lack of in-built effects, I personally didn't find that to be a hindrance at all. In conclusion, I give SSD 5.5 a full 5 stars and my recommendation for those looking for a solid value in a drum plugin.


---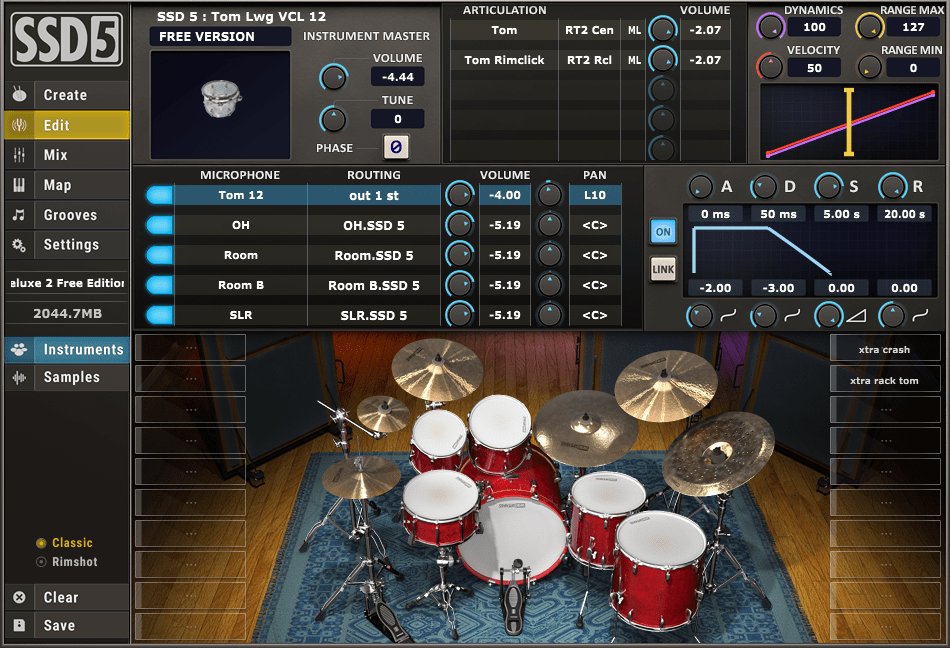 Drum virtual instrument plugin with hundreds of drum and cymbal samples, thousands of MIDI grooves, and granular customization options.