If you enjoy this review and decide to grab the deal, please consider clicking through one of my links before you buy. I earn a small commission at no cost to you, which helps support this site and keep the reviews coming. Thanks!
Capturing a good electric bass track is relatively simple, especially in the modern DAW environment. Plug in, set the levels, and arm the track. Mixing electric bass, on the other hand, is a bit more tricky. Getting the bass to sit in the mix well while still cutting through where it counts takes a combination of EQ, compression, and the right amount of grit. United Plugins and Instant Audio just released QuickBass, the second in their series of quick mix plugins, and I took it for a spin. Check out the video, then check out all the details and samples below:
---
Looks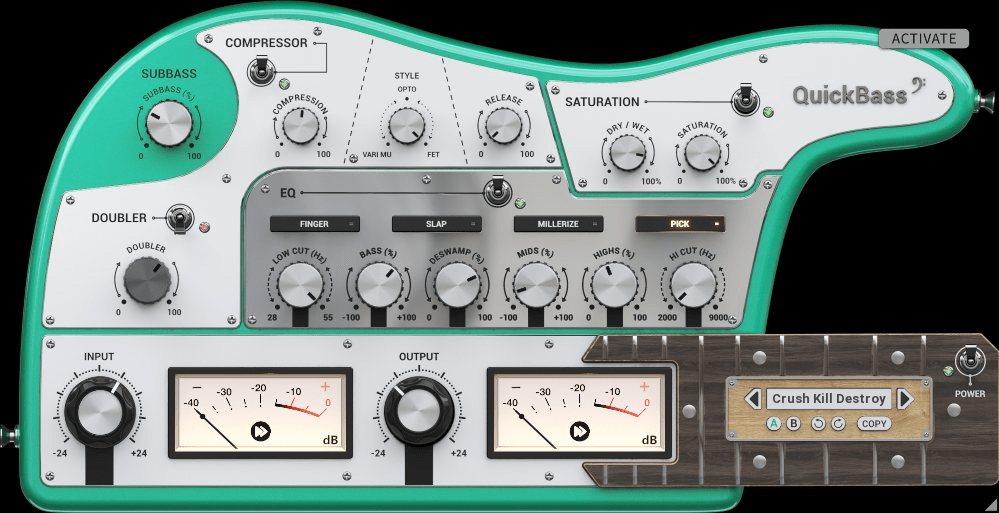 QuickBass is shaped like a seafoam green P-style bass with rosewood fretboard, with white and metallic pickguards with silver knobs adorning the body. There are Compressor, Doubler, EQ, Saturation, and Input/Output controls broken out into separate pickguard sections, all with independent switches for easy toggling. The layout is fun without being annoying or overly gaudy, with controls neatly aligned and logically arranged.

Features
Designed to be a one-stop shop for mixing bass, QuickBass has the entire chain from start to finish that one would normally stick on a bass track. Let's check out the features in detail:
Subbass, Compressor, Saturation

Starting from the top right, the Subbass knob blends in the thumpiest of frequencies, while the compressor module is has mix and release, plus a Style knob for blending between three compressor models: Vari-Mu, Opto, and FET. The Saturation has controls for the amount of saturation and a dry/wet.
Doubler and EQ

The Doubler effect splits out your signal into two and applies a slight detune to one channel, providing a double-tracked sound from a single signal. The knob controls the amount of doubler effect, and the switch toggles it on and off. The EQ has four switchable modes – Finger, Slap, Millerize, and Pick – which fill in the broad strokes, then six knobs to fine-tune. The knobs include a Low Cut from 28 to 55 Hz, Bass, Mids, and Highs, a Hi Cut between 2kHz and 9kHz, and a DeSwamp for setting the perfect low-mid curve.
Input/Output, VU Meters, and Presets

Rounding out the controls in QuickBass are input and output gains with +/-24dB headroom and independent VU meters for each. The preset loader has dozens of choices, including signature presets from bassists like Colin Edwin of Porcupine Tree, as well as A/B, undo/redo, and copy function.

Usability
In my testing, I found that QuickBass isn't just a clever name. I was able to take an unmixed bass track and get it to sit cleanly in a mix with just the right amount of thump and sparkle in short order and with very little effort. In particular, I really enjoyed the Doubler and the EQ, which dialed in very quickly and sounded great on several different basslines. The interface is intuitive and easy to use, logically arranged for the signal path, and the toggles make it easy to solo out different sections to dial in each effect separately before blending.


Hear it in Action
First up, here's QuickBass on a soloed electric bass. This is with the Colin Edwin "High Fr" preset and an Ampeg SVT clone emulator:
Here's the same bassline without QuickBass:
Next up is the same Colin Edwin bassline sample within a mix:
Finally, here's the same bassline, same mix, but without QuickBass helping the bassline cut through:
Review Name – The Bottom Line
QuickBass is right on the edge of what I consider a solid value in a multi-effect mixing plugin. Its quick and easy workflow is an asset if you record a lot of bass tracks and is well worth the price of admission even at full retail. If you can catch it on sale, it's a no-brainer pickup.

Simply put, QuickBass will definitely make an appearance on my future mixes, as I work exclusively in the box with bass guitar and absolutely love the way this plugin sounds and handles. Paired with DIFIX, another offering from United Plugins, and a good amp sim, this affordable bass mixing plugin will make quick work of your basslines and produce great sounds from your tracks, even if plugged directly into a budget interface. I have no other conclusion than to call QuickBass a true 5-star product and will be using it for years to come.

---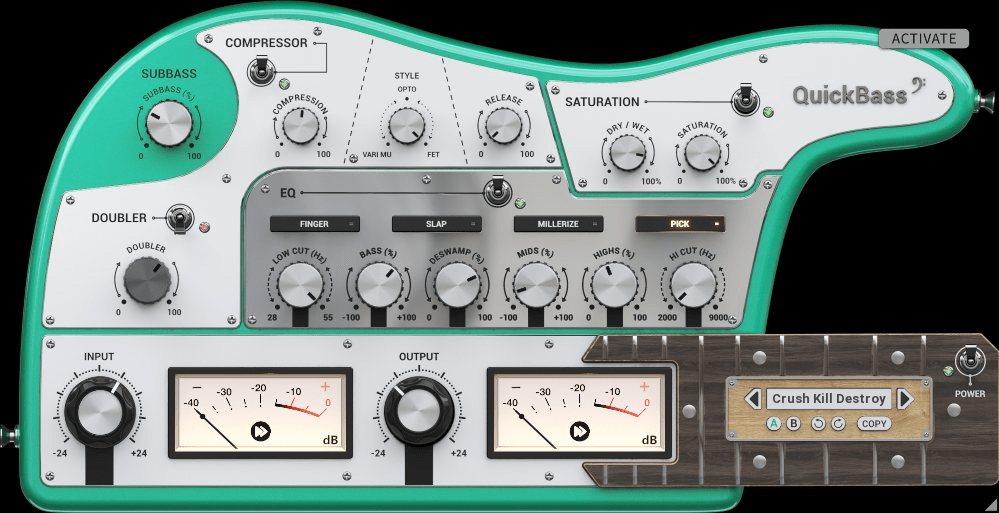 Designed to be a one-stop shop for mixing bass, QuickBass has the entire effects chain from start to finish that one would normally stick on a bass track, plus some fun extras.