If you enjoy this review and decide to grab the deal, please consider clicking through one of my links before you buy. I earn a small commission at no cost to you, which helps support this site and keep the reviews coming. Thanks!
MeldaProduction has just released Drum Empire 2020, a free sample pack for users of their MDrummer and MSoundFactory plugins. Not just any old sample pack, Drum Empire is 60GB of exquisitely sampled cymbals and kits, with names like Ludwig Vistalite, Yamaha Recording Custom, DW, Gretsch, Pearl, and more. In my recent review series where I looked for the best virtual drummers on the market, MDrummer won the top spot. Will Drum Empire 2020 expand on that success and make MDrummer the ultimate drum plugin at any price range? Let's find out.
Looks
MDrummer opens to a dark bluish-grey interface with colorful buttons that comprise the default color scheme for all Melda plugins. There is a menu bar with preset loader along the top, and on the right is the same familiar Melda foldable toolbar with eight lettered preset slots, A/B and undo/redo, Upsampling, MIDI, and Limiter. Below the menu bar are the tabs for the six main screens: Quick Setup, Mixer, Song, Drumset Editor, Rhythm Editor, and Rhythm Generator. The UI is clean and functional, and I didn't have any issues finding what I was looking for.

Features
There are a ton of features packed into the six main tabs in MDrummer. Let's take a brief look at each:
Quick Setup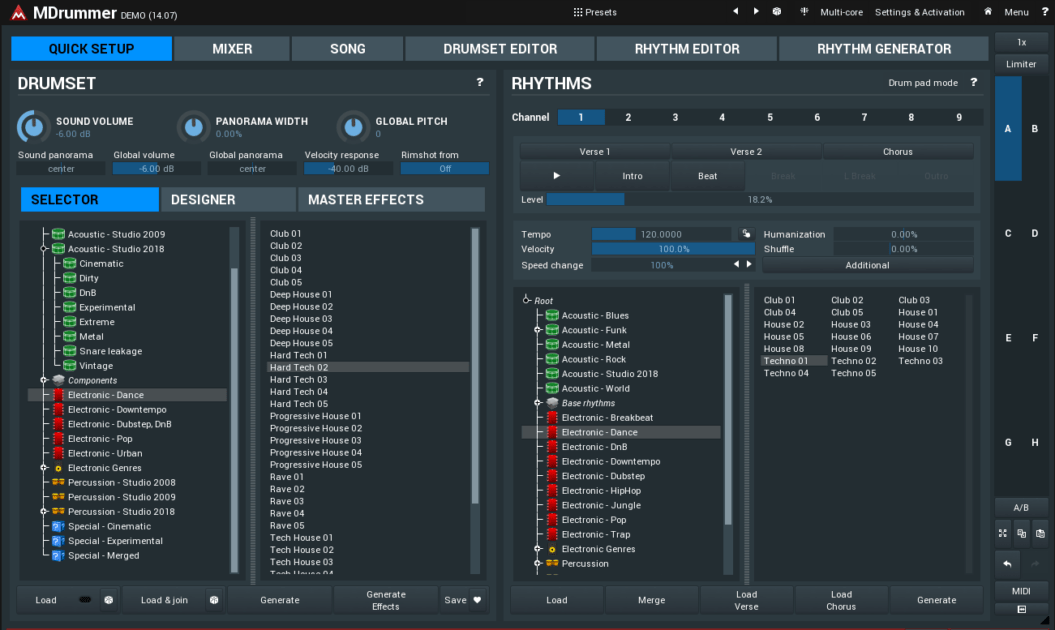 The Quick Setup tab is the primary loader screen that affects how you use the rest of the tabs in MDrummer. On the left side of the main screen is a drumset selector, and on the right is a toggle-able Rhythms or Drum Pads view. Pick a Drumset preset, then use the Drum Pads to audition the different kit pieces. From there, you can pick out any of the hundreds of samples included in their four different sample packs – Studio 2008-2018, MDrummer Essentials, MDrummer Electronic Genres, and the newest, Drum Empire 2020. With over 80GB of samples to sift through, you'll find no lack of variety.
If you hit the Drum Pad Mode toggle it will switch to the Rhythms loader, which allows you to browse through the collection of included MIDI files. The Rhythms screen has a play head at the top, plus 9 assignable channels for using multiple MIDI controllers. Unless your MIDI keyboard controller is mapped to channel 10 in your DAW, any MIDI messages that go into MDrummer while in Rhythms mode will trigger whole MIDI loops or fills that you have loaded. Conversely, when in Drum Pad mode the only way to play back loops or fills is by using the play heads in the other tabs. Each of the drums on the Drum Pad has an individual meter with red clip indicator.
Mixer
The robust Mixer tab in MDrummer has a fader channel for each kit piece, two sends, overhead and room mics, plus output channels. Each fader has a volume, solo, mute, kit piece audition button, send volumes, pitch, pan, and virtually unlimited effects. The effects include dozens from the Melda line, including EQs, compressors, reverbs, delays, stereo width, and a bunch more.
Drumset Editor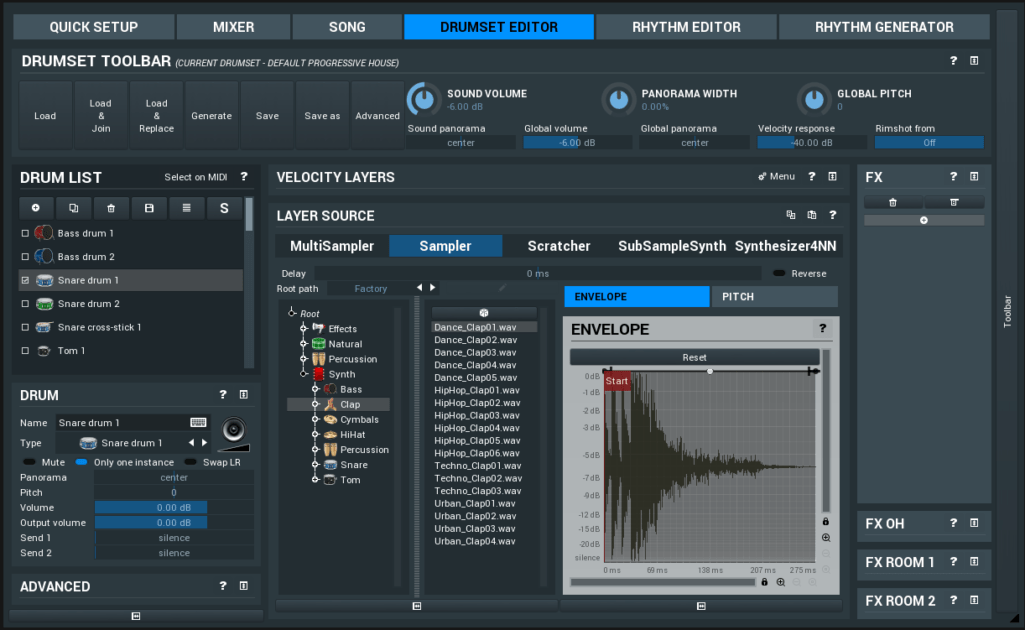 The Drumset Editor is where you swap out kit pieces and edit the individual samples. On the left side is a list of all the drums in the currently loaded kit, below which are volume, send, pan, and pitch controls. To the right is the layer source control panel where you can choose between samples or synthesized sounds, as well as a multisampler that automatically creates separate velocity layers from your external samples. In the Sampler tab there is an Envelope shaper for manually painting in volume levels for the sample on a graph.
It can not be overstated how big the sample selection is in MDrummer, especially now with the addition of Drum Empire 2020. MDrummer now ships with over 80GB of samples, including over a dozen new kits recorded in numerous ways, like dry (my favorite, since I love to tweak settings), dry with brushes, mallets, broomsticks (they call them "floppy"), and even hand drumming. There's also percussion like bells, shakers, bongos, cajon, conga, djembe, snaps, African, Latin, and Oriental drums, and a huge selection of electronic drums.
Rhythm Editor
In the Rhythm Editor tab you'll find a robust loop editor. Along the top are playback and global settings, below which is a piano roll where you can pick where on your keyboard each loop will be located. From this screen you can also load in external MIDI files individually or in batches, as well as dragging your completed loops into your DAW for playback on your track.
The Loop Editor has diamonds representing beats in each bar that are filled in based on note velocity. Each note has an individual Inaccuracy, Offset, Velocity, Deflection, Probability, Minimal and Maximal level, Shufflability, and Pitch. Far more than a simple humanize control, this offers the ability for multiple randomizations, including variations in tempo, velocity, and whether an individual note will play at all. Conversely, there are quantize controls for adjusting played or painted-in notes to line up on the beat correctly.
Rhythm Generator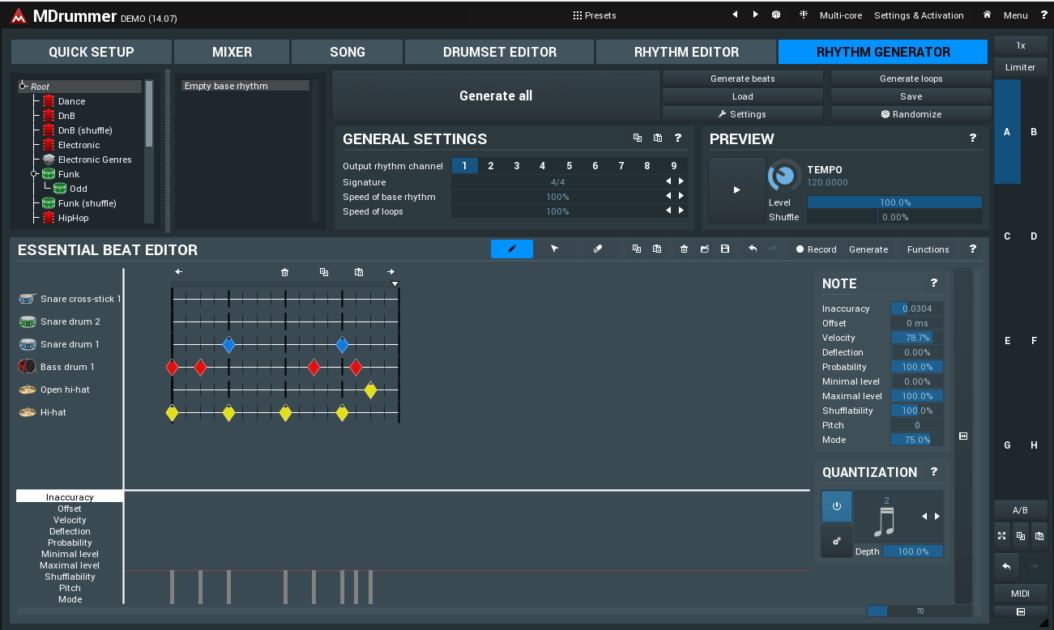 The Rhythm Generator takes simple loops, typically just a few pieces like just kick and snare, and uses an algorithm to create entire song patterns on the fly. Load up what Melda calls an Essential Beat, click Generate all, then check the Rhythm Editor tab to see the new pattern.
Song
Once you have all of the MIDI loops loaded that you'll want for your song, you can audition them as a group in the Song tab. Select a channel, then click the Intro, Verse, or Chorus button that corresponds to the loop you want next. Hit Play to hear your song back. If you want to change something, go back to the Rhythm Editor and play with the individual loops or load new ones from the library, or hit up the Rhythm Generator for new algorithmically-generated loops.

Usability
When I first loaded up MDrummer, I noticed that there are no drum visualizations like in nearly every other drum plugin I've used. I thought for sure that this would take away from the usability. What I found, however, was that I didn't miss the big picture at all, and that Melda used the extra screen real estate to include a meter with clipping indicator below every kit piece on the Quick Setup page. To me, that's just as functional as animating a cheesy picture of a drum kit, and helped me diagnose issues with the drum mix far more quickly.
As with all other MeldaProduction plugins, MDrummer comes with a huge manual. If you don't bother to open the 130-page manual when you first load it up and try to use MDrummer on an existing project, it may be a bit confusing as to why it's playing a cacophony of loops and fills instead of your neatly arranged MIDI. The first page of the manual states "If you want MDrummer to play notes, use MIDI channel 10 or switch to drum pad mode" in huge letters.
Though before I read the manual I was confused, I found this functionality very useful, as it completely separates the loop playback mode from the manual mode, dedicating the entire MIDI keyboard to each function for far more granular control. As such I won't take away any points for my initial confusion, however, in future versions it may not hurt to have a pop-up window or large tooltip on first load that clarifies this vital either/or function.
Undoubtedly my favorite part of MDrummer overall is the huge breadth of reaslistic samples. The included sample library sounds clean and largely unprocessed, with little to no reverb or compression baked in, and the quality is fantastic. This lack of baked-in effects includes the room and overhead mics, which allows a ton of flexibility in how you paint your tracks with effects. If you're looking for a clean, present drum tone as your starting point, with tons of customization options to add depth, warmth, or destruction, the samples in MDrummer are pretty hard to top in my opinion.

Hear it in Action
The first sample was created using the Modern Vintage drum kit in the Studio 2018 sample pack that comes for free with MDrummer. I swapped out a ride cymbal I enjoyed a bit more, tweaked the gain of the bass drum, snare, and ride, and increased the overhead and room mics. I also played with some pan settings. Using the TurboReverb I auditioned a few dozen reverb models, settling on Antovo studio, and tweaked the dry/wet mix to my liking. Once I had the tones and depth I was looking for, I used the parametric EQ to boost the highs and add a subtle cut to the lows to reduce boominess. Here's the result:
The second sample was created using the new Drum Empire 2020 sample pack, specifically the Gretsch Custom 1. I again swapped out the ride and tweaked some gain settings. I loaded the Dry sample pack, so I had to add the room reverb manually and again went with Antovo studio. I honestly didn't have to do much with the EQ and was very pleased with the out of the box sound:
MeldaProduction MDrummer Review – The Bottom Line
Towards the top end of the price range among my review series, MDrummer had to prove itself to be at least twice as useful as the plugins priced at half as much. After building out the perfect kit for my track and customizing the output tones exactly the way I wanted them, MDrummer showed itself to be incredibly usable for acoustic tones. The electronic tones are just as good, making MDrummer useful for all the different kinds of music I'd want to produce. The addition of Drum Empire 2020 puts MDrummer well past the competition and even beats out some boutique plugins that cost nearly double. Providing both a large complement of spotless samples and numerous effects to color the samples exactly the way you want them makes MDrummer a fantastic value in my book, even at its higher price than some other options.

Overall, I really loved MDrummer. The cleanliness and variety of the included samples paired with the dozens of effects and numerous signal path options make this plugin incredibly useful just as a virtual instrument. When you add in all the MIDI options for building out entire songs and generating brand-new loops algorithmically, MDrummer is hard to beat. Once I figured out how to switch between the Drum Pads and Rhythms modes I couldn't find a single fault with this plugin. As such, I'm giving MDrummer an enthusiastic 5 stars, and my recommendation for those who want realistic and customizable drum tones and loops.


---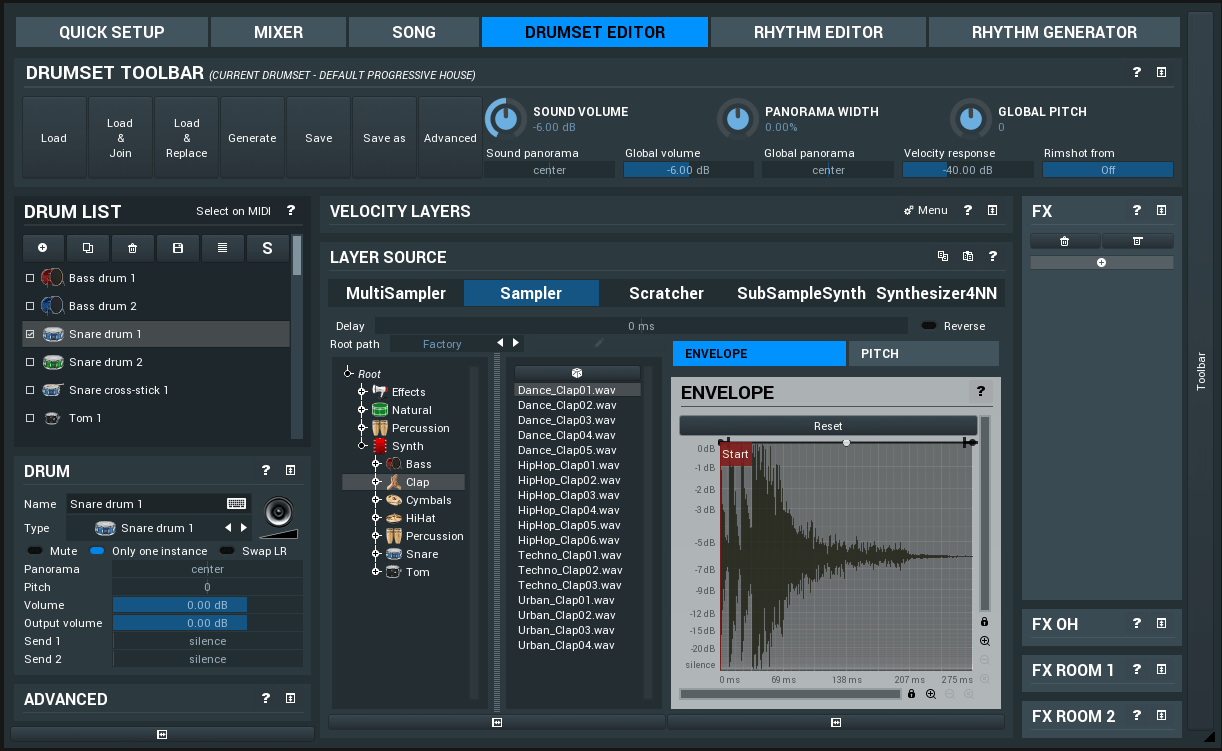 Three enormous libraries of clean acoustic and electronic drum samples with tons of built-in MIDI loops and effects, including a Rhythm Generator for making unique drum loops.