If you enjoy this review and decide to grab the deal, please consider clicking through one of my links before you buy. I earn a small commission at no cost to you, which helps support this site and keep the reviews coming. Thanks!
As a lifelong guitar player I'm constantly on the hunt for new tones – or, in some cases, for very old ones. Fuse Audio Labs' F-59, a recreation and reimagining of the iconic 1959 Fender Bassman for the modern DAW, is one such tone that has been sought after by musicians for the better half of a century. An incredibly versatile amp, the Bassman was played by famous guitarists like Jimi Hendrix and Stevie Ray Vaughan as well as countless bassists and even harmonica players. Did Fuse Audio Labs hit another home run with F-59? Let's find out in my review.
Looks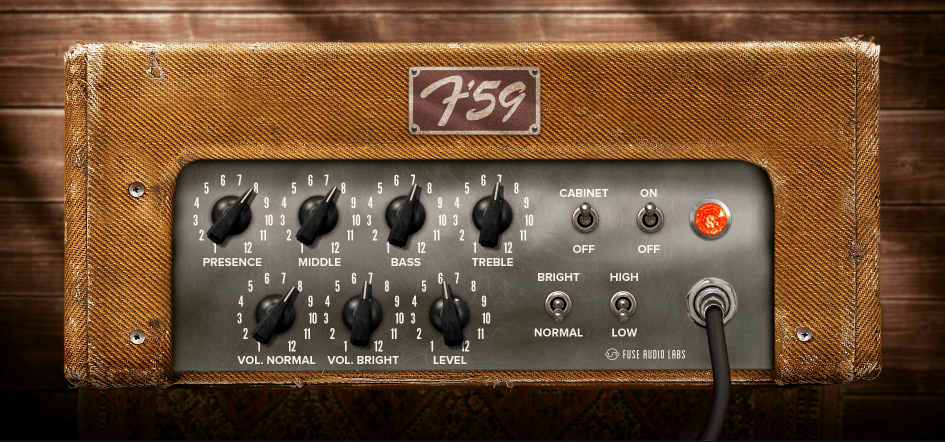 F-59 opens to a top-down view of a well-worn blonde tweed amp with plenty of wear on the silvered top plate. The unmistakeable backward 'F' logo is incorporated into the nameplate design. There are two rows of controls, including 4 EQ knobs, two volumes, and an output level, plus four switches for Cabinet, Power, Normal/Bright and High/Low. An orangeish-red jewel light completes the look of the Fender original. Neatly organized and elegant.

Features
Similar to the other plugins that I've reviewed from Fuse Audio Labs, F-59 has all of the features of the original vintage Fender Bassman, plus a few fun extras. Let's look at all the controls from top to bottom.
EQ, Cabinet, and Power

Just like the original, F-59 has four tone controls: Bass, Middle, Treble, and Presence. Presence in the Revision A circuit that Fuse Audio Labs emulated controls a shelved EQ filter above 1kHz, while Bass, Middle and Treble control their respective frequency ranges in wide bandwidths. Having owned mostly Fender amps throughout my life I was instantly familiar with the behavior of this EQ setup, and F-59 responded accordingly.
One nifty trick that F-59 has up its sleeve is the Cabinet control, which retains the sound of the vintage amplifier circuit but removes the cabinet emulation from the signal path. This allows some different tonal possibilities and effects chains, including using other cabinet emulators in tandem with F-59. There is also a main power switch and a retro jewel light for ambiance.
Volumes, Level, Bright, and Input

The Fender Bassman had four input jacks running into 50 watts of class AB power. The four jacks routed to two channels, Normal and Bright, with two inputs, high and low, and one volume per channel. In place of four jacks, F-59 has two switches to control which channel is active and whether to apply the same 6dB attenuation network of the low input to the signal path. This provides four distinctly different tones and volume levels with just a few clicks.
The Bright channel has a shelved EQ in the upper frequencies that tapers off as the volume increases, whereas the Normal channel is linear throughout. In High mode, both channels start to saturate around the 5 mark, get a bit dirty around 7, get overdriven at 9 and have heavy breakup when fully cranked. In Low mode it takes just a little more volume to get a similar grit, but never achieves the same level of clipping as on the High setting. The Level control isn't on the original Fender amp and was added to F-59 to allow for proper gain staging in your DAW.

Usability
My first thought when I loaded up F-59 was to plug in my Strat copy and try to pull out some Hendrix-like tones, and I was not disappointed. The sparkling clean gave away to a light saturation and then a heavy clipping as the volume was increased. Plugging in a bass, I loved the beefy tones with present high-end and preferred Normal mode for my P-style passive-pickup bass. After all that, I set up my vintage Shaker mic and cranked the gain to get some truly nasty harmonica tones. I definitely did not want to stop playing.
Each flip of a switch or slight turn of a knob brought out different characters in all the instruments I tried, and the familiar beefy, crystal-clear Fender tones that I know and love really shone through. Though I have never played through an actual 1959 Bassman, I have played through many a Bassman and Bandmaster amp, plus owned quite a few other Fender amps over the years. I can say with certainty that using F-59 is like having a vintage Fender in my DAW, and affords me all of the same tonal variety.


Hear it in Action
First up in today's samples are two guitar tracks, the first one with a solid breakup in the Normal mode, and the second a far more overdriven tone in Bright:
Next I put some brand new strings on my bass and took her for a walk with a bit of spanky saturation on the Normal channel:
Last up is a quick sample of nasty, bluesy harmonica with the volume near the top of the Bright channel:
Fuse Audio Labs F-59 Review – The Bottom Line
Looking at the other Bassman sims out there on the market, F-59 is far cheaper than the others and offers a very similar featureset. The versatility of the original shines through in this emulation, making it useful for a wide variety of use cases. The price is more than fair at is retail price point and offers a wide variety of tonal possibilities. I consider F-59 a solid 5-star value, and if you can grab it on sale, don't hesitate.

Though I already have a plugin folder chock full of amp sims, including several very good Fender clones, adding F-59 to my collection was a no-brainer. I've had it for a week and I haven't stopped using it the entire time. If you don't have $7000 lying around for one of the originals, F-59 is about as close as you're going to get. In conclusion, I give Fuse Audio Labs' F-59 my recommendation for guitar and bass toneheads like myself and a full 5 stars overall.

---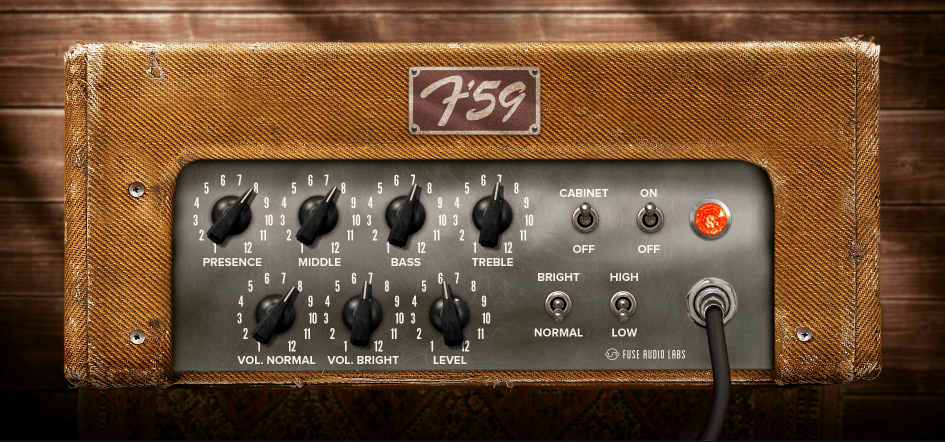 Like having a vintage Fender in your DAW. Switchable bright/normal and high/low for a wide variety of tones with plenty of breakup throughout the dial.