A quality pair of studio headphones for recording are absolutely essential for vocal and instrument recording in your home studio. Your studio headphones will allow you to hear the click track, and any other tracks you have already recorded, in order to maintain an accurate tempo while singing or playing along. You can't use your monitor speakers for this purpose, since monitors playing in the same room as an open mic will cause feedback, and can even damage sensitive mics like condensers and ribbons. Today I'm looking at the most popular options for studio headphones and helping you decide which pair is right for you. First, let's look at the features you'll want to look for, and what makes a pair of headphones a good choice.
If you enjoy this best-of roundup and decide to grab one of the items listed, please consider clicking through one of my links before you buy. I earn a small commission at no cost to you, which helps support this site and keep these best-of lists coming. Thanks!
What Makes a Pair of Headphones Good for the Studio?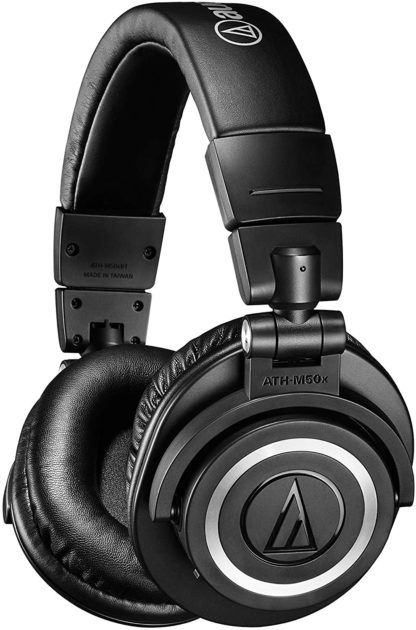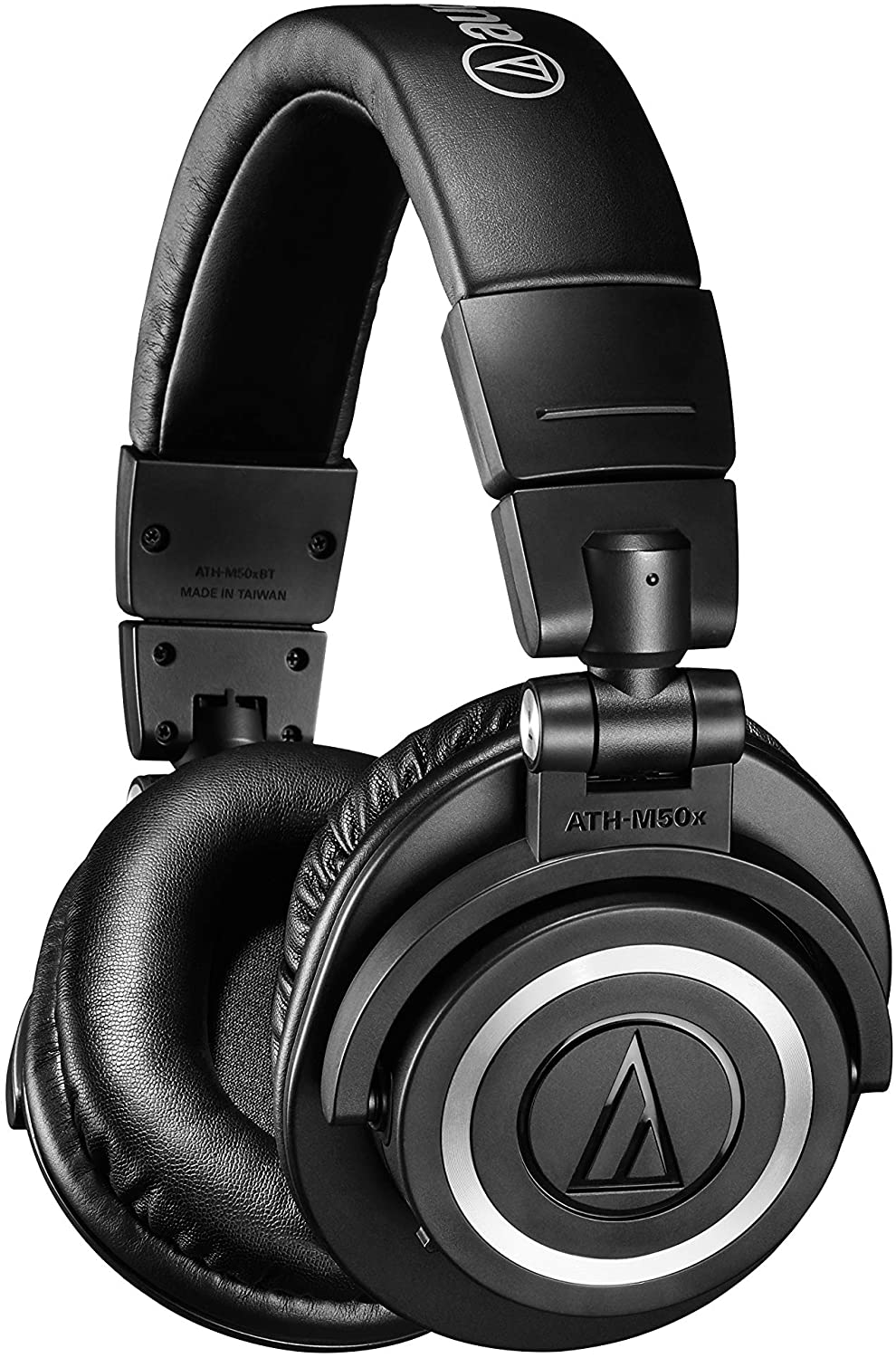 Headphones are headphones, right? Not a chance. Most popular consumer-grade headphones, like Beats or Skullcandy for example, tend to have overly hyped low-frequency response and searing high-end. That may be great for checking out the newest tunes, but doesn't lend itself well to the studio. A good pair of studio headphones will have a flatter frequency response than typical consumer pairs, giving you a more accurate picture of what you're recording. When you're dialing in your EQ and compression to print on a vocal track, for example, you'll want to know that the sound coming out of your headphones at least resembles what is going in the box.
What Features Should You Look for in Studio Headphones?
Headphones have two basic uses in the studio: tracking and playback. Let's take a look at the features you should look for in a good pair of studio headphones through both lenses:
Over-Ear vs. On-Ear or Earbuds
You'll notice that every pair of headphones in this lineup are over-ear headphones, and that's for good reason. Simply put, you can't get an accurate picture of your sound with on-ear headphones or earbuds, making them less than ideal for playback, and the sound leakage that occurs with both designs make them poor choices for tracking. Over-ear headphones are the only real choice for the studio, so I've left the others off.
Open- vs. Closed-Back
Most headphones, especially in the lower price ranges, are closed-back headphones. The outside of the earcups on closed-back headphones are made of solid and/or absorptive material that helps trap the sound from the drivers. The backs on this style of headphones dampen the sound, reflect it back into your ears to help increase the volume, or a bit of both. Noise-cancelling or low-leakage headphones are always closed-backs.
By contrast, open-back headphones have vented backs that allow the sound from the drivers to escape the earcups, much like the ports on a pair of speakers. This equalizes the pressure on both sides of the drivers to greatly flatten the sound output. Since there is little reflection, however, they often require more power or even a separate headphone amplifier to attain usable volumes.
Ideally, a studio will have at least one pair each of both open- and closed-back headphones. But if you can only get one pair, which type should you get? That depends on your use case. Closed-back headphones are better suited for tracking with mics due to lack of sound leakage. If you're recording vocals with a condenser or ribbon mic, you'll need a pair of low-leakage closed-backs to keep the sound in the headphones from printing on your tracks. If you're not recording vocals and can't afford monitors right now, a good pair of open-back headphones may be a solid alternative. Or, if you already have a pair of closed-backs for tracking, you may consider adding an open-back pair to use as a reference for the mixing and mastering phase.
Impedance
Speakers, including the tiny speakers inside headphones, are designed to take electrical current and turn it into sound. The impedance of the speaker, measured in Ohms, directly affects how much wattage the speaker produces from a particular current. For example, if you had a pair of headphones with 32 Ohm impedance and another pair at 320 Ohms, it would take over three times as much power to get the same wattage from the 320-Ohm pair.
What this means is that if you choose a pair of headphones with higher impedance, you'll likely need to turn the dial up higher on your interface to get the same amount of sound output. Most consumer headphones are rated at 32 Ohms, which ideal for small electronic devices like cell phones. Headphones with significantly higher impedance usually require a headphone amplifier to provide a usable volume and avoid burning out the built-n amplifier in your interface.
Calibration
Similar to regular speakers, even the most expensive studio-grade headphones have a unique frequency response that is not perfectly flat and therefore not ideal for mixing. Luckily, there is also calibration software that can flatten the frequency response of headphones, and because there aren't room reflections to counter, no measurements are required. In order to use this method, you'll need a pair of headphones for which a calibration software profile has been created. Before buying a pair, you'll want to check out the sales page of your calibration software and make sure that the pair you're buying has a calibration profile available. For the sake of simplicity, I have narrowed this list down to only headphones that have calibration profiles with Sonarworks Reference, my favorite and the most popular headphone calibration option.
Best Studio Headphones Under $100
Headphones in this price range typically aren't designed to have a perfectly flat response, but instead are designed more for consumer use. As such, they tend to have heavier bass and pronounced high-end, making them not ideal for mixing even with calibration. For tracking, however, any of these headphones works perfectly, and have good sound quality for everyday use.
(Please note that since studio gear goes in and out of stock frequently due to high demand and low supply, prices can and will vary. If the listed price for an item doesn't fall within the category I've placed it in, it's likely because it's out of stock. In that case, you may want to seek out another vendor, pick a different item, or wait until the one you want is back in stock.)
JVC HA-RX700
These were my first set of studio headphones, and are still my go-to pair for vocal tracking. I originally bought my HA-RX700's to help with the amount of sound escaping from my headphones while playing video games. (I drove my wife absolutely crazy with Battlefield 4.) That lack of leakage is perfect for recording with condenser mics, and why I still use them despite having more expensive pairs. They're rated at 48 Ohms with an 8Hz – 25kHz frequency response, and come with an 11.5-foot cord. They tend to be a little boomy on the low end and shallow in the midrange and therefore not great for mixing, but at this price they're an absolute steal.
AKG K240
Easily one of the most popular pairs of semi-open-back studio headphones on the market due to its low price and solid features, the AKG K240 features a 15Hz – 25kHz frequency response and a 3.5mm jack for easy replacement of the included cable. Rated at 55 Ohms, this headphone pair should work with your built-in amplifier on your interface with no issue. The pair I used felt a little flimsy, but if you take care of them they should hold up and provide a quality monitoring experience.
Sennheiser HD 280 PRO
Sitting in the sweet spot between budget and performance is this pair of Sennheisers. With a 8Hz – 25kHz frequency response, 64 Ohms impedance and -32dB of noise attenuation, Sennheiser HD280s are extremely popular among drummers that record at home. (By contrast, the ear protection I use at the firing range only has -24db.) They're another great pair for tracking as well as saving your hearing in a small studio.
Sony MDR-7506
Sony headphones have some of the most fervent fans. I owned a pair of their consumer-grade headphones in high school and loved them. Even after the band broke I duct-taped them back together instead of buying a new pair.
The MDR-7506 comes highly recommended online for its foldable closed-back design, 10Hz – 20kHz frequency response, and its overall rugged construction. The earpads do tend to wear out on them after extended use, but you can get replacement earpads fairly cheap. Rated at 63 Ohms for use with standard equipment.
Shure SRH440
Shure makes some of the best microphones for the home studio, so it makes sense that a pair of their headphones would make an appearance on this list. This 44 Ohm pair with 10Hz – 22kHz response has a detachable 10-foot cord and collapsible closed-back design for portability and storage.
Best Studio Headphones Under $200
As we step into the higher price ranges, these headphones tend to boast a flatter frequency response that can even be used for mixing and mastering when used with calibration. Cans in this range have excellent sound quality and could be an alternative to monitors for home studios on a budget or in a noise-sensitive environment.
Audio-Technica ATH-M50x
The Audio-Technica ATH-M50x's have a solid 15Hz – 20kHz frequency range, a detailed, flat response, and a foldable ear cups that make them popular with traveling musicians. The earcups don't hold my head as tightly as other pairs I own, which is why I don't personally use them for vocal tracking, but they are a good choice for mixing when properly calibrated, and at this price they're a big reason why I put off buying studio monitors for as long as I did.
Beyerdynamic DT 990 Pro
If you can't have studio monitors, consider investing in a pair of beyerdynamic DT series headphones. Designed for mixing and mastering and boasting a stunning 5Hz – 35kHz frequency response, you will find these in pro studios and the homes of audiophiles for good reason. They come in three different impedances – 32 Ohm, 250 Ohm, and 600 Ohm – allowing you to choose the right pair for your particular setup. I would recommend a separate headphone amplifier if buying the higher-impedance models. They are not good for tracking vocals due to the open-back design, so for that you'll need to pick up another pair.
Best Studio Headphones Over $200
Based on the recommendations of our Home Studio Enthusiasts Facebook group, I also included several pairs of boutique-priced headphones. The headphones in this range are favorites of studio professionals and are great when used as a reference point for dialing in mixes and masters, or even as a replacement for monitors in studios that just can't have them due to noise constraints. Headphones in this range have unparalleled sound quality and frequency response.
AKG K702
A high-end version of the K240s, the K702s are rated at 62 Ohms and have a phenomenal frequency range of 10 Hz – 40kHz for the highest highs and lowest lows. They have a similar feel and footprint with the same detachable cable, but boast a sleek-looking open-back design that makes them suited for mixing and mastering instead of tracking. Their extremely flat response and high detail make them popular among mixing engineers for use as a mix reference.
Blue Mix-Fi
Previously known as the Mo-Fi, Blue's Mix-Fi headphones have a built-in battery-powered amplifier, making them incredibly clear and providing plenty of headroom. The switchable amplifier has three modes – passive (off), active, and enhanced bass. They are charged with a micro USB cable and have a runtime of up to 12 hours before they need recharged, plus they automatically shut off when taken off and folded to help maintain charge. Designed with listening to music in mind, they have a frequency response of 15 Hz – 20kHz and very low sound leakage, making them the most expensive pair of tracking headphones I can recommend.
Sennheiser HD 650
At the tippy-top of what I would consider the home studio price range are the Sennheiser HD 650s. At 300 Ohms impedance you'll undoubtedly want a headphone amplifier to enjoy their breathtaking clarity and ultra-wide 12Hz – 39kHz frequency range. Their open-backed design makes them a perfect mix reference and good listening experience for mixing and mastering when noise is a concern. Sennheiser's rugged construction and good looks could easily make them the last pair of mixing headphones you'll ever buy.
Best Home Studio Headphones 2021 – The Bottom Line
That's it! (Yes, no Beats by Dre, sorry.) I hope you found exactly the pair – or pairs – of headphones you wanted for your home studio. If you're still torn about your choice, please feel free to join us in our Home Studio Enthusiasts Facebook group. They helped out with this list, and will be happy to help guide you towards the right fit.