If you enjoy this review and decide to grab the deal, please consider clicking through one of my links before you buy. I earn a small commission at no cost to you, which helps support this site and keep the reviews coming. Thanks!
PluginBoutique has just released a new version of Scaler, their popular music theory and songwriting tool. Let's take an in-depth look at Scaler 2 and check out all the features, new and old.
Looks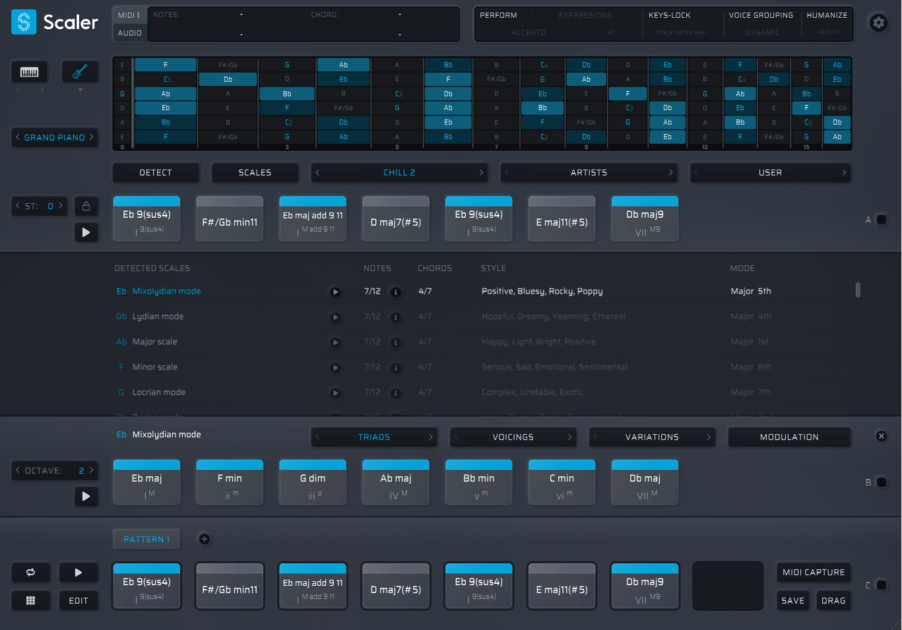 Scaler 2 defaults to a grey-and-blue aesthetic similar to PluginBoutique's website. Along the top is a status bar that offers real-time display of the notes and chords detected from both MIDI and audio, MIDI panic button, audio detection toggle, and playback menu that controls performance characteristics like tempo expressions, arpeggiation, key locking, voice grouping, and humanization. In the top right is a settings menu that allows access to many of the same controls, as well as additional color and UI options.
Below the top bar is a combination piano roll and guitar fretboard with octaves for the piano and dozens of tunings for guitar, bass, and baritone guitar, as well as ukelele and banjo. There are also dozens of voices to choose from, including pianos, synths, guitars, orchestral and hybrids. They're all very generic-sounding MIDI, but great for quickly getting ideas in the can. (The 'Hybrid Keys' setting sounds like whatever they used for the Doogie Houser, M.D. theme music, which was good for a chuckle.)
Moving down the main screen, the browser allows navigation amongst the detect, scale, and chord modes. Detect mode has source and playback buttons, scale mode brings up a browser with every different key and scale combination you could imagine, and chord mode allows you to pick from hundreds of chord presets listed by songs (genre) or by artist. At the bottom is a pattern editor that allows you to save your custom chord patterns for later use. Overall, the interface looks nice and clean, and packs a lot of functionality in without being cluttered.

Features
There's a ton of functionality to review in PluginBoutique Scaler 2. The best way to break it down is by the three main modes: Detect, Scales, and Chords. Let's take a look at each.
Detect Mode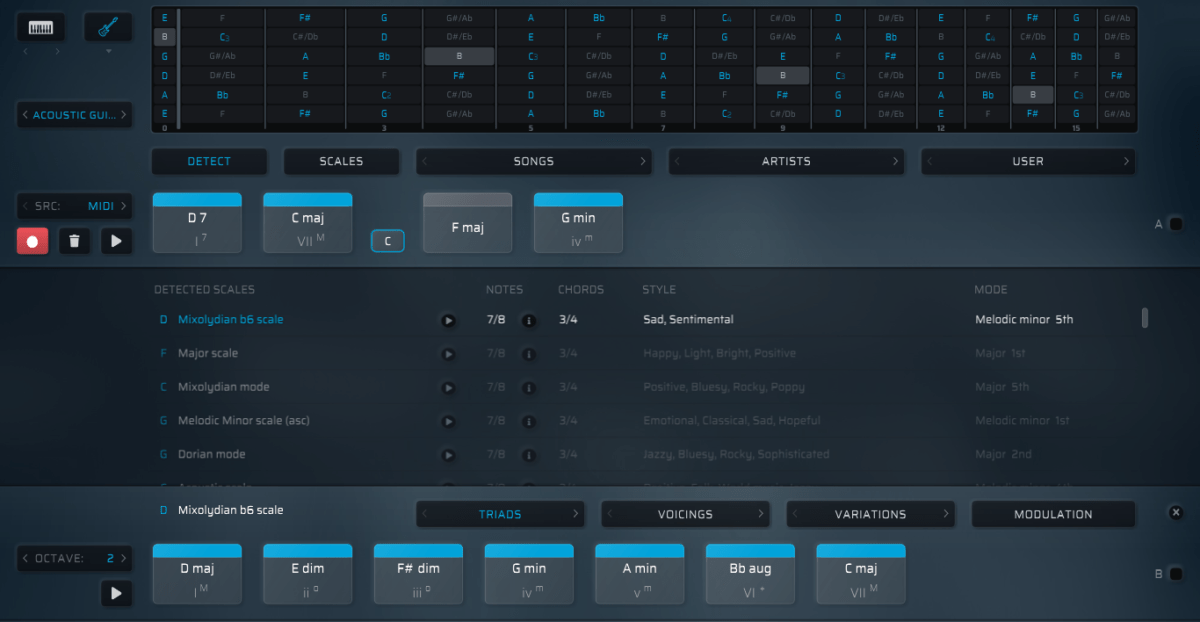 Detect mode in Scaler 2 allows you to take your ideas – and the ideas of others – and translate them into musical theory to build on. When using MIDI as your source, Scaler 2 automatically displays any note or chord you play in the status bar, and hitting record allows you to save your ideas in realtime. Switching the source to to audio allows you to detect and display the chords of a piece of music, whether that music is coming from your DAW or an external file. Scaler 2 also has drag-and-drop capability that works by dragging your sample directly onto the Scaler 2 window to analyze and detect the chords and key.
Scale Mode

Once you have your chords detected, the scale display shows a selectable list of scales that fit in that chord voicing. Each detected scale has a playback button where you can hear the notes in the scale, an info button that shows the constituent notes of the scale (and which ones you played that don't match), as well as how many played notes and chords fit into the listed scale. Any note or chord that fits is highlighted blue, and any that doesn't is greyed out.
In addition to augmenting the display of Detect mode, the Scale mode in Scaler 2 also works independently as a scale lookup tool. Just select a scale, then hit play to preview it. It will play the scale through your monitors as well as highlighting the notes on the piano roll or fretboard.
Chord Mode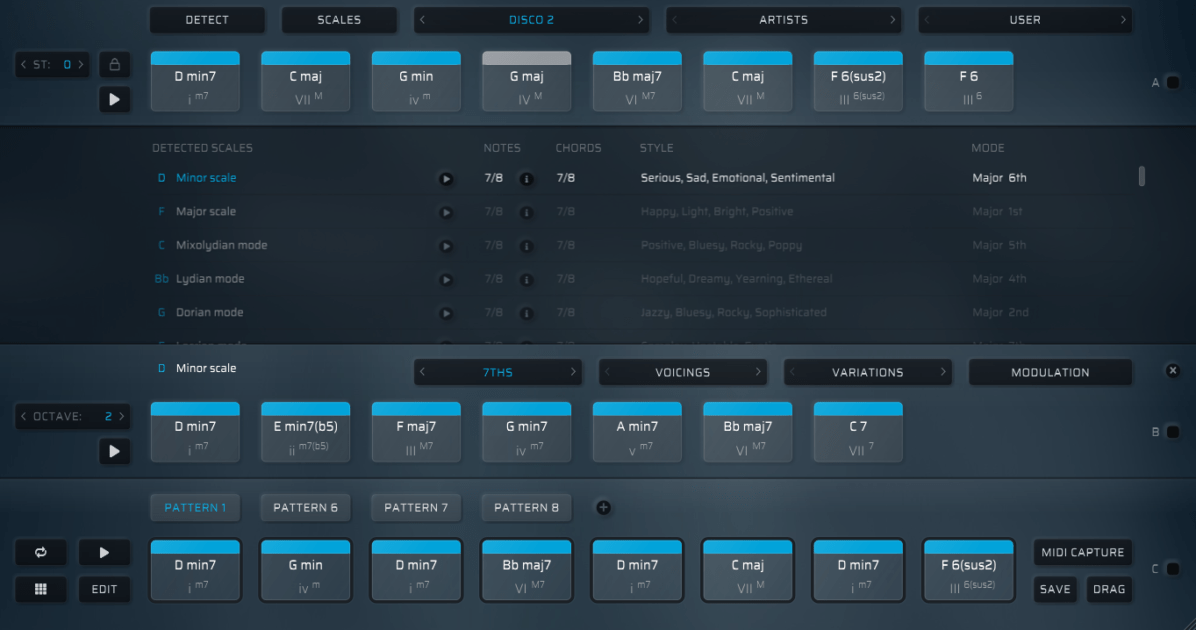 If you're stuck and need inspiration, the Chord mode in Scaler 2 has hundreds of chord presets listed by genre and artist to give you that creative spark. Once you find the chords you're looking for, whether you're using Chord mode or the others, you can drag them to the pattern display at the bottom of the window, which allows infinite control over chord voicing, octave, playback timing and repeat.
You can save multiple patterns, duplicate patterns, and save your ideas to play with later. The only feature I'd like to see added is a trash can or a small 'x' to quickly delete chords so you don't have to right-click and select remove on the menu. Overall, Scaler 2 has tons of features and is well-suited to many different types of musicians, from the avid keyboardist to the guitar-only songwriter and everywhere in between.

Usability
To test out the Detect mode, I dragged in several samples I downloaded from Loopcloud, took a piece of popular music and placed in on my DAW timeline, played a tune on my MIDI keyboard, and even plugged in my guitar and strummed a few chords. Scaler 2 was able to detect the chords and key of whatever I threw at it.
Coupling this with the guitar fretboard display, I was able to quickly find different scales that I could use to solo over a piece of music, and didn't even have to look up the scales as they were highlighted in blue on the fretboard. The chord detection was a little slow in real-time with the guitar plugged in, but was still totally accurate and allowed me to find scales to use with the chords.
The Scale mode is a great reference for finding new and interesting scales to play with, and displays the chords that work in that particular scale below. Chord mode ups that a notch by showing you alternate voicings in addition to simple triads. There is a little bit of a learning curve with Scaler 2 because of the huge breadth of functionality, but once you get the hang of it it's incredibly powerful. PluginBoutique has also included links to how-to videos and the manual on the plugin splash screen, allowing you to get up to speed on everything the plugin does in just a few minutes. Overall, I found the plugin extremely useful and usable.

Plugin Boutique Scaler 2 Review – The Bottom Line
Comparing Scaler 2 price-wise to other popular music theory tools, it's totally comparable in price, and offers functionality that the other plugins don't. The new audio detection really pushes Scaler 2 to the top of the heap in terms of value, as I wasn't able to find another piece of software that does both audio and MIDI note detection as well as displaying all of the scales and chords on the fretboard and piano roll instantly. I feel Scaler 2 is a five-star value at its retail price point, and an absolute steal if you get it on sale.

As a lifelong guitar player, I instantly fell in love with the fretboard display. The ability to display the notes on either a piano roll or fretboard is indispensable and alleviates the need for the guitar poster hanging on my wall altogether; it's as if the poster came to life and only the relevant notes and chords were highlighted, and the poster was infinitely expandable to cover the expanse of music theory.
Kicking that functionality up a notch with the audio detection, the alternate tuning modes, and the keyboard display, PluginBoutique Scaler 2 is a tour de force of music theory and songwriting tools. Scaler 2 will definitely be my go-to for inspiration and song construction from now on. If you've ever found yourself in a songwriting rut or needing a hand with music theory to get your ideas in the can, you should definitely give Scaler 2 a try. In conclusion, I give Scaler 2 five well-deserved stars and my full recommendation.


---
A tour de force of music theory and songwriting tools, with tons of great features for guitar players.