If you enjoy this review and decide to grab the deal, please consider clicking through one of my links before you buy. I earn a small commission at no cost to you, which helps support this site and keep the reviews coming. Thanks!
Fuse Audio Labs, creator of vintage repro plugins (some of which I have reviewed already, like VCL-515 and VPRE-2C) has come to the table with a surprise entry: VPB Bundle, their Virtual Pedal Board plugin. Featuring five throwback stomp box emulations, has Fuse Audio Labs knocked it out of the park yet again? Let's find out in our review of VPB Bundle.
Looks

Though it's called the Virtual Pedal Board, the VPB Bundle is actually 5 separate plugins: Chorus-65, a bucket-brigade-style stereo chorus pedal; Gate-230, an optical gain noise gate; Octafish, an M51134 IC subharmonic generator octave pedal; Big Sur, an op-amp diode fuzz pedal; and El-Germano, a Germanium-transistor overdrive pedal.
Each of the five pedal emulations functions as a separate plugin with 3 or 4 knobs each for its controls. They each have an aged, well-worn look and very familiar controls, especially if you have used one of the pedals that they emulate. With big knobs and colorful appearance, VPB Bundle is simple to use and easy on the eyes.

Features
Let's go through each pedal in the VPB Bundle individually and check out the controls:
Big Sur Fuzz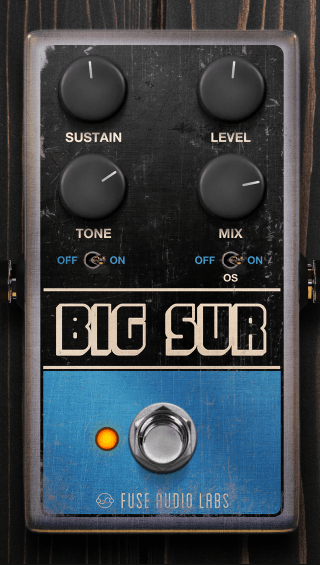 "Big Sur" in the VPB Bundle is a play on the name of the Electro-Harmonix Big Muff Pi Fuzz which it emulates. This particular model from the late 70's featured op-amp diode circuitry and a tone on/off switch and created the gritty clipper/fuzz effect most famously heard on Pink Floyd records. The controls include Sustain, Level, Tone, Tone On/Off, Mix, and Oversampling On/Off. Sustain is the amount of fuzz, Level is overall output, Mix is a blend knob, Tone is an EQ filter with optional on/off bypass, and Oversampling reduces artifacts while adding 32 samples of latency.
El-Germano Overdrive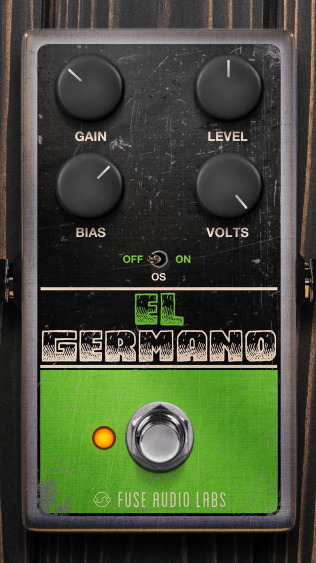 The "El-Germano" is a send-up of the Electro-Harmonix OD Germanium Overdrive pedal from the 60's. 'Germanium' refers to the germanium transistors used in the circuit which provide a milder but very cool Kinks- and Beatles-style overdrive. This pedal from the VPB Bundle has Gain, Level, Bias, and Volts knobs, plus the same Oversampling switch featured in Big Sur. Gain is the overall amount of drive, Bias affects both saturation and tone, Level is an overall output gain, and Volts changes how much power is flowing through the virtual pedal, allowing for some interesting flavors of distortion.
Octafish Octaver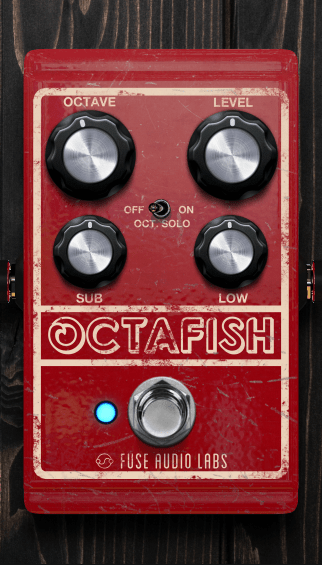 The "Octafish" is a reimagining of the DOD FX32 Meatbox Subsynth from the 1990s. The original utilized an M51134 integrated circuit to generate sub-bass frequencies. To be clear, VPB Bundle's Octafish is not an octave pedal, but a subharmonic generator pedal that beefs up your sub-bass. Only the frequencies in the 20-80Hz range are boosted, making this pedal ideal for thickening the low-end on bass guitar and other bass heavy instrumentation like kick drums. The controls on Octafish are Octave, Level, Sub, Low, and Octave Solo. Octave is the main sub-octave dial, and Level is an output gain control. Sub and Low apply sub- and low-band peaking EQs, respectively. The Octave Solo switch removes the dry signal completely, allowing the user to set the perfect amount of chunk to add to the signal, or acting as a nifty filter for sub-bass instruments.
Gate-230 Noise Gate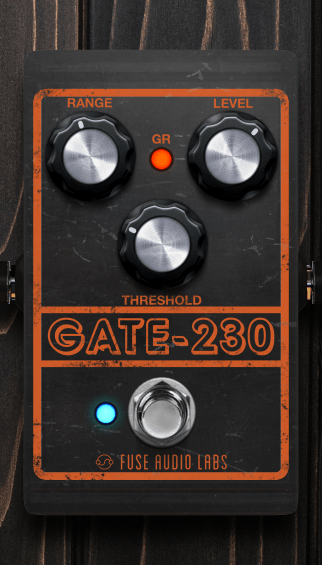 Gate 230 is a reproduction of the DOD 230 Noise Gate pedal with some additional features. This style of noise gate pedal uses an optical switch to shut off the output signal when the input signal drops below the threshold. The original 230 only had a single Threshold knob and power switch, but Gate-230 in the VPB Bundle adds Range and Level controls to fine-tune the gain reduction. Threshold sets where the gain reduction kicks in, Range sets the overall gain reduction amount, and Level provides an output gain control. Gate-230 also has a nifty GR (gain reduction) LED to show when the optical gate is opened or closed.
Chorus-65 Chorus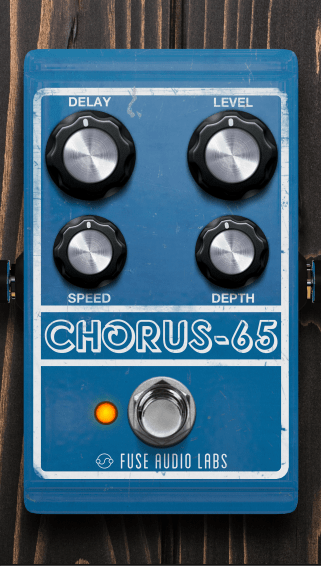 "Chorus-65" is named after the DOD FX65 Stereo Chorus that it faithfully recreates. The original FX65 was a stereo chorus pedal that used an MN3007 bucket-brigade delay chip to thicken and widen the input signal to create lush analog stereo slapback delays. The Fuse Audio Labs version includes the same Delay, Speed, and Depth controls of the original, but also has an output Level control that many fans of the vintage pedal wish it had. Though I loved all of the pedals in Fuse Audio Labs VPB Bundle, this was my favorite of the bunch. As soon as I hit the power switch on Chorus-65 I had to stop what I was doing and play some Nirvana and Queens of the Stone Age riffs.

Usability
If you've used any of the vintage pedals the VPB Bundle emulates, you'll feel right at home with these plugins. If you're like me, you'll also cherish the additional functionality in VPB Bundle that improves upon the original designs while retaining their analog tonality. I don't personally own any of these pedals to do side-by-side comparisons, however, I do have other emulations of several of these pedals and was blown away by the accuracy and added functionality of the Fuse Audio Labs versions. Very low on CPU use, VPB Bundle can easily be chained in front of your favorite amp and/or effects sims to increase your tonal range.
One desire that I had while playing with the VPB Bundle was to have a single pedalboard view. This didn't take away from the overall usability of any of the plugins in the bundle and as such did not take off any points from my scoring, but perhaps in a future version, a pedalboard wrapper could be included to allow a visual representation of the effects chain.


Hear it in Action
I have lots of samples to share of VPB Bundle, partly because I simply couldn't put my guitars down after loading it up, and because I wanted to showcase the considerable value of this effects bundle. Up first, here's Chorus-65 with a clean strat tone:
Next, here's a sample of Octafish on a bassline, followed by a dry version for comparison:
Heading into distortion town, here are Big Sur and El-Germano, respectively:
(It's hard to provide an audio sample of a gate pedal, however Gate-230 came first on the effects chain in all of these samples and provided clean cutoffs at the beginning and end of phrases.)
Fuse Audio Labs VPB Bundle Review – The Bottom Line
If I could, I would give VPB Bundle 100 stars in the value category. For less than the price of a large pizza, you get five awesome emulations of cool vintage stompboxes. Compared to the competition, there are other plugin developers that charge two and a half times what the entire VPB Bundle costs for a single pedal emulation that doesn't include the extra functionality that Fuse Audio Labs built into these re-creations. The switchable oversampling and zero latency modes are fantastic on the fuzz and overdrive, and all of the added controls versus the original pedals are welcomed (and in some cases sorely needed).

After reviewing and loving several of Fuse Audio Labs' plugins, I expected VPB Bundle to be good, and I was not disappointed. Though I own several other effect sims, VPB Bundle is a faithful and fun reproduction of several rare pedals which I did not previously have in my arsenal, as well as better versions of the ones I did. Plugins from the VPB Bundle will certainly make an appearance on my guitar and bass effects chains from now on. I give VPB Bundle 5 enthusiastic stars and my recommendation for a dirt-cheap and rock-solid addition to your effects repertoire.

---

Five awesome vintage guitar stomp boxes (overdrive, fuzz, subharmonic generator, gate, and chorus) for one incredibly low price.