If you enjoy this review and decide to grab the deal, please consider clicking through one of my links before you buy. I earn a small commission at no cost to you, which helps support this site and keep the reviews coming. Thanks!
It only took three weeks and nearly a dozen plugin installs, but I'm finally at the end of my best drum plugin roundup series. Whew! Last on the randomized list is SONiVOX's Tony Coleman Drums. Named after Tony Coleman, a drummer who has played with BB King, Etta James, and Buddy Guy to name a few, how will his signature plugin compare to the rest? Let's check it out.
Looks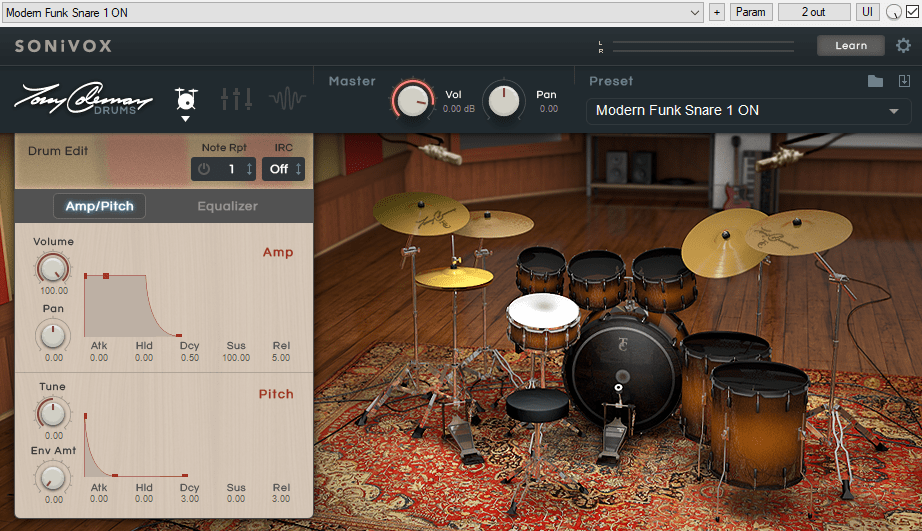 Tony Coleman Drums opens to a large 7-piece kit with three crashes, a ride, and hats, all sitting on what just might be the rug from 'The Big Lebowski.' Clicking any of the drums auditions the loaded sample and plays a light-up animation, and right-clicking any piece allows you to choose which articulation to play. Along the top is an output meter, MIDI learn button, and settings menu. There are three selectable menus on the left: Drum Edit, Mixer, and Effects. There is a Master Volume and Pan, and a preset loader. Simple, elegant, and well laid-out, this gets an easy five stars for Looks.

Features
Let's take a virtual tour of the features in Tony Coleman Drums in more detail:
Presets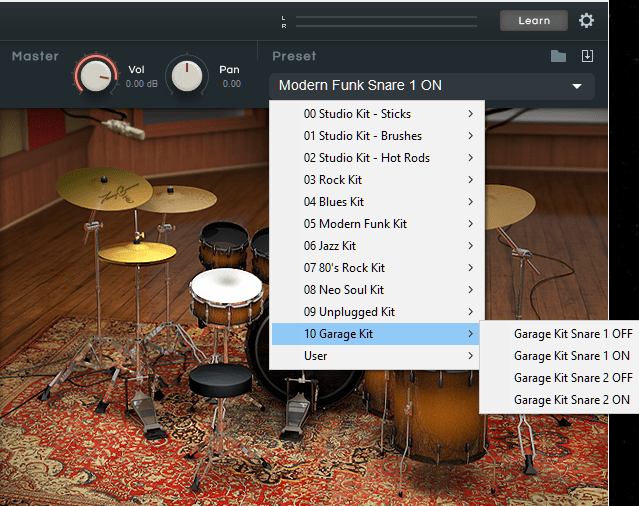 Tony Coleman Drums comes with nine kits: Studio, Rock, Blues, Modern Funk, Jazz, 80's Rock, Neo Soul, Unplugged, and Garage. The Studio Kit has preset groups for Sticks, Brushes, and Hot Rods. Each kit group has four snare presets for two different snares with the snare turned on or off, bringing the total to 44 presets. There's also a User preset group for saving your own.
Drum Edit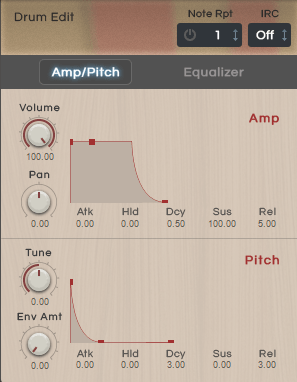 The Drum Edit tab has two sub-tabs: Amp/Pitch, and Equalizer. Amp and Pitch both present as ADSR envelopes, and there is an independent volume, pan, tune, and envelope amount control for each kit piece. The Equalizer is a 4-band parametric with low- and high-shelf and Q controls.
Effects
There are three effects in Tony Coleman Drums: Compressor, EQ, and Reverb. The Compressor has the standard controls you'd expect, and the EQ matches the drum-level EQ knob-for-knob. The Reverb is a single model with Pre-Delay, Width, Size, Time, HF Time, and Mix controls.
Mixer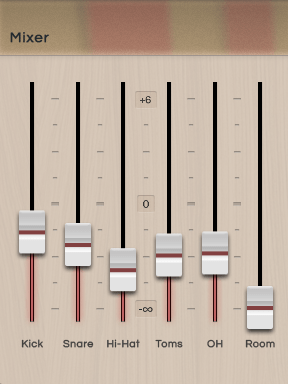 The Mixer has four direct mics, plus overheads and room. The direct mics are Kick, Snare, Hi-Hat, and Toms. No solo, mute, pan, or individual meters, just six faders. As these are standard features I expect even in a free drum plugin, I have reduced the Features score by one star.

Usability
My previous experience with SONiVOX's Eighty Eight Ensemble prepared me mentally for dealing with some possible usability issues in Tony Coleman Drums, and at least in that way I was not disappointed. Right off the bat, the kit load times in Tony Coleman Drums are a bit concerning, especially considering that I loaded the sample library onto an SSD. Loading a new kit took between 15 and 20 seconds, and loading a kit I had previously opened took between 8 and 10. That makes it awfully hard to A/B sounds, and is silly considering that some other plugins in this series came with double, triple or even quadruple the samples and loaded just fine off my spinning hard drives.
Tony Coleman Drums uses a non-standard MIDI mapping, so as I had to do with a few other plugins I manually edited the test MIDI loop for the roundup so all the notes lined up. There is a MIDI learn option, and as such there is a permanent solution to the issue for using your existing MIDI collection, but does require saving a MIDI profile, then loading that profile on each use. This makes it incredibly tedious to use external MIDI loops, and the plugin doesn't come with any loops itself, so there is a bit of setup required to use this plugin long-term for anything besides new tracks from scratch.
Next, the Amp/Pitch controls are difficult to use. I was excited to see the ADSR envelopes, but getting my mouse to click on the tiny little dot and drag it was difficult. Also, there was no color scaling or other visual preattentive property to show which envelope was which, leaving me no choice but to drag a point and see which numbers moved. This is further compounded by a lack of undo/redo, so if I messed the settings up and couldn't get them back to where I wanted them, I'd have to start all over reloading the preset.
Another thing that was lacking were the faders. Six faders simply aren't enough to fine-tune a MIDI kit. That may be more 'realistic' from a drum miking standpoint, but for usability's sake that's a huge drawback. In every plugin I've reviewed I was able to adjust the ride cymbal in the second pattern of my sample, but in Tony Coleman Drums you only get overhead and room mics, which both add a room reverb sound that then makes the rest of the cymbals overpowering. For the purposes of creating a matched review sample, I used the EQ controls to roll off the harshness in the open hats and boost the gain on the highs in the ride to make them pop, but I would greatly prefer having a separate fader for each articulation instead of having to dig into the EQ to boost and cut.
The one saving grace for me with this plugin is the quality of the samples. They do sound very good for the most part, and there's a decent variety. I did appreciate having the option in each kit to choose whether the snare is on or off, though if I had my druthers it would be a separate toggle and I wouldn't have to spend 10-20 seconds reloading kits to hear the difference. I also enjoyed the built-in compressor and EQ. That said, Tony Coleman Drums had too many issues to overlook, and as such I give it two stars for Usability.

Hear it in Action
The sample below was created using the same MIDI as all of the other reviews in this series, remapped for playback through the default mapping in Tony Coleman Drums. I used the Rock Kit Snare 1 ON preset, tweaked the mixer and EQ settings, and added a compressor to even out the samples a bit.
SONiVOX Tony Coleman Drums Review – The Bottom Line
Tony Coleman Drums is a perfect example of the old adage, "you get what you pay for." I'm somewhat reticent to downplay the value of this plugin because it's also the cheapest paid plugin in the bunch, however there are things missing in Tony Coleman Drums that are present in all other paid plugins, and even some free ones. Combine that with the usability issues listed above and I would say that if you only have the money for this plugin, you're probably better off saving your money and picking up something better down the road. The samples are quality, so there is some redeeming value. If you're only going to use a drum plugin for tracking new MIDI drums and are OK with some design flaws, it's certainly passable, just nowhere near the level of usability and customization of the other plugins in this roundup. As such, I'll give it an honorable mention with three stars for value, as it's useful for a few applications, but not what I expect from a paid drum plugin.

I had high hopes for Tony Coleman Drums to be the value proposition in the roundup, but in the end it left me a bit nonplussed. It's attractive, and does have nice quality audio and some premium features compared to the free options on the market, however the usability really tanks my overall rating. In conclusion, I give Tony Coleman Drums 3.5 out of 5 stars, and my recommendation that you demo it before you purchase to make sure it's the right fit for you.

---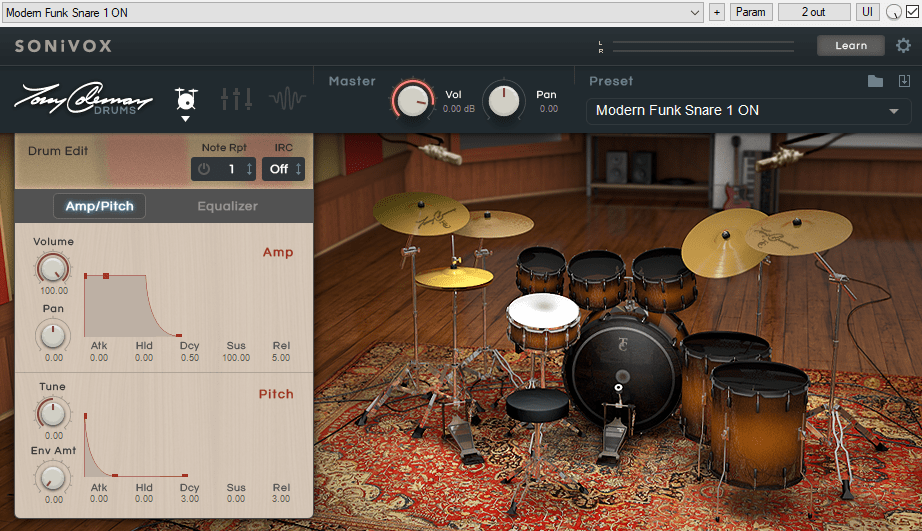 Nine drum kits sampled by the famous Tony Coleman to create an affordable drum virtual instrument plugin.