If you enjoy this review and decide to grab the deal, please consider clicking through one of my links before you buy. I earn a small commission at no cost to you, which helps support this site and keep the reviews coming. Thanks!
There are tons of compressor plugins out there on the market. Many of the most popular compressor plugins are designed to emulate famous outboard hardware compressors. What if you could take four legendary hardware compressors – a Variable-Mu tube, a VCA, a FET, and a modern digitally-controlled compressor – chain them all together in the order of your choice, then seamlessly blend them to create one ultimately customizable compressor? That's what FireSonic claims to have done in United Plugin's newest release, FirePresser. We're going to take a look at FirePresser today and put it through its paces.
Looks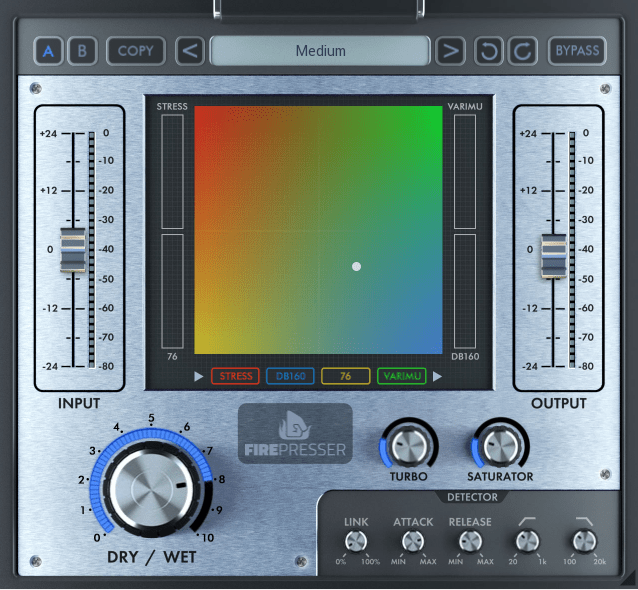 FirePresser opens to a square interface with a vintage brushed-metal and silk-screened look. Dead center is the Rainbow Pad control, a nifty rainbow-colored square with a white dot representing the compressor blending, four compression meters, and four signal flow boxes (more on that in the next section). Along the top are A/B controls, preset browser, undo/redo, and bypass.
Flanking both sides of the Rainbow pad are the input and output faders, and sitting below are the Dry/Wet, Turbo and Saturator knobs. In the bottom right are the Detector controls, including Link, Attack, Release, Low Cut and High Cut. All of the plugin's controls are available at-a-glance and fairly self-explanatory.
Features
FirePresser packs a ton of functionality into a small package. Let's take a look at the controls in detail:
Presets, A/B, Bypass and Undo/Redo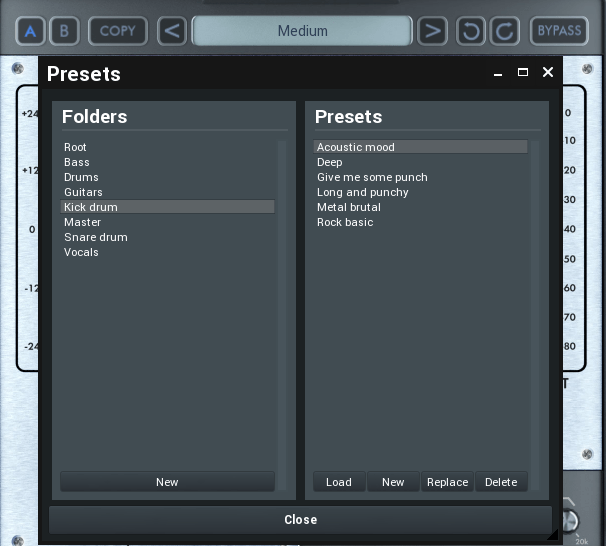 FireSonic included 44 presets plus an "INIT" preset that zeroes all the settings in FirePresser. The presets are broken out into seven folders: Bass, Drums, Guitars, Kick drum, Master, Snare drum, and Vocals. The preset buttons shuffle through all of the settings, and clicking on the currently-loaded preset brings up a menu that allows for the creation of custom presets and additional folders. With names like "Glue without the bass," "Squeezed like lemon," and "Powerful as f" it's clear that a good deal of thought was put into the presets.
The rest of the top bar includes A/B controls for quick comparisons, undo/redo, and a bypass button. I found the A/B controls to be very useful for testing how small changes affect the overall sound, especially with the turbo, saturator and blending with the Rainbow Pad.
Rainbow Pad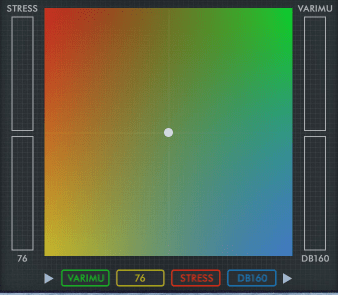 FirePresser's Rainbow Pad is what all the fuss is about with this plugin. Four compressors, represented by four colors – green for a Vari-Mu tube compressor, blue for a dbx160 VCA, yellow for an 1176 FET, and red for an Empirical Labs Distressor – are plotted in the four corners of a graph that looks like a standard X-Y pad. Each of the four compressors has an independent meter that shows how much compression is applied based on the blend setting.
Below the Rainbow Pad are four colored boxes that represent the signal flow; dragging and dropping the boxes changes the order of the compressors in the chain. Using the Rainbow Pad I was able to quickly and easily reorder and blend the four compressors to dial in an extremely pleasing tone for the vocal sample I used to test the plugin.
(Update 3/12/20) FireSonic just released version 1.1 of FirePresser which includes the ability to switch any of the four compressors on and off. I updated the plugin and played with the new functionality, and could instantly hear the difference when switching off the different compressors. I found this to be a great addition to an already fantastic plugin.
Turbo, Saturator, and Dry/Wet

Turbo cranks the compression in FirePresser to eleven by increasing input gain and pushing some of the input signal through all of the compressors even if the Rainbow Pad is panned all the way to one of the four corners. A little goes a long way, so I mapped the control to my MIDI controller so I could more easily fine-tune the Turbo – I liked it at about 2-3 on the dial for my use case. Saturator adds a very pleasant breakup and is also a very responsive control. I enjoyed Saturator at about 2-3 same as the Turbo. The Dry/Wet control is a standard blending knob that allows some of the dry signal to shine through. For my review sample, I found it best at around 8.
Detector Controls – Link, Attack, Release, High/Low-Cut

The Detector controls are very straightforward and incredibly useful. Link is an interesting and fun control that allows the blending of stereo or mono compression. Attack and Release are the standard controls found on all compressors. Low-Cut and High-Cut set a cutoff frequency for the compression chain, allowing a fine-tuned compression that only affects certain frequencies. This makes stacking FirePresser and setting different cutoff frequencies possible, meaning you could have one blend of compressors on one frequency range and another blend elsewhere.
Usability
I was impressed with the usability of FirePresser from the moment I loaded it up. Blending the compressors is simple and easily fine-tunable with the Rainbow Pad, while reordering the compressors brings out changes that are both subtle or very much in-your-face depending on the sort order and how the blend is set. The Turbo function adds a new dimension to the output, as do the High-Cut and Low-Cut knobs. The Saturator brought out a growl in my vocal sample that other saturation plugins I tried simply don't have. All of this functionality, along with the plugin's very low CPU use, means that this plugin will for sure be appearing on my mixes in the future. I'm looking very forward to trying it on guitars, bass, drums, and master tracks.
The only drawback I found to FirePresser – and certainly not worth removing points for – was that on my test system there was no 'tooltip' help for any of the buttons. I had to tab into the UI function in my DAW when I wanted to set High-Cut and Low-Cut frequencies to exactly where I wanted them and had to dig into the manual to learn what some of the controls did. Hopefully, tooltips can be added in a future version to help speed up workflow.
Hear it in Action
Here is a sample of United Plugins' FirePresser, with a dry sample in bypass for comparison:
United Plugins FirePresser Review – The Bottom Line
United Plugins' FirePresser is, to quote the vernacular, 'fire.' I was blown away by the depth of control available and the sheer musicality of the output. I feel like this plugin is a bargain at under $100, as finding four separate emulators of these four compressors would cost considerably more, and the added ability to blend, reorder, and saturate is top-notch.
If you're looking to add a new compressor to your arsenal, a plugin that gives you the ability to blend four legendary compressors deserves a long look. In summary, I give United Plugins' FirePresser five stars, and can't recommend this plugin enough.

---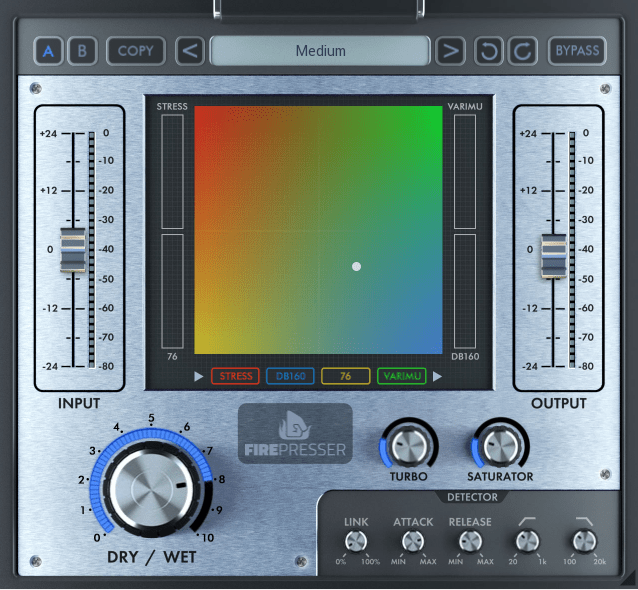 Blend and shape four legendary compressors to create your own custom compression for your tracks.