If you enjoy this review and decide to grab the deal, please consider clicking through one of my links before you buy. I earn a small commission at no cost to you, which helps support this site and keep the reviews coming. Thanks!
Fuse Audio Labs has a reputation among home studio enthusiasts for creating faithful reproductions of cool and often rare vintage hardware with their plugins. Their newest release, VCL-515, is an emulation of a 1960s Vari-Mu tube limiter called the WSC-515 by Webster Electric, a competitor at the time of the Altec 438. This reimagined upgrade of the original hardware promises vintage-sounding compression and saturation mixed with more modern features like attack, release, sidechain filter, blend, and output controls. Today we'll give VCL-515 a thorough look and decide if it lives up to the high bar Fuse Audio Labs has set with their other releases.
Looks

Fuse Audio Labs' VCL-515, like all of their other vintage repro plugins, has a nifty aged look to the interface, complete with chickenhead knobs, analog gain reduction meter, aged bisque paint with dog-eared rackmount screw holes, and even some finger smudges that replicate the appearance of an oft-used piece of gear.
Starting on the far left, there's a Limiter / Amplifier mode switch, Compressor controls (Input, Attack and Release), Output controls (Master output, Sidechain Filter and Mix knob) and the main plugin power complete with red glowing jewel light. So far, off to a great start.

Features
VCL-515's controls are broken into two main sections: Compression controls and Output controls flanking each side of the analog-look gain reduction meter, plus a switch to change between Limiter and Amplifier modes. Let's take an in-depth look at each.
Compression Controls – Input, Attack, and Release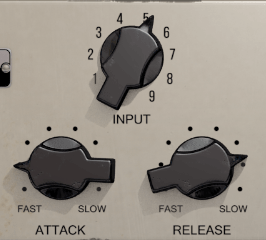 The original VCL-515 was a single-knob unit. In Fuse Audio Labs' version, the Input knob takes its place. Extremely sensitive and versatile, I enjoyed tweaking the input to the exact perfect place for my sample. The added Attack and Release controls allow for a ton of extra control. (If you're not familiar with the standard compressor controls, take a look at our article How To Use a Compressor Plugin.)
Output Controls – Output, Sidechain Filter, and Mix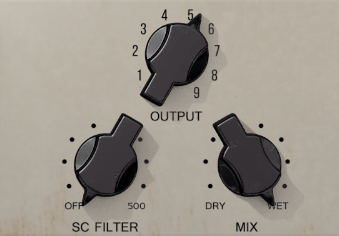 In addition to the more modern output control Fuse Audio Labs added to VCL-515, they also added a very nifty variable high-pass filter on the sidechain signal. This allows retention of low-end frequencies at higher compression settings. The mix controls the amount of compressed and uncompressed signal that passes through. Fuse made a great choice here by applying the output gain before the mix instead of after, which gives you more precise control over the final mix that comes out of the plugin.
Analog Gain Reduction Meter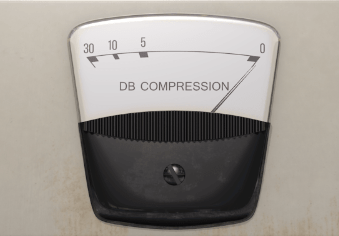 I absolutely love watching the needles move on analog equipment, and Fuse Audio Labs nailed the look and behavior of the needle on the Analog Gain Reduction Meter. This, coupled with the aged patina of the unit and the shadows on the knobs really push this plugin over the edge visually. It doesn't affect the sound, but does create a plugin that's easier on the eyes and brings back memories of using vintage outboard equipment.
Limiter / Amplifier Mode Switch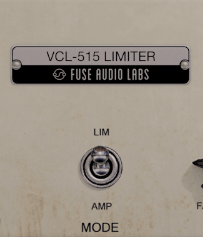 When I read about VCL-515 I was expecting a great emulation of a vintage compressor / limiter. I didn't know that I would also be getting a standalone saturator as well. By setting VCL-515 to Amplifier mode, you get a creamy smooth vintage character to add to any track that would benefit from it without adding compression. I was impressed by the way it brought the lower-midrange out in my sample track and gave it a delightful temperament.

Usability
Having the option to use this plugin as either a vintage-sounding limiter with rich harmonics and character or as a standalone saturator plugin with that same vintage feel is easily my favorite feature of this plugin and dramatically expands its uses. My sample track, for example, took on one fantastic character when VCL-515 was used as the main limiter on the master buss, and a completely different and incredibly pleasant sound when used as a saturator in tandem with a different limiter.
The ability to tweak the attack and release opens up the use cases as well, and I'm looking incredibly forward to seeing what kind of lavish tones I can pull out when using this on vocal tracks, drum tracks, and other applications. This plugin is easy to use, versatile, and fun.


Hear it in Action
To demonstrate the versatility of VCL-515, below are two samples, followed by a dry track for comparison. First up, here's VCL-515 when used in Limiter mode on the master buss of a stereo acoustic guitar track:
Next, here's VCL-515 in Amplifier mode, again on the master buss, in tandem with a separate mastering limiter to showcase the saturation alone:
Lastly, here's a dry track for reference:
Fuse Audio Labs VCL-515 Review – The Bottom Line
In terms of value, I feel like VCL-515 is worth every penny of what Fuse is asking for it. I didn't find a single flaw in the plugin in several days of use and was astonished by its character, appearance, and versatility.

As expected, VCL-515 is yet another cool vintage hardware emulation from Fuse Audio Labs. If you're working in the box and want to add that classic hardware character to your mixes, you need this plugin, full stop. I give VCL-515 five stars all around and my full recommendation.

---

A faithful emulation of a 1960s Vari-Mu tube limiter with switchable limiting and saturation-only modes.