After nearly a month of planning and weeks of playing with more drum plugins than I ever wanted to, I'm ready to crown the winners of my roundup review series on the best drum VST plugins available today. I'll weigh the results from each of the seven in-depth reviews I've done over the previous weeks decide a winner in each category. Plus, we'll take a brief look at an honorable mention: my favorite free drum plugin. Let's get this show on the road!
If you enjoy this best-of roundup and decide to grab one of the items listed, please consider clicking through one of my links before you buy. I earn a small commission at no cost to you, which helps support this site and keep these best-of lists coming. Thanks!
(Editor's note: In my review roundups, I do not feature any plugin that doesn't offer an unrestricted demo for at least 7 days to evaluate the product. As such, plugins with restricted or no demo options like XLN Audio's addictive Drums, Toontrack's Superior Drummer, and GetGood Drums Kontakt samples were not eligible for review. It is my belief that home studio producers should be provided a fully functional demo of software products before purchase due to the non-refundability of most software, and in most cases will not review products that don't have a demo or at least a limited return policy.)
---
Best Drum Plugin Overall – MeldaProduction MDrummer
MDrummer was my surprise come-from-behind winner. When I first sat down to plan this review series, I had only heard of MDrummer from reviewing its sister plugin MSoundFactory, which can load MDrummer samples. I had downloaded all of the MDrummer sample packs but never actually tried them. (Turns out I should have.)
I chose MDrummer as the Best Drum Plugin Overall for three major reasons:
I couldn't find a single flaw in this plugin,
The enormous sample library of acoustic and electronic drum machine samples, and
Of the two plugins that got a perfect 5-star score, this one has the most routing, effects, and MIDI options.
It was a close call, however. The other 5-star plugin, Steven Slate Drums 5.5, was an early favorite and set to be my winner. After playing with MDrummer, however, it was clear which one of the two would be my desert island drum plugin and win Best Drum Plugin Overall.
Below is the sample from my full review of MeldaProduction's MDrummer: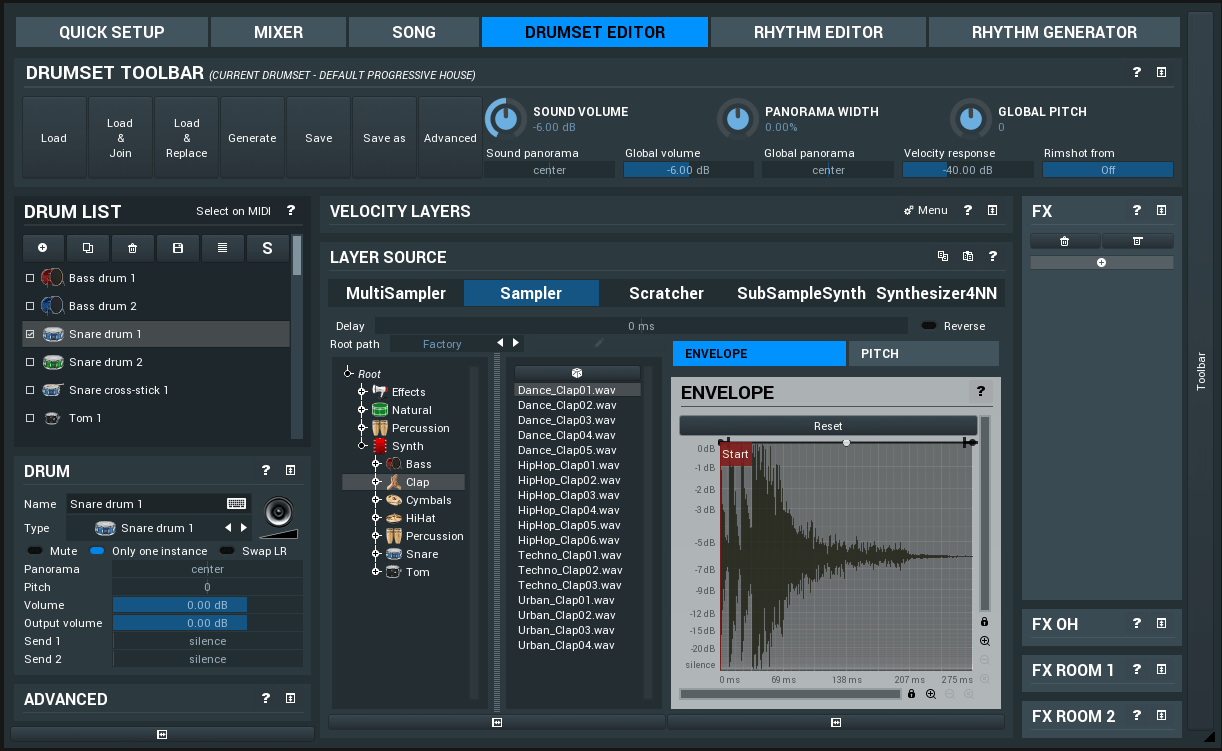 Three enormous libraries of clean acoustic and electronic drum samples with tons of built-in MIDI loops and effects, including a Rhythm Generator for making unique drum loops.
---
Best Drum Plugin Value – Steven Slate Drums 5.5
At its retail price, Steven Slate Drums 5.5 is an incredible value. Hundreds of kicks, snares, and other kit pieces provide plenty of variety for rock and electronic producers, with a good amount of drum- and mic-level control for dialing in the perfect drum tones. You won't find any effects in SSD 5.5, but it's easy on the CPU so you shouldn't have any issues running it in an effects chain. Also, it regularly goes on sale for under $100, making it even more tempting than some of the other options. The huge amount of both acoustic and drum machine samples and customization options and the fantastic price make Steven Slate Drums 5.5 my pick for Best Drum Plugin Value.
Here is the sample from the in-depth review of Steven Slate Drums 5.5: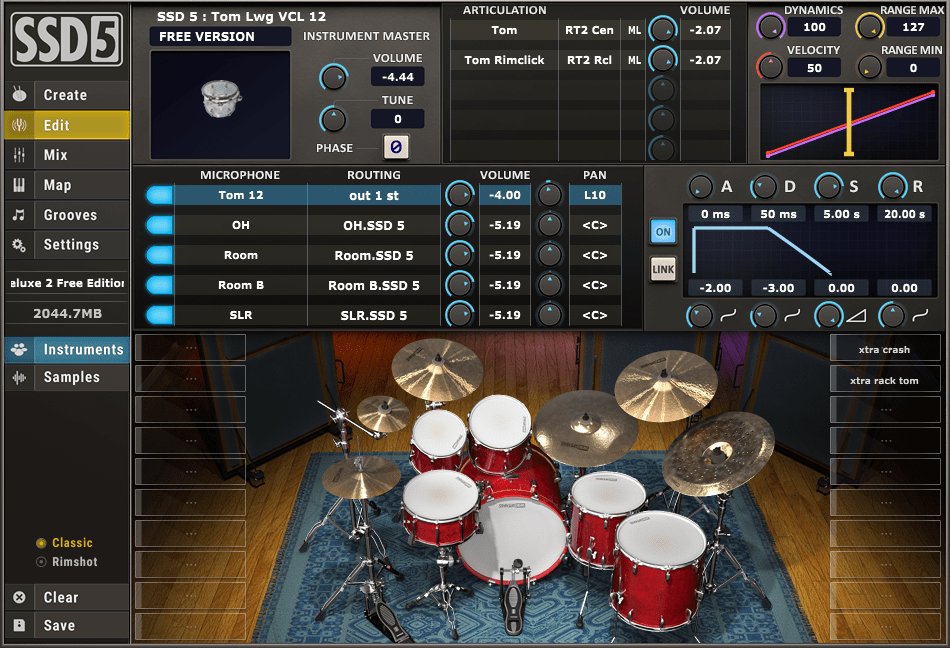 Drum virtual instrument plugin with hundreds of drum and cymbal samples, thousands of MIDI grooves, and granular customization options.
---
Most Customizable Drum Plugin – FXPansion BFD3
FXpansion's BFD3 has a mind-boggling depth of control over its included samples, which can be used to create incredibly realistic-sounding drum tracks. Having used BFD2 many years ago, I knew that BFD3 would put up a fight against the others, and it definitely held its own. I did find a few small drawbacks due to the plugin's age, like some MIDI issues and just an overall clunkiness to the interface, but nothing that takes away from its sound quality and overall largesse. That's why I feel that FXpansion's BFD3 is by far our winner for Most Customizable Drum Plugin.
Here is the demo from the complete review of FXpansion BFD3:
Virtual instrument drum plugin with seven kits, tons of MIDI loops and fills in multiple styles, and immense signal routing options.
---
Best Standalone Features – AIR Strike 2
AIR Strike 2 was a disappointment for me from the perspective of someone who is almost always going to want to make acoustic drum tracks from scratch or use MIDI loops from my library. The MIDI mapping is non-standard and not remappable in the plugin, rendering my existing MIDI useless without tedious remapping, and the most of the acoustic samples leave something to be desired. That said, when using a handful of the acoustic kits, most of the electronic drum machine kits, or your own library of samples, Strike 2 is a formidable drum VST plugin for live performance due to its enormous built-in MIDI library and great sample playback features. Set up in the DJ booth with a laptop and a MIDI keyboard, Strike 2 could be an interesting addition to an EDM or hip hop arsenal. For that reason, I decided AIR Strike 2 should be the winner of Best Standalone Features.
Below is a sample of AIR Strike 2 from my full review: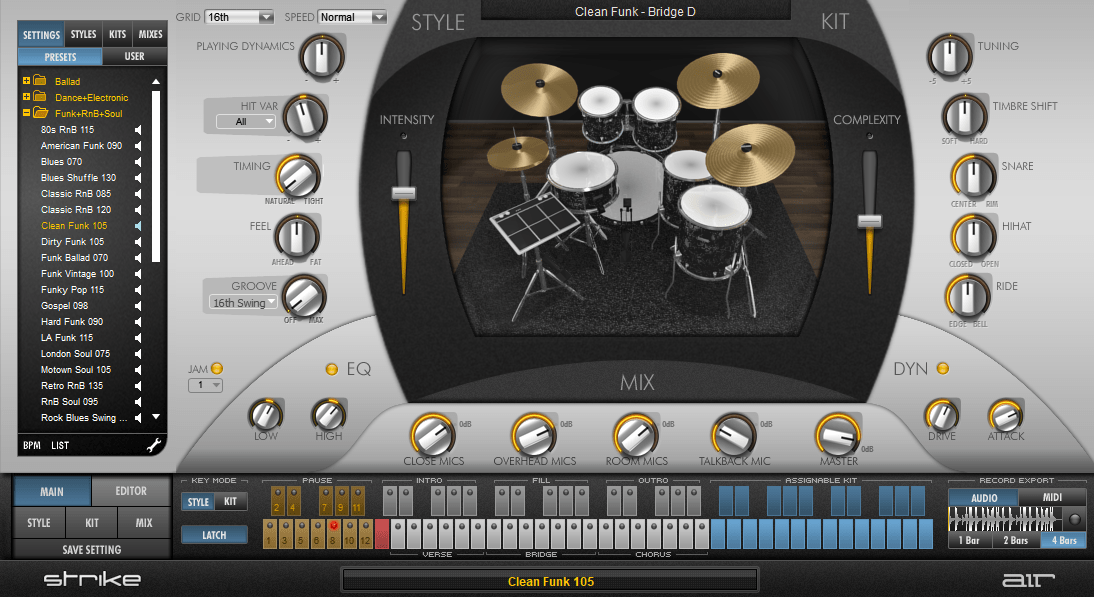 19 acoustic kits plus dozens of electronic kits, with a huge library of pre-programmed MIDI loops. Perfect for live performance and quick backing track creation.
---
Most Kits for the Money – SONiVOX Tony Coleman Drums
SONiVOX's Tony Coleman Drums has a bargain-basement price, yet has some incredibly realistic samples. With 9 kits and 44 presets with options like brushes and snare-off samples, this virtual drum plugin comes in at under 5 bucks a kit at retail. The lack of control and some usability issues kept it from claiming the title of Best Value, but it can't be overlooked for raw number of usable kits for your dollar. That's why SONiVOX Tony Coleman Drums was named Most Kits for the Money in our roundup.
Below is a taste of SONiVOX Tony Coleman Drums from my complete review: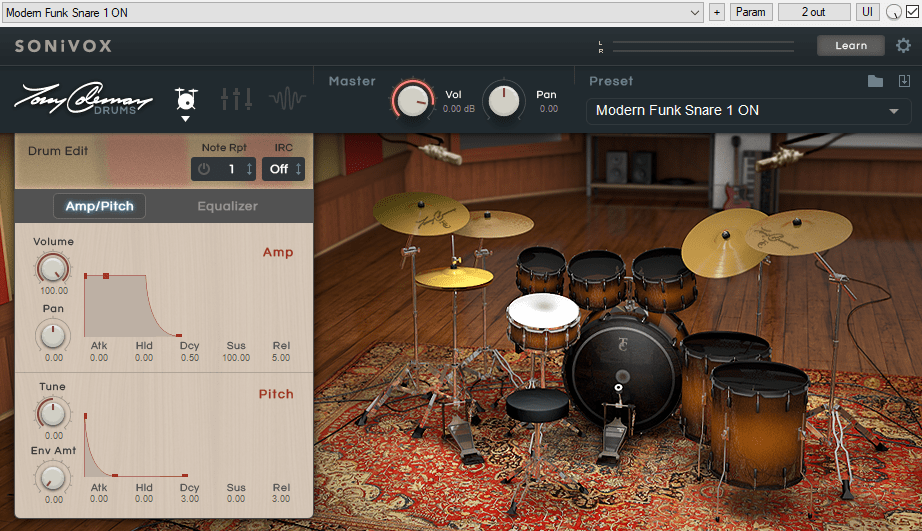 Nine drum kits sampled by the famous Tony Coleman to create an affordable drum virtual instrument plugin.
---
Most Sonic Variety – IK Multimedia MODO DRUM
As the first and only acoustic drum modeling plugin I've ever tried, I didn't know what to expect from IK Multimedia's MODO DRUM. After all, the winner of my best piano plugins roundup was Arturia Piano V 2, the only modeler in the bunch, so why couldn't MODO DRUM do the same?
In the end, MODO DRUM was awarded four stars, and was scored down largely because many of the models had individual kit pieces that sounded a bit off and needed tweaking to provide the sounds I wanted. As a modeler, however, MODO DRUM also has a whole world of control and overall tonal options that simply aren't available yet in sample kits. Exact placement of the stick on the snare head, or changing the material of the kick batter, for example, would require thousands of samples for just one kit piece, whereas a modeler can emulate that in real-time. So in that regard, I felt that IK Multimedia MODO DRUM deserved Most Sonic Variety in our roundup.
Here is a sample of IK Multimedia's MODO DRUM from my review: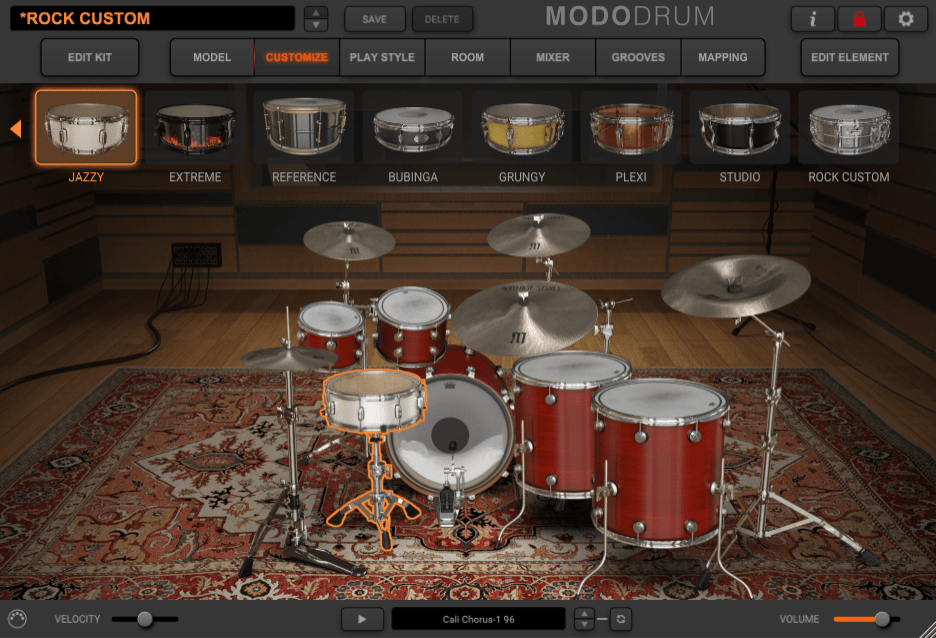 Ten modeled drum kits with tons of control and effects.
---
Best Songwriting Tools – Toontrack EZDrummer 2
I used EZDrummer many years ago and have several friends and group members that swear by it, so I expected Toontrack's EZDrummer 2 to knock my socks off. Though it wasn't my absolute favorite due to similar usability issues I've found in other Toontrack plugins, EZDrummer 2 is an undeniable tour de force of songwriting tools. The Song Creator allows you to quickly generate hundreds of bars of humanized and varied MIDI drums that can be instantly auditioned and dragged into your DAW for playback. It's also extremely expandable with Toontrack's EZX and MIDI packs, and works well in tandem with other EZ-series plugins like EZBass. If you're looking for quick, load-it-and-jam drums to add to your tracks, EZDrummer 2 is a solid choice. These reasons are why I've named Toontrack EZDrummer 2 as the drum plugin with the Best Songwriting Tools.
Check out a sample from my review of Toontrack EZDrummer 2:
Five fully customizable modern and vintage drum kits with multiple effect chains. EZX expansion packs offer dozens of additional kits and MIDI loops for unlimited options.
---
Best Free Drum Plugin – MT Power Drum Kit 2
If money is too tight to pick up any of the above, there is a free solution that can bridge the gap until you can save up some simoleons: Manda Audio's MT Power Drum Kit 2. I didn't write a complete review of MT Power Drum Kit 2 because it only comes with one kit and has far lower sample quality than any of the other contenders, however it does deserve an honorable mention. Frankly, I wish MT Power Drum Kit had been around back when I was first starting out and didn't have the money for the big boy toys.
If you do pick up MT Power Drum Kit and use it for more than a few sessions, I highly recommend that you donate to the plugin's developer. Even a simpler plugin like this isn't easy to create, and there are ongoing costs associated with just keeping their website up and running. If you can, toss them a couple bucks.
Here's a quick sample of MT Power Drum Kit with the same MIDI loop as the others:
---
That's a wrap! I hope you enjoyed the series of reviews that made up this roundup, and that you find the drum sounds you're looking for at a price you can handle. If you're still not sure which plugin to get, feel free to join us in our Home Studio Enthusiasts Facebook group and ask more questions!