If you enjoy this review and decide to grab the deal, please consider clicking through one of my links before you buy. I earn a small commission at no cost to you, which helps support this site and keep the reviews coming. Thanks!
Welcome to the first installment of a new series of reviews where I am on a quest to find the best piano virtual instrument plugin available today. I'll be looking at each plugin individually over the next several weeks, then publishing a round-up review with my final opinions. As a fan of Toontrack's EZDrummer 2, I thought I would start with another plugin from their product line for the first review in the series. Let's take a detailed look at Toontrack's EZKeys Grand Piano!
Looks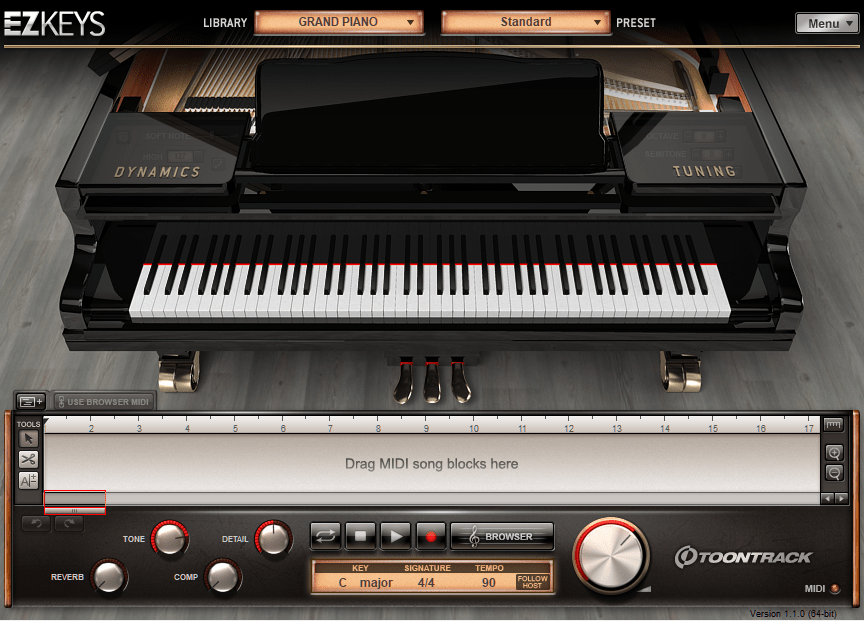 EZKeys Grand Piano opens up to a rather attractive-looking picture of a black grand piano. Along with the standard 88 keys and three pedals, on the left- and right-hand side of the piano top are two nifty flip-up doors that control global dynamics and tuning settings, respectively. At the top of the window is a preset dropdown that allows the user to select from the fourteen bundled presets and to save and load custom user presets. The bottom of the window has drag-and-drop MIDI tools, transport, key, signature and tempo controls, and audio settings like reverb, compression, tone and more. There's also a very large volume knob and a standard MIDI message light.
Features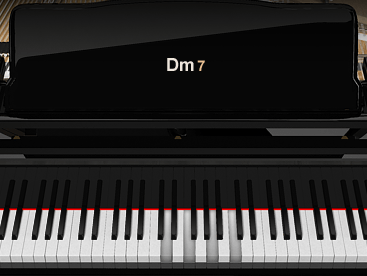 One nifty feature that I noticed right away was the note/chord display on EZKeys Grand Piano's music stand. Any single note you hit is instantly displayed, and as you play additional notes it names the chord for you in real-time. This is certainly a handy tool for people who are learning piano or music theory in general.
Dynamics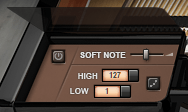 The dynamics control panel has four controls: a soft note slider, which adjusts the note velocities coming from your MIDI keyboard by plus or minus ten; high and low velocity, which allow you to set velocity limits; and a velocity control panel, which gives you curve settings to fine-tune how different velocity ranges will be modified.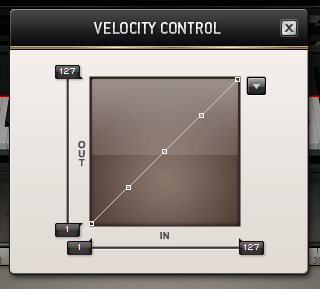 I really enjoyed playing with the velocity control panel in EZKeys Grand Piano to create interesting variations in tracks I had already recorded. I wish I had this plugin when some of those tracks were going in the can.
Tuning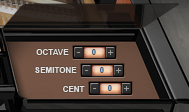 The tuning control panel is fairly straightforward, including octave, semitone and cent controls. This would be particularly useful for matching the plugin to existing acoustic recordings or transposing MIDI on the fly.
MIDI Tools and Browser

The MIDI section in EZKeys Grand Piano allows easy drag-and-drop of MIDI from the included MIDI browser and from your computer's file browser, as well as the export of MIDI recordings into your host DAW. If you import an existing MIDI file, it lets you pick which tracks to play, as well as assisting with transposing and updating tempo to the host DAW's project settings. To test the function out, I imported a MIDI version of a popular song. One caveat of the MIDI import function, however, is that all of the tracks I chose from the source MIDI were simply squished into a single track. I felt that the MIDI functionality was far more useful for standalone operation than as a DAW plugin.
(Editor's Note: In a previous version of this review, I stated that Toontrack EZKeys Grand Piano doesn't allow for dragging MIDI items to the host DAW. The full version of the plugin does offer that functionality, but it is disabled in the evaluation version I reviewed. I regret the error and have amended the review accordingly.)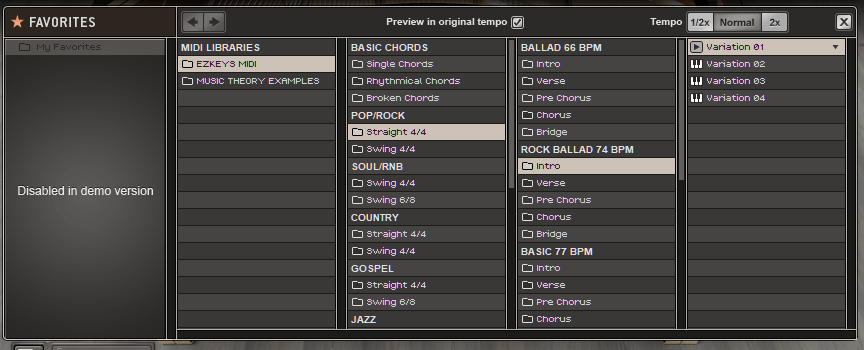 The MIDI browser allows you to look through the included EZKeys MIDI library of chords and basic song blocks, then drag into the in-plugin track for playback. In the manual, these are referred to as 'songwriting' features, and I could see how when used as a standalone product they are useful. Again, not something I would find a use for.

Presets and Audio Settings
EZKeys Grand Piano comes with fourteen presets, from very realistic-sounding grand piano sounds to off-the-wall effects and everything in between. In addition, you can save user presets once you dial in that perfect tone.

The audio settings for each preset allow you to tweak the presets to your liking. My favorite setting, which I quickly saved as 'StandardPlus,' is just the Standard preset with added reverb, compression and detail. You can hear my custom preset in the sample below.

Usability
EZKeys Grand Piano allowed me to quickly and easily dial in a fantastic and realistic-sounding grand piano tone, so based on that alone the usability is fantastic. (Frankly, I enjoyed it so much that I didn't want to stop playing to write the review.) That said, I have to take away one star on this measure for a few reasons.
One, the in-plugin MIDI functionality is confusing to me. The MIDI functions seem far more useful for the standalone version than in the plugin. If you have MIDI blocks loaded both in the plugin and in the DAW, it creates a situation where they play over one another, which is nigh on useless in my opinion and could be horribly confusing for DAW beginners.
Also, all of the audio controls are not available on all of the presets. (I even consulted the manual to confirm this.) For example, if you're on the 'Standard' preset, you can use reverb, compression, tone, and detail, but if you switch to 'Horror Score,' you get a bunch of nifty controls like space, detune, and swell, but no compression or reverb. The 'Raw Tweaks' preset gives you hammer noise and sustain pedal adjustments, which are absolutely incredible details that are not available on other presets. Overall that was the biggest disappointment for me. I would much rather see all of the controls available, if not at your fingertips, at least through a menu.

Hear it in action
Here is a short sample of Toontrack EZKeys Grand Piano in action. This was made using my 'StandardPlus' preset I mentioned in the Features section above:
(To keep things as fair as possible in this piano plugin review series, I am using this same MIDI file for each of the plugins I review. I apologize in advance, as clearly I'm not a concert pianist.)
Toontrack EZKeys Grand Piano Review – The Bottom Line
I was thoroughly impressed with the lush piano tone of Toontrack EZKeys Grand Piano from the moment I loaded it up. Odds are, however, that the only use I would ever find for this plugin is for that one tone. I feel that I would be able to find many more uses for this plugin if the vast complement of included controls weren't locked behind individual presets. As such, I have to give the plugin a three out of five for value at its full retail price.

Overall, I give EZKeys Grand Piano 4.25 out of 5 stars. As mentioned above, I didn't want to stop playing to actually write the review, I'm just not sure that it's the absolute best value for your plugin dollar at retail. EZKeys Grand Piano is visually attractive and fairly easy to use, the sound is very realistic, and there are a lot of great features that I feel would quickly improve your workflow on tracks that call for a classic grand piano sound. As such, I do recommend EZKeys Grand Piano as an option for those who are looking for a realistic and diverse piano virtual instrument that operates well both as a DAW plugin and standalone.

---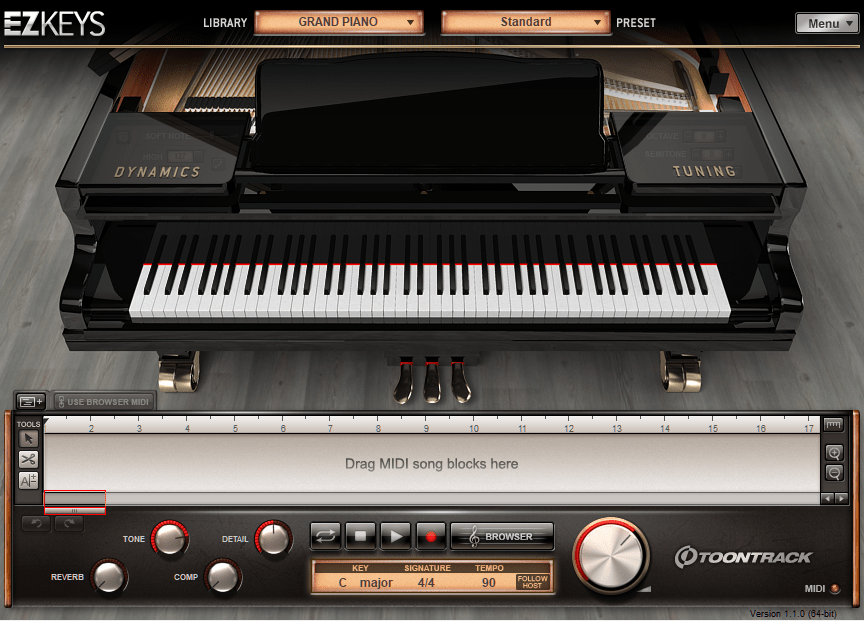 Visually attractive, easy to use, and very realistic sound, with tons of great features to quickly improve your workflow on tracks that call for a classic grand piano sound.