If you enjoy this review and decide to grab the deal, please consider clicking through one of my links before you buy. I earn a small commission at no cost to you, which helps support this site and keep the reviews coming. Thanks!
We're now on article number four in my review series where I'm looking for the best drum plugin available today. Next on the docket is an older plugin which is well-revered by the home recording crowd, FXpansion's BFD3. With the highest retail price among the bunch, how will BFD3 stack up against the rest? Let's check it out.
Looks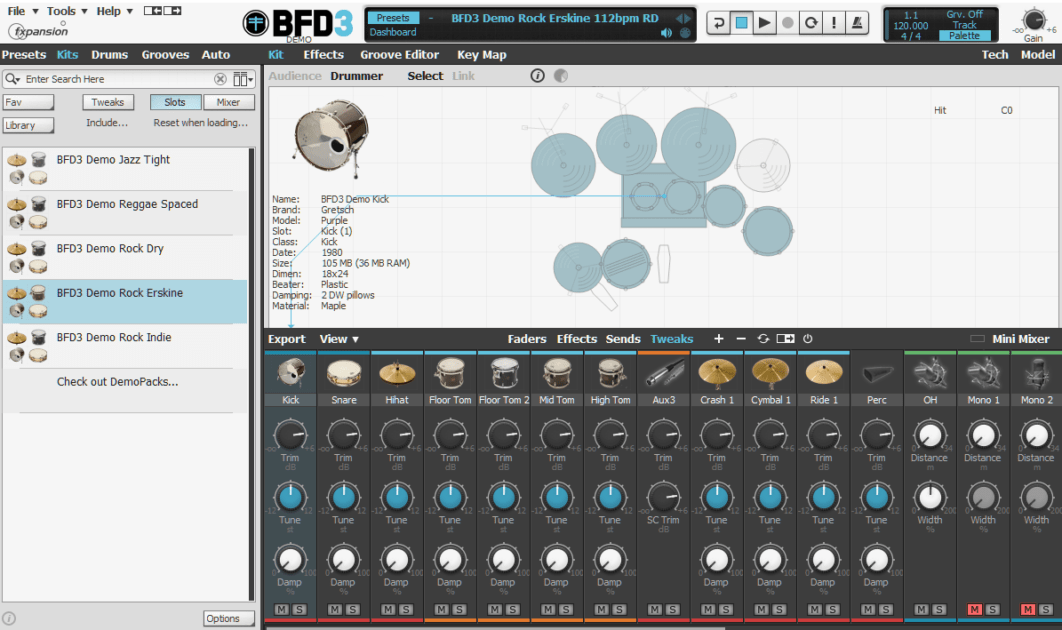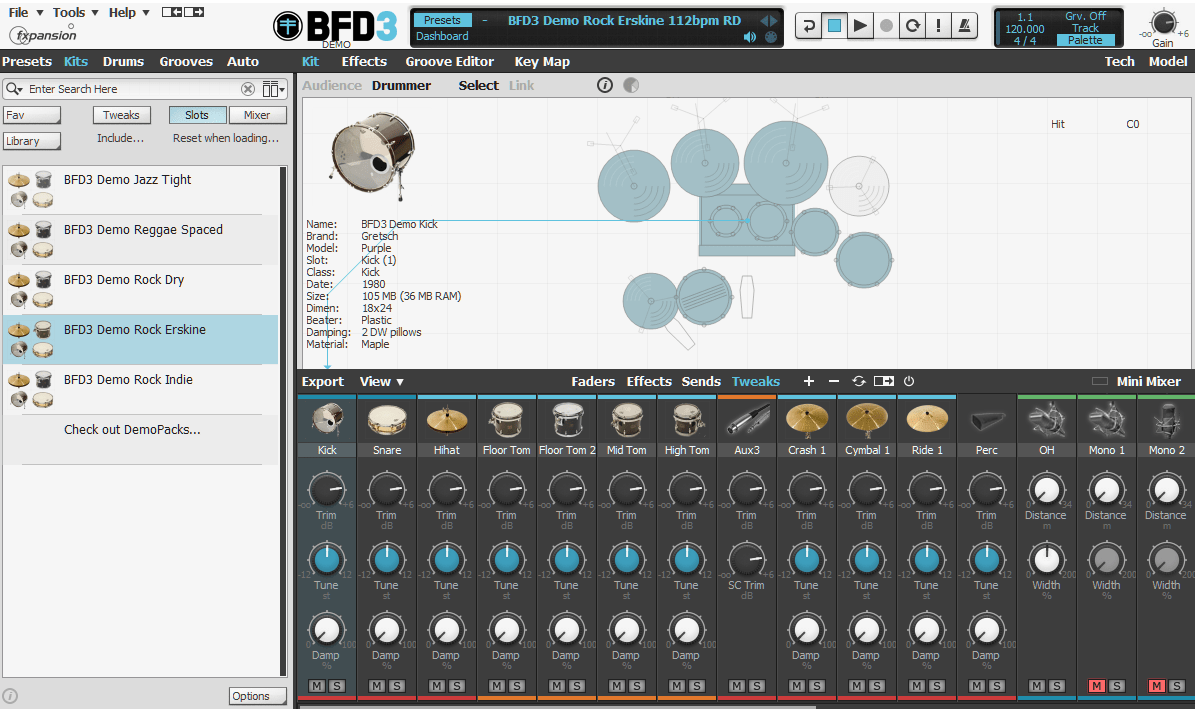 BFD3 has a framed interface with tabs for changing the window contents on the left, top, and bottom. On a bar along the top are menus, preset loader, play head, tempo and signature, and master output gain. The tabs for the left frame include Presets, Kits, Drums, Grooves, and an Automation window for quick mapping to external control surfaces. Along the top are a Kit view, Effects, Groove Editor, and Key Map for controlling MIDI messages. Along the bottom is a huge mixing control frame with Fader, Effects, Sends, and Tweaks tabs. Though the interface looks a bit dated, everything is laid out well and easy to find, with no essential functions hidden out of sight.

Features
As the most expensive plugin in the round-up, I expected a lot of features in BFD3, and I was not at all disappointed in that regard. Let's check them out as concisely as possible:
Presets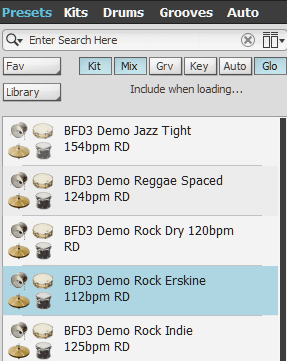 The Preset tab lists all the available presets, which in BFD3 include not just kits and mixer settings, but also grooves, key mappings, automation, and global settings. Toggle buttons along the top allow you to choose which parts of each preset are loaded, as much or as little as you want.
Kits and Drums

The Kits tab in the left window allows you to search for and load entire kits, while the Drums tab lets you pick individual kit pieces. Selecting Kit on the top-right window shows a top-down diagrammatic view of the kit pieces with visual feedback animations on playback. Users can flip the diagram with Audience/Drummer view toggle, and can set up links between the kit pieces to trigger more than one piece at a time.
Clicking the Tech button in the top right of the Kit view allows for piece-level control over gain, mute, solo, tuning, bleed, velocity, and mic routing. The Model button controls damping, choke response, individual articulation trim, variance, velocity, and damping, and either cymbal swell or drum resonance.
Grooves and Groove Editor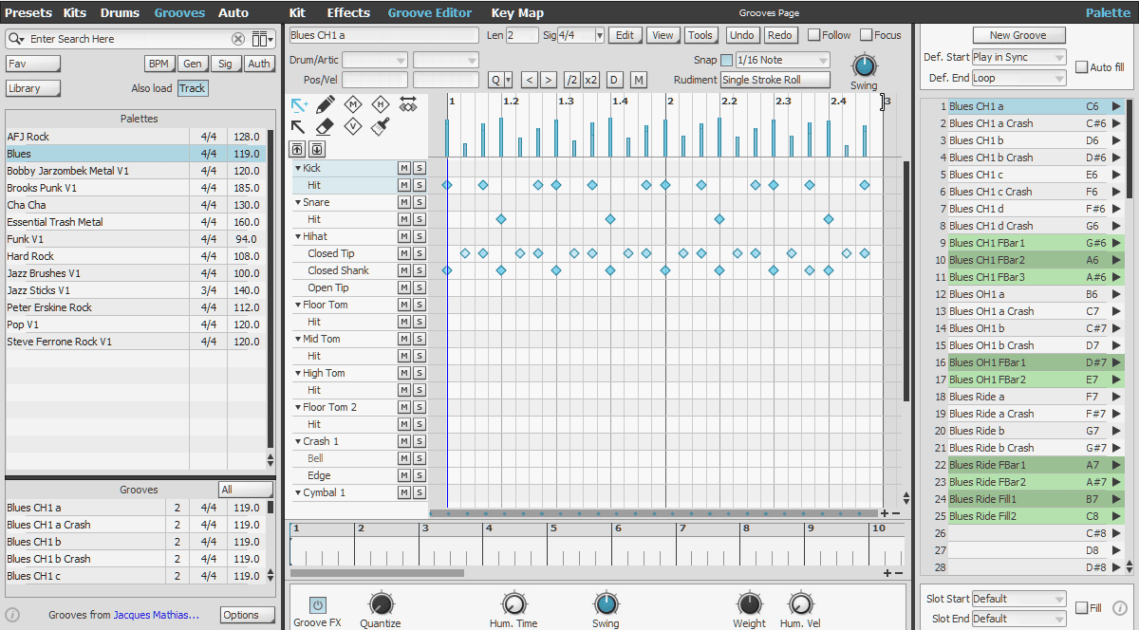 Clicking the Grooves tab on the left window opens a MIDI groove set loader screen. Groove sets can be filtered by BPM, genre, time signature and author. Double-clicking any of the groove sets loads a list of the constituent MIDI loops and fills which can be viewed and edited in the Groove Editor tab on the right. The MIDI editor offers snapping levels between whole notes and 1/128th notes, and easy access to numerous rudiments. Along the bottom are Quantize, Humanize, Swing, and Weight dials for adding realism.
Automations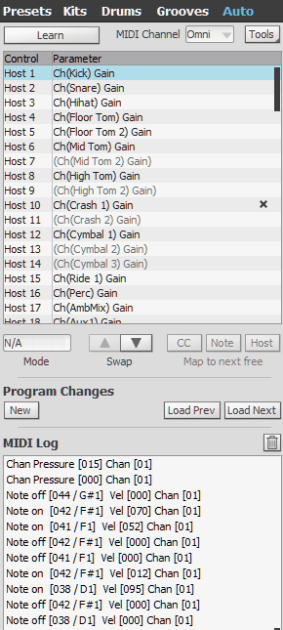 The Auto(mations) tab allows for mapping MIDI control surfaces and provides a MIDI message log for checking input messages from controllers for easier mapping. Clicking Learn and moving a knob or fader on your control surface allows for quick mapping.
Faders, Effects, Sends, and Tweaks

The mixer functions in BFD3 are incredibly robust. Clicking the four different tabs in the mixer window gives a phenomenal amount of control over each individual kit piece, mic, or send. The Faders view provides volume, mute, solo, phase, record arm, and panning, while the Expand/Contract button folds out additional faders for each piece, such as Snare Top, Snare Bottom, and Snare Rim in addition to just Snare. There are plus and minus buttons for adding more kit pieces and aux sends, so if you've ever wanted to build a kit with five different kick drums, that's an option.
Effects view in the mixer provides piece-level effects routing, whereas Effects view in the top window allows for setting up global effects. Effects include eight dynamics/compression, six EQ/filter, five delay/reverb, and a other fun ones like phaser, flanger, and chorus. There is also a Sends view for both, each allowing up to four pre- and post-effects as well as fader-level routing. In addition, the mixer Effects view includes sidechain inputs with individual volume levels. The Tweaks view gives you Trim, Tune, and Damp controls for the kit pieces and sidechain trim for the auxes.
Key Map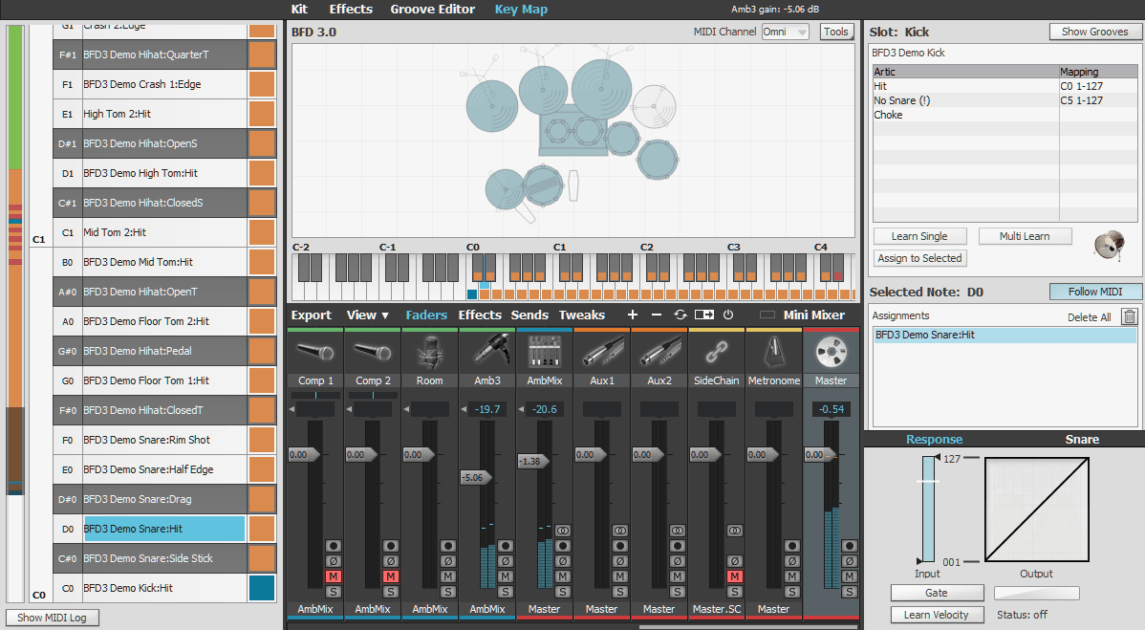 Key Map allows users to choose which keys on their MIDI controllers map to the various articulations and grooves. There is also a velocity curve control for tweaking response to input velocity for each articulation.

Usability
As soon as I loaded BFD3 and hit play, I was met with my first usability hurdle — my drum loop that I've used for all the other reviews in this series didn't map correctly in BFD3. To make sure I wasn't losing my mind, I unloaded and reloaded the plugin, changed kits, and even tested with a different MIDI loop from another source, but still, it was playing toms instead of kicks and snares and hats instead of rides, just to name a few. This left me with two choices — remap the MIDI in BFD3 using the built-in Key Map, or remap the MIDI loop in Reaper. I chose the latter because I'm far more familiar with the MIDI editor in Reaper. After duplicating the track and remapping, I was able to create a similar test bed to experiment with for writing the review and creating a sample. It would be crippling to my MIDI workflow to have to do a similar remap of every loop I drag in from my library, so clearly I would need to take the time to learn the Key Map functionality and save an external Key Map preset before using BFD3 again.
As mentioned before, the mixer settings, including the effects, sends, and tweaks, are quite robust. So robust, in fact, that I found it exceedingly tedious to move around within the mixer and set up effects chains. I spent over an hour, including time digging in the manual, trying to figure out how to add or remove a microphone, and the only sure-fire way I found was to completely start over and load a preset that included mics. I'm sure it's possible, and perhaps even easy once you know how, but frankly my patience wore thin trying to figure it out. Simply put, the interface is dated, a bit clunky, and in need of overhaul.
Despite those issues, it simply can't be understated just how much control is available in BFD3. Compared to the other drum plugins I've used, the level of customization available is astounding. One could easily fall down a rabbit hole for hours in just the sidechain routing alone. For a final score for Usability, then, I'm going to go with four stars out of five. It is incredibly usable in terms of how much control you have over the signal path and each individual kit piece, however the user interface leaves something to be desired and is in desperate need of a refresh from the last major release in 2013. I would also like to see future versions conform to the quasi-universal MIDI drum set mapping found in all the other plugins I've ever used as well as my entire drum MIDI library to avoid tedious remapping.

Hear it in Action
To create a sample for this review, I loaded the Peter Erskine rock kit and mixer settings and made a few small tweaks to the overheads, ride, and ambient settings to fatten up the sound a bit, but otherwise left it stock. (As stated above, I also remapped the MIDI so it would play correctly.)
FXpansion BFD3 Review – The Bottom Line
BFD3 comes with seven kits, which sounds like a lot, but when compared with the dozens of kits or hundreds of individual kit pieces available in newer competitor products that cost less than half as much, the value really isn't there in terms of sonic variety. It does have a simply stunning feature set from a sound pathing perspective, and as such deserves recognition. That said, the usability issues noted above have tempered my estimation of its value, since all the routing features are locked behind an interface that I found acceptable, but overall clunky and outdated. As a result, I give BFD3 four stars out of five for value.

Having used half a dozen or more drum virtual instrument plugins over the years, I was impressed by BFD3's realistic drum kit sounds and the hefty signal routing and effects options, but was off-put by its overall usability and lower relative value compared to the competition. A user with the time and patience to learn every single nook and cranny of this plugin would be well-served by its massive feature set. I look very forward to reviewing the next major version to see how FXpansion improves this robust but somewhat dated product. Summing it all up, BFD3 gets 4.5 out of 5 stars in my review, and my recommendation for those with the budget and the time to invest in all of its immense detail.

---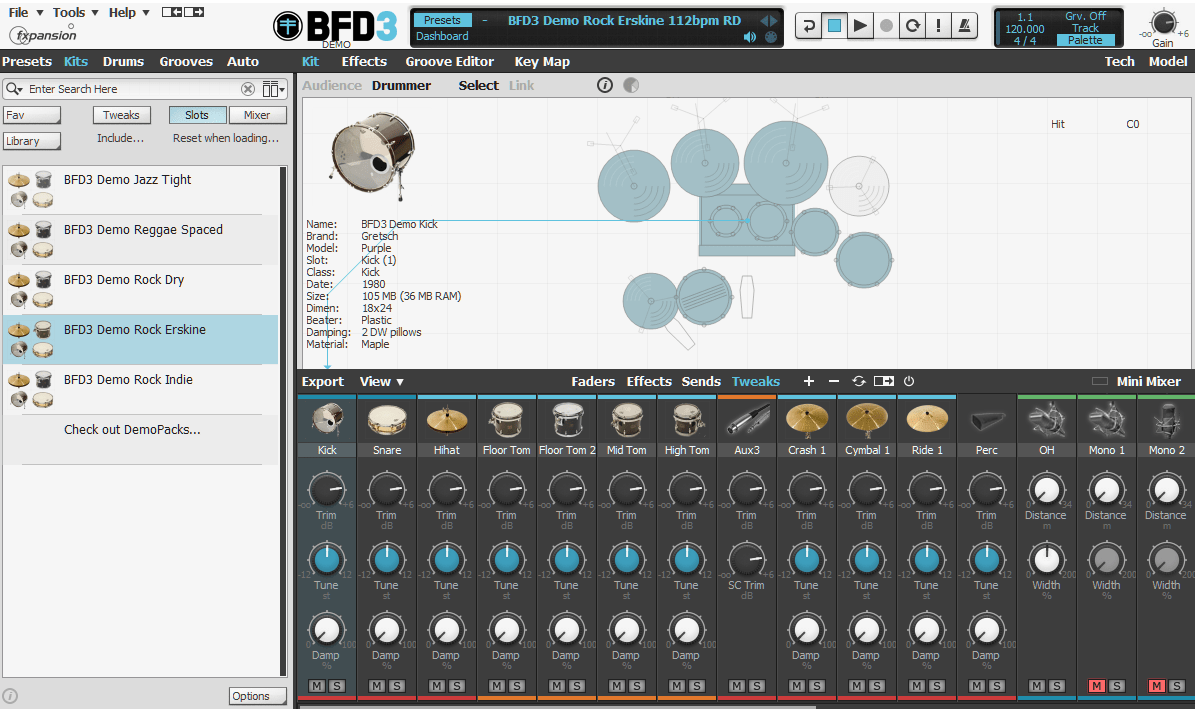 Virtual instrument drum plugin with seven kits, tons of MIDI loops and fills in multiple styles, and immense signal routing options.