If you don't have the ability (or inclination) to record acoustic or electronic drums at home, MIDI drum pads are a good space-saving alternative. Also, many electronic genres rely on MIDI drum pad controllers for recording tracks, sampling, and live performance. Today we're checking out the most popular MIDI drum pads on the market, learning about the common features, and helping you decide which MIDI drum pad controller is the right choice for your home studio.
If you enjoy this best-of roundup and decide to grab one of the items listed, please consider clicking through one of my links before you buy. I earn a small commission at no cost to you, which helps support this site and keep these best-of lists coming. Thanks!
What are MIDI Drum Pads?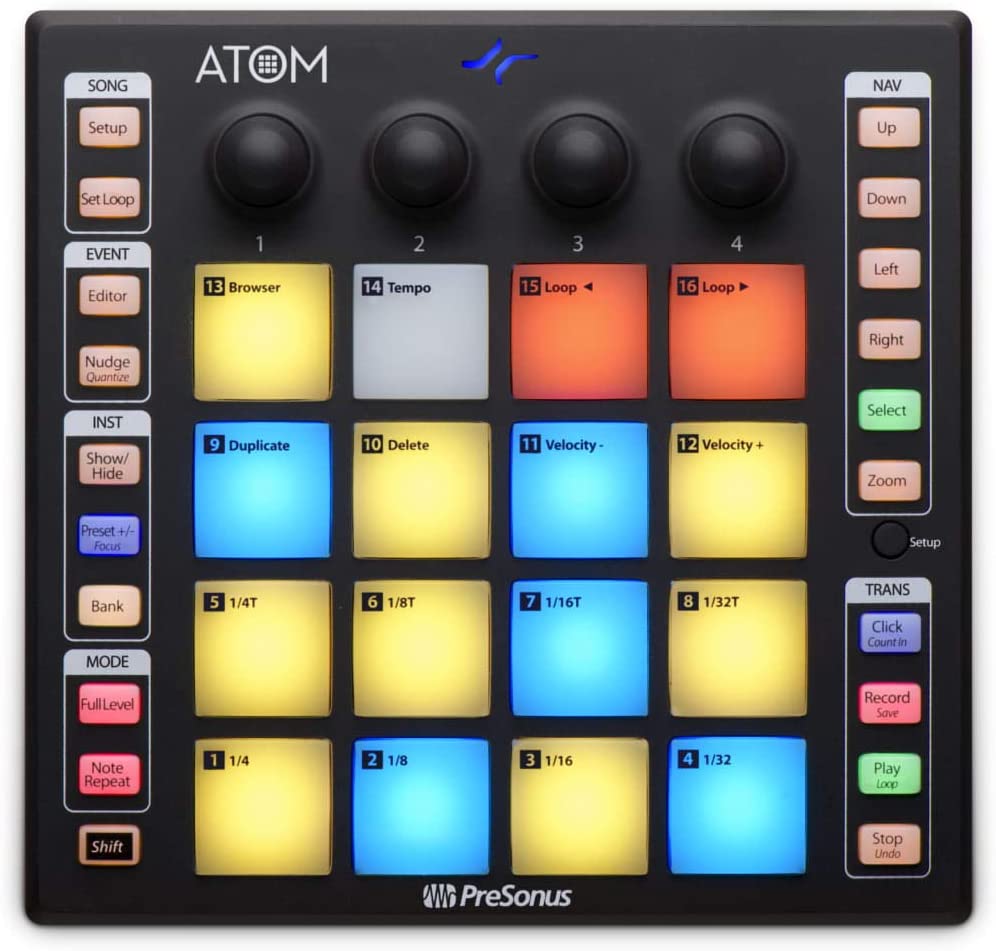 MIDI drum pads are a type of MIDI controller that are specifically designed to provide a tactile method of sequencing drums or other samples. Nearly every MIDI drum pad controller has 16 pads arranged in 4 rows of 4 pads, and most are touch-sensitive. They are typically lightweight, portable, and have a small footprint for ease of portability and storage. Most MIDI drum pads are powered via USB, making them ideal for use with laptops and in live setups.
What Features Should You Look for in MIDI Drum Pads?
Though there are a lot of features that most MIDI drum pad controllers have in common, there are also many differences which lead to a wide variety of price points among them. Let's take a look at these differences:
Drum Pad Types
Obviously MIDI drum pad controllers have drum pads, but what kind of drum pads do they have? Are they touch-sensitive for sending velocity information to your DAW? Are they backlit for visual feedback, and do they have multi-colored backlights for an at-a-glance color-coded view of how they are mapped to a kit? Also, how many pads does it have, and how easy are they to map?
Faders, Rotary Encoders, and Transport Controls
Many MIDI drum pads are designed to act like a MIDI control surface in addition to their drum pad functions. To that end, many have knobs, rotary encoders, faders, transport controls, X-Y pads, DAW navigation controls, or other features commonly found in MIDI control surfaces.
Banks and Modes
MIDI drum pads are mapped to individual samples or loops in groups known as banks. A MIDI pad controller with three banks, for example, would have access to three unique mappings with a touch of a button. This is particularly useful for live situations where you can preload multiple banks of samples, then quickly change between banks for playing different combinations of samples.
Many MIDI drum pads also have modes like full velocity or note repeat that modify how the MIDI signal is sent. Full velocity disables touch sensitivity and makes each hit play at full volume, while note repeat allows for doubling or tripling notes.
Bundled Software
The biggest single influence in the price of most MIDI drum pad controllers is the bundled software. Many are packaged with sample libraries, DAWs, or entire software suites for sampling and virtual instrumentation that integrate with displays on the unit for easy control without picking up a mouse.
External Connections
Some drum pads have a single USB connector for sending MIDI messages, while others act more like an audio interface and have microphone connections, MIDI ports, and headphone jacks. This kind of drum pad is suited not only for the home studio, but for portable or live applications as well.
Best MIDI Drum Pads Under $150
The MIDI drum pads in the lowest price range may not come with as much software or have as many bells and whistles, but they are all good for the main goal, which is getting the MIDI messages into the box reliably. Some do come with decent starting software and have some nifty control surface features that save some desktop space as well:
(Please note that since studio gear goes in and out of stock frequently due to high demand and low supply, prices can and will vary. If the listed price for an item doesn't fall within the category I've placed it in, it's likely because it's out of stock. In that case, you may want to seek out another vendor, pick a different item, or wait until the one you want is back in stock.)
KORG nanoPAD2
If space or budget are your primary concerns, take a look at this slim-line MIDI drum pad controller from KORG. The nanoPAD2 has no bundled software, but does have sixteen velocity-sensitive pads and a very nifty X-Y touchpad controller that is great for controlling synth oscillators or multiple controls at once. The X-Y pad also can be mapped to a scale using the scale buttons and played like an instrument in a particular key. Four switchable banks let you change pad assignments on the fly, and a built-in arpeggiator gives you note repeat options.
AKAI Professional MPD218
I finally took the plunge into MIDI drum pads a few years back, and the MPD218 was the unit I chose. This MIDI pad controller from AKAI features sixteen touch-sensitive pads and six rotary encoders arranged into three banks each, as well as note repeat and full level buttons for extra performance options. Comes with a copy of Ableton Live Lite, SONiVOX Big Bang Universal Drums and Big Bang Cinematic Percussion, plus the AKAI MPC Essentials software (though admittedly I've hardly used any of them and stuck mostly with my preferred drum virtual instrument plugins thus far).
PreSonus ATOM
PreSonus' ATOM has similar features to the AKAI unit, but adds RGB-backlit pads arranged in eight banks, and only has four assignable knobs. Also, the ATOM has a lot more function buttons for DAW transport and navigation in addition to the full level and note repeat options. Includes PreSonus' Studio One Artist, which by itself retails for $99, and a copy of Ableton Live Lite.
Novation Launchpad X
The Launchpad series from Novation is designed from the ground up for use with Ableton Live, so if you're on a different DAW you can still use it as a basic MIDI controller but won't be able to do any of the niftier functions like playing whole groups of samples with a single button unless you add other software or do a whole lot of intense MIDI mapping. That said, you'd be hard-pressed to find another MIDI drum pad setup with 64 velocity-sensitive RGB backlit drum pads at this price point, and it comes with a copy of Ableton Live Lite for using the Ableton-only functions. In addition, the Launchpad X has 16 other mappable buttons for navigation, transport, and other functions. Novation also makes the Launchpad Mini, which does not have touch-sensitive pads, or the Launchpad Pro, which for a few hundred more comes with track-level controls, double the banks, and MIDI ports for chaining to other gear.
Best MIDI Drum Pads Under $300
As we step into the next pricing tier, these MIDI pad controllers have more features for controlling your DAW and effects in addition to drum pad input:
AKAI MPD226
Take the same features of the MPD218, add four faders and rotary encoders, RGB backlights on the pads, plus an extra bank, and you've got the MPD226. With all of these additional features plus transport and navigation controls, LCD display, and tap tempo, it could easily be used as both a drum pad and control surface for smaller projects.
Arturia BeatStep Pro
Arturia is a well-known name in the synth community, and their BeatStep Pro is the perfect marriage of newer digital gear standards and Eurorack-style synth setups. The 16 velocity-sensitive drum pads and 16 rotary assignable knobs are just the beginning, as it also includes a complete drum machine setup with 16- to 64- step drum sequencer, two sequencer outputs, and eight drum gates for hooking up to external synth gear. If you have a Eurorack synth setup or are thinking about getting one in the future, this might be your best option for MIDI drum pads.
Native Instruments Maschine Mikro MK3
Native Instruments' Maschine series are designed from the ground up to act as multi-track samplers. Using the included Maschine Essentials software, you can chop and screw beats and samples directly from the unit for nailing down the perfect loops. It also has 16 touch-sensitive drum pads with RGB backlight and a whole lot of buttons. A friend of mine has a Mikro, and I was absolutely blown away by the software suite as well as the standalone functionality of this 16-pad unit. He wasn't using it with a DAW, yet producing some very cool chop-and-screw beats from old records. Paired with a modern DAW, this thing is unstoppable.
Best MIDI Drum Pads Over $300
As we move along into the top price ranges for MIDI drum pads, these options aren't just MIDI accessories, they're also standalone units that can be used without a computer or any other gear:
Native Instruments Maschine MK3
The Mikro's big brother, the Maschine MK3, comes with a huge LED color screen, nine rotary encoders, a ton of buttons, and the same chop-and-screw abilities. It also comes with a copy of Native Instruments KOMPLETE 11 Select, which is an enormous 25GB plugin suite full of virtual instruments. For the price tag, Native Instruments built in MIDI ports and line ins and outs that may be enough connectivity for EDM musicians or beat makers, alleviating the need to purchase a separate audio interface.
AKAI Professional MPC One
The AKAI MPC One is a standalone drum machine and sampler which can also be used as a MIDI drum pad. The huge 7″ LED touchscreen lets you craft complete beats and pull samples using the stereo inputs on the rear of the unit, or import samples from computer or USB thumb drive. The MPC One also has drum gate outputs and MIDI in and out for hooking up to external synth setups. Like the Maschine, it can be used as a simple audio interface for those who don't want to buy a separate one.
Best MIDI Drum Pads for Home Studio 2021 – The Bottom Line
There it is, a list of the best MIDI drum pads for your home studio according to numerous reviews and input from our Home Studio Enthusiasts Facebook group. If you're not sure which MIDI drum pads to go with, feel free to ask questions in the group, we're here to help.