If you enjoy this review and decide to grab the deal, please consider clicking through one of my links before you buy. I earn a small commission at no cost to you, which helps support this site and keep the reviews coming. Thanks!
If you watched much live music in the early 2000s, there's no doubt you saw many a solo performer using a looper pedal to create their own unique backing tracks in real-time. MeldaProduction has recently released MSuperLooper, a multitrack looper plugin, which aims to bring that signature looper sound to your DAW. Today we're checking out MSuperLooper, running it through its paces, and deciding whether it's a good fit for the home studio.
Looks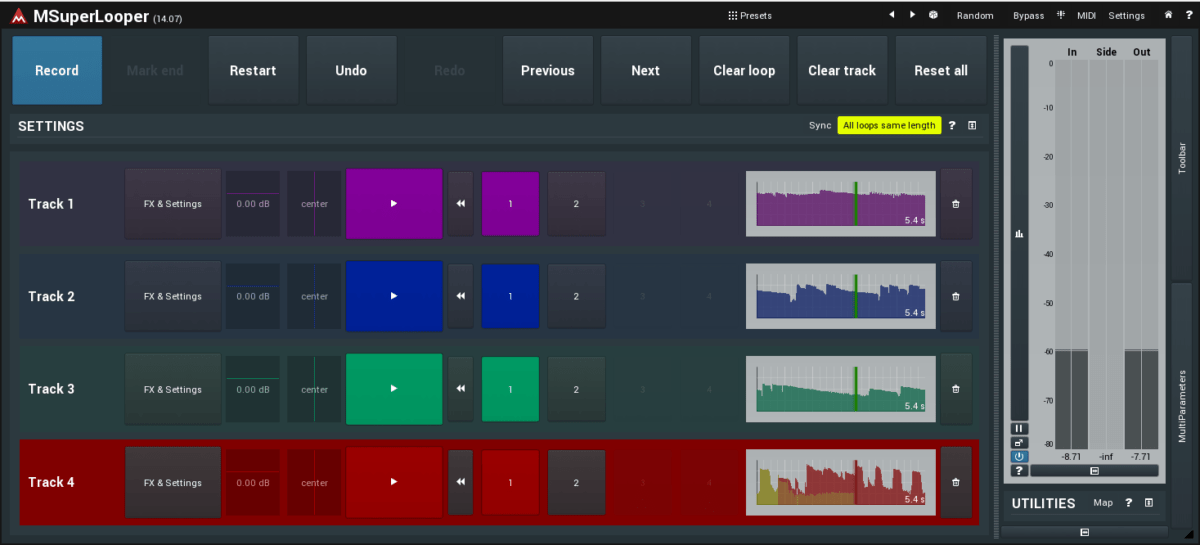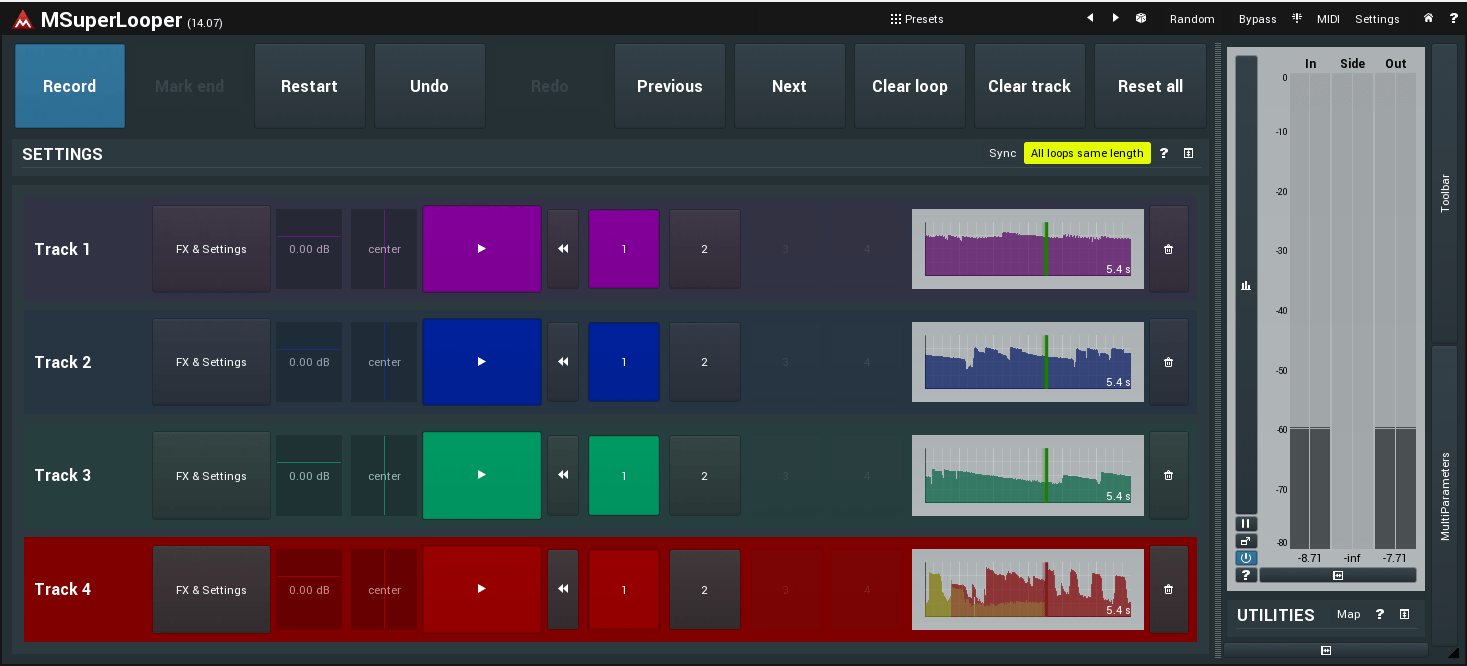 MSuperLooper has the signature MeldaProduction dark grey motif, with colorful buttons and toggle-able sections that change the plugin window size when you click them. Users can choose between a dozen additional skin options as well, with options like "Woody" and "Artillery." Below the top menu is a play head with large buttons, then a toggle-able settings menu with quick access to effects and track options. By default, four loop tracks are displayed, but you can set any number between 1 and 16, each with its own independent effects, volume, pan, play toggle, and reverse. Each track can house four different loops, bringing the total to 64 loops that can be recorded and played back. The Utilities section on the far right has metering, toolbar, and multi-parameter fold-out windows.

Features
Similar to MSoundFactory, another Melda plugin which I recently reviewed, Melda has thrown in everything but the kitchen sink into MSuperLooper. I'll do my level best to summarize everything without writing a novel.
Playhead and Settings

If you ever played around with a looper pedal, you'll instantly recognize most of the controls on the play head in MSuperLooper. Hit Record, then play or record in your DAW to start recording the first loop. The Autostart setting makes this incredibly easy by responding to a preset signal level threshold at which to start the recording. Once the first loop is in, hit Mark End to stop recording, or Next to stop and move to the next track. Next will also add more tracks if you've run out of room. Mapping to a MIDI device, especially a fancy outboard MIDI pedal, makes controlling this plugin a breeze. I routed my sustain and volume pedals for my MIDI keyboard to Record and Next and was quickly up and running. The other buttons include Undo, Redo, Previous, Clear Loop, Clear Track, and Reset All. (It's been a few years since I tried loop-based recording, so I became quite familiar with Reset All in short order.)
The Settings include Dry, Dry FX, and Wet, which controls the signal into the plugin, then in and out of the effects loop. Overdub level sets how much extra oomph is added when recording over an already-recorded loop, while Crossfade provides a short fade in and out to smooth out loops. Autostart, which I mentioned already, was the real winner of the Settings, as this feature made for a lot fewer frustrating smacks of the Record button to get the loop started at the right moment. The Settings also have Sync to the DAW global tempo, and an All loops same length toggle that you can turn off and get real weird with it.
Loop Tracks

The loop tracks house up to four loops each, which can be recorded then toggled to create numerous variations. There are an effects window (see next section), volume, pan, play toggle, reverse toggle, and a trash can icon for starting an individual loop over. The loop waveform display has a play bar that travels right to left to show progress on the loop, which is extremely helpful for triggering loops on different cadences.
Effects Settings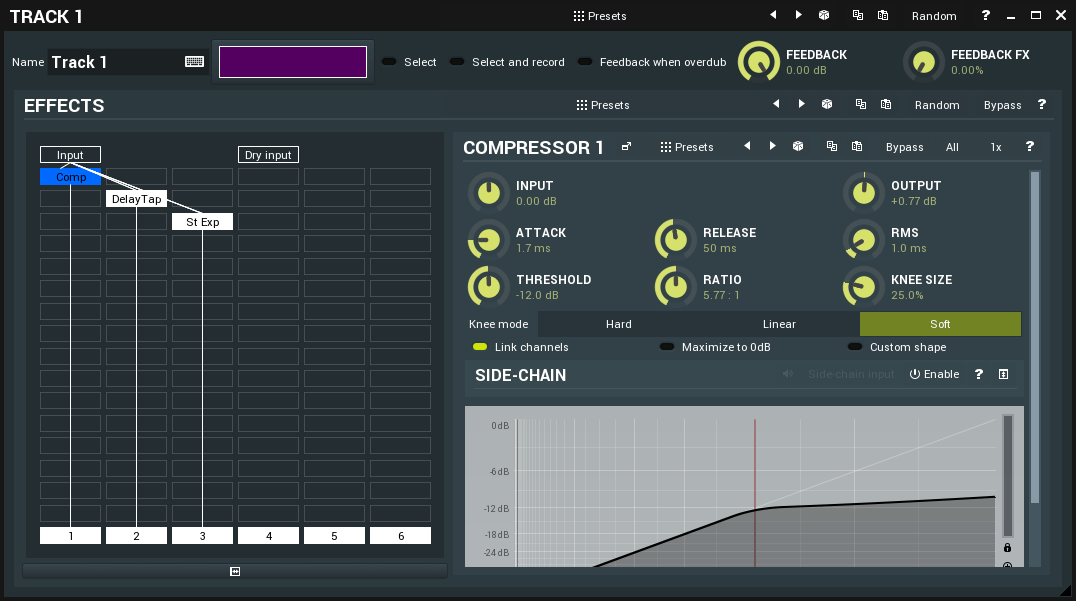 Each one of the individual loop tracks in MSuperLooper, up to 16 in total, have their own effects. Any one of your installed MeldaProduction effects can be activated from this window and chained through an input matrix. Clicking on any of the effects brings up the effects controls on the right side of the screen. Any presets you've saved for your other Melda effects can also be accessed from this window, and similarly, presets from MSuperLooper can be accessed from many of your other Melda plugins.
Meters, Multi-Parameters, and Toolbar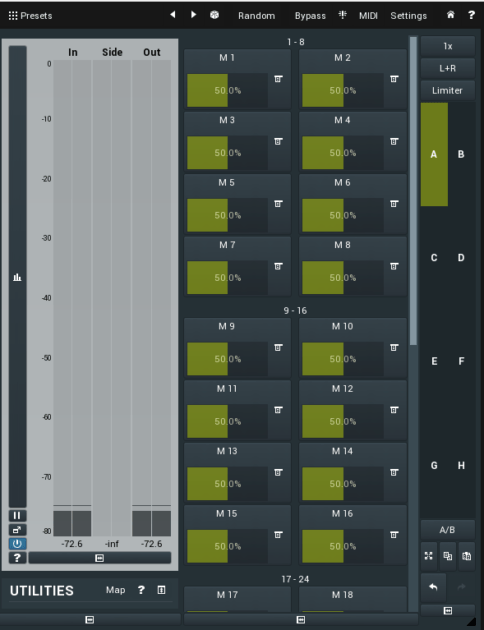 On the right side of MSuperLooper is a toggle-able stereo and mid/side meter and toolbar. The meter can be changed to a histograph, and the toolbar allows the loading of up to eight presets at once, undo/redo, copy/paste, A/B, Stereo toggle, Oversampling, and built-in Limiter. There is also a Multi-Parameter control that allows control of multiple parameter settings from one control, like a MIDI mapping inside the software itself. This is useful for moving the dry and wet at the same time, for example.

Usability
Like every other MeldaProduction plugin I've used, MSuperLooper has an extreme depth, which means there's a bit of a learning curve at play. The manual is 107 pages, however, and covers every single button and setting in the plugin, so users aren't left up a creek without a paddle. The large buttons lining the top, paired with the easy MIDI learn, makes getting up and running fairly easy. The size of the play head buttons is a great feature for users with touchscreens.
I found the real usability in MSuperLooper to be quickly fleshing out song ideas. Playing with a looper forces you to think about leaving space for layering, which is an important part of creating a diverse and sonically rich mix. I found that new ideas sprung out of me when using this plugin in a way that I'm not used to, and I totally dug it.
There are, however, a few marks against MSuperLooper in terms of usability I would be remiss if I didn't point out. For one, MSuperLooper only records when playback or record are started in your DAW, which to me is a strange feature considering that the plugin doesn't print anything to the track. None of the other loopers I've used, like the one built into Positive Grid BIAS FX 2 for example, require you to hit play in your DAW to record in the looper. Secondly, I feel that as a plugin that is designed mainly for live performance, MSuperLooper should have a standalone option, especially since it doesn't really interact with the DAW at all from what I can tell. Finally, I am puzzled as to why a plugin with such rich effects, panning, and infinitely variable looping capability doesn't have the ability to either print to the track in your DAW, or export a completed loop session as a WAV mixdown. There is an export feature, but it exports individual stereo WAVs for each track and doesn't print any of the effects or other settings on the exported files. This was particularly frustrating when trying to create a sample for this review, since I basically had to start from scratch and recreate in my DAW with the raw WAV files what I had made in the looper.

Hear it in Action
Below is a sample of MSuperLooper in action. This is just three simple guitar loops recorded one after another in MSuperLooper, with stereo delay, compression, and panning tweaked after the fact to create a wide stereo space:
MeldaProduction MSuperLooper Review – The Bottom Line
In terms of value, MSuperLooper is a feature-rich plugin with more individual control over your loops than any other I've tried. The ability to delete individual loops and tracks while retaining the rest is unique, and the Autostart and easy MIDI learn features make nailing down perfect loops far easier. To me, this justifies the slightly higher price than other competing products, earning the plugin full marks for value.

If you love the sound and feel of a looper pedal, MSuperLooper takes that same functionality and kicks it up a notch with individual loop- and track-level control. The ability to add track effects, volumes, panning, reverse, and store up to eight fully completed loop sessions in memory makes this far more useful than a simple looper pedal. I could easily see MSuperLooper becoming an essential part of a DAW-based live rig, especially when paired with a good MIDI foot controller and/or control surface for extensive mapping. In the studio, MSuperLooper is a powerful songwriting tool that can inspire lots of ideas in short order. In conclusion, I give MSuperLooper 4.5 out of 5 stars and my recommendation for live performers and songwriters as a fun and stimulating looper tool. I can't wait to see what Melda does with this plugin in future versions.

---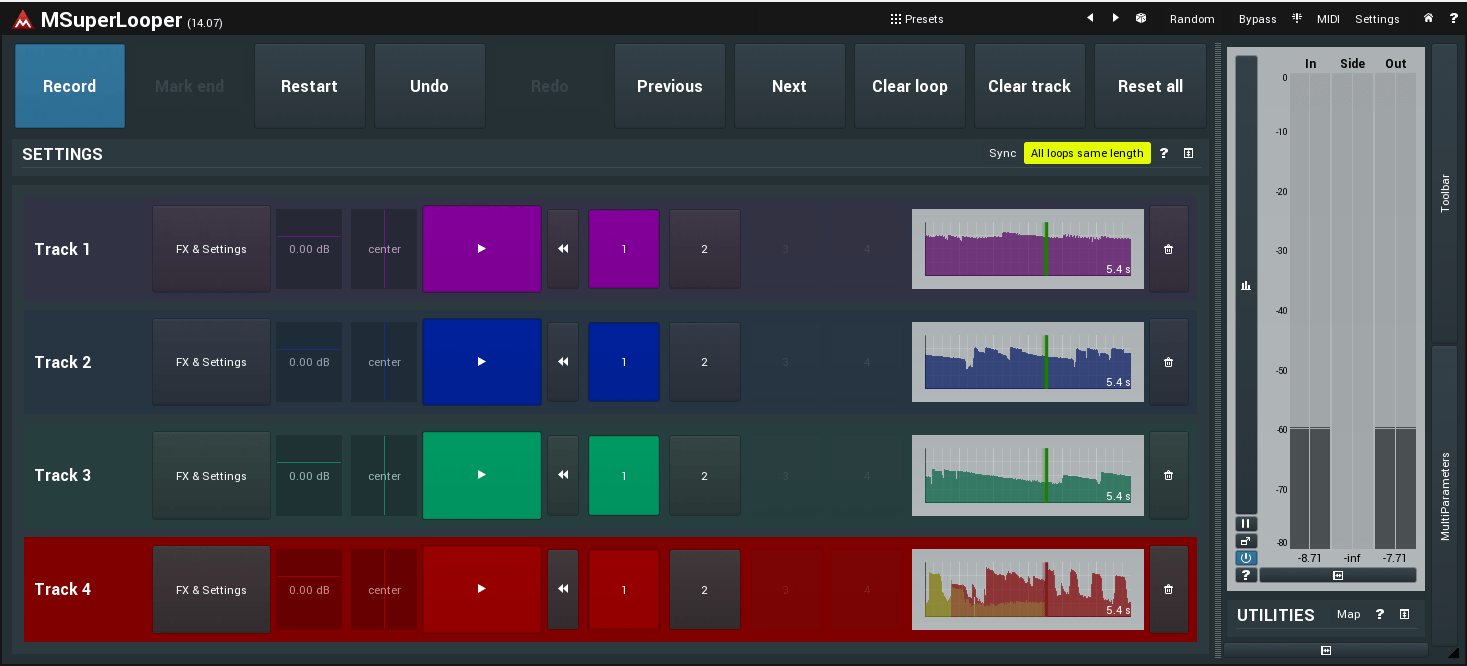 A unique multi-track looper plugin with up to 16 tracks and individual pan, volume, and effects.