If you enjoy this review and decide to grab the deal, please consider clicking through one of my links before you buy. I earn a small commission at no cost to you, which helps support this site and keep the reviews coming. Thanks!
In this, our last iteration in our five-part journey to find the best electronic piano plugin, I'll be taking a look at one final entry: SONiVOX Eighty Eight Ensemble. At the most affordable retail price of the bunch, how will the offering from SONiVOX fare? Let's explore.
Looks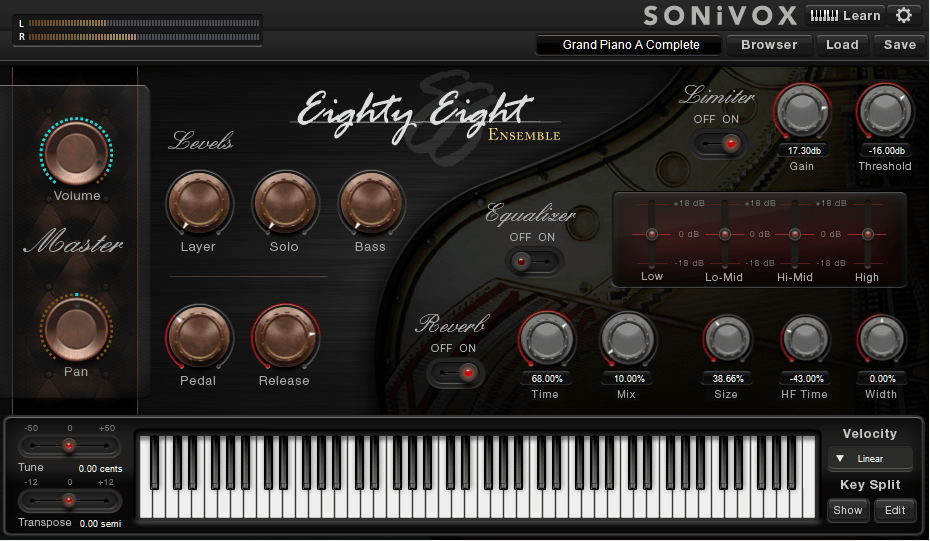 SONiVOX Eighty Eight Ensemble opens to an interface full of large buttons and sliders grouped into five sections: Master, Levels, Limiter, Equalizer and Reverb. Above the controls is a menu bar with meters, preset browser and menu, and below is a full piano roll with tuning, transposition, velocity and key split options. At a glance, all of the controls are readily available and well laid-out in an elegant and clean-looking interface.
Features
Besides the expected piano functionality and associated controls, SONiVOX Eighty Eight Ensemble comes with a bunch of additional samples. Let's take a look at all of the features.
Preset Browser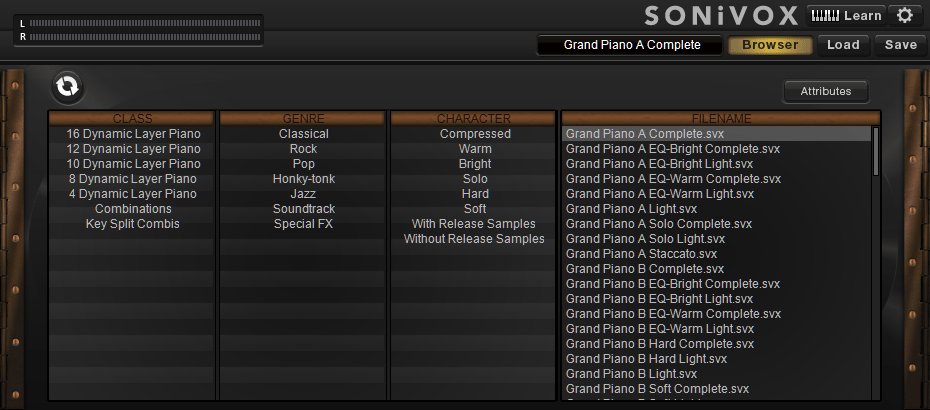 SONiVOX Eighty Eight Ensemble features over 100 presets arranged by Class, Genre and Character. In addition to the 50+ piano-only presets, there are also 50+ presets which include a variety of additional instruments, which we'll discuss in the next section. The Classes include 4, 8, 10, 12 and 16 Dynamic Layer Piano, Combinations, and Key Split Combinations. There is nothing in the manual or on the SONiVOX website that says precisely what the "Dynamic Layers" are, but the 4-layer sounds not too great and the 16-layer sounds awesome, so I'm guessing the plus means better. Along the top bar there is also a stereo meter, MIDI learn, settings menu and preset load and save buttons.
Pads and Combinations
One of the coolest and most unique features of SONiVOX Eighty Eight Ensemble are the Pads and Combinations. Along with the piano samples, there are choirs, pads, strings, synths, wind and brass instruments and several guitars and basses. Loading a Combination or Key Split Combination preset loads up the additional samples, with as many as four available at the same time. Using the Key Split controls, you can set which ranges on the keyboard respond to which samples. This added bit of functionality expands the usability of this plugin exponentially, as it opens up a whole different level of sounds which are available. I would have preferred that each instrument be individually selectable instead of being tied to certain presets, and I have several other issues with the usability that I will mention below, but for the extremely low price of this plugin I still consider the Combinations to be a value-add.
Master and Levels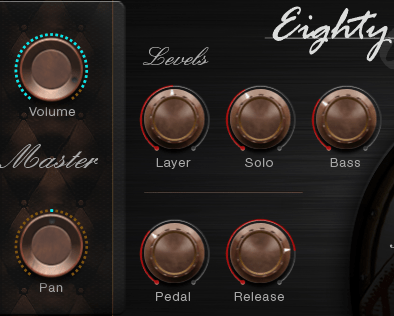 The Master and Pan controls in SONiVOX Eighty Eight Ensemble are fairly straightforward, as are the Pedal and Release. I preferred the Pan set to dead center and the Pedal and Release at about 35% and 50%, respectively. The Levels knobs control the Combination presets: Layer blends in the additional samples such as choirs or synths, Solo sets the volume of the main layer, and Bass controls the lower layer. The Levels knobs only function in certain presets, and don't function at all in the main piano patches.
Limiter and Equalizer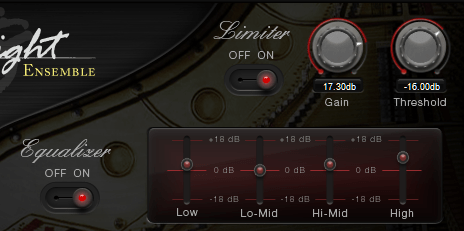 Eighty Eight Ensemble's Limiter is a useful tool for getting the right amount of compression and gain out of your track without adding in an additional dynamic plugin. The controls consist of a Threshold and Gain; I preferred it kicked on at -15dB Threshold and about +15dB Gain when used as a solo instrument. Unfortunately there was no hard limit, so I still had to manually ride the gain to keep the plugin from clipping as I changed other settings. The Equalizer is a powerful 4-band graphic EQ with Low, Lo-Mid, Hi-Mid and High parameters with a -18 to +18db range. I enjoyed a slight boost in the Low and Hi-Mid and a little more dramatic boost in the High, with a very slight cut in Lo-Mid.
Reverb

The Reverb control in SONiVOX Eighty Eight Ensemble is limited to a single model, however the controls allowed me to dial in both short and large, expansive reverbs. The controls include Time, Mix, Size, High Frequency Time and Width. I preferred a roughly 16% Mix at around a 25%-30% Size, with a 40% time, 80% HF Time and about 50% width. This created a nice medium room reverb that wasn't too boomy or obtrusive.
Tune and Transpose
SONiVOX Eighty Eight Ensemble comes with tuning and transposition controls for quickly adjusting the output of the plugin to match performances on other tracks in different keys or relative tunings. Since I was playing it as a solo instrument I left both at dead center, but I did take a minute and use it to match to a separate guitar sample recorded in a different key to test the functionality and it worked well.
Velocity and Key Split

The Velocity control has seven settings. In order of relative increase or decrease, they are: Softest, Softer, Soft, Linear, Hard, Harder, and Hardest. I enjoyed the sound of my pre-recorded MIDI best at Hard, but all of the settings worked as expected when tested. The Key Split has two buttons, Show and Edit, and allows for both display and editing of the Key Split for Combination and Key Split Combination presets. (Though the manual specifically states "You can use Key Split only when using a Patch with Key Split Combis Attribute," I was able to set a key split on Combination presets as well by placing the mouse on the right or left edges of the piano roll while in Edit mode.)

Usability
All of the controls in SONiVOX Eighty Eight Ensemble are easily accessible, and I found it extremely easy to dial in a stunning piano tone. There are several issues with this plugin from a user experience perspective, however, which I cannot overlook.

For one, the Preset Browser allows you to select options that yield no results. From a user experience perspective, it's a little janky. For example, if you select a preset Class, then select a second Class without deselecting the first, it shows no results. Simply graying out invalid selections, showing all options that fall under both classes, or allowing one-click switching between opposing options would be far better. Also, the Browser completely covers the controls, making it impossible to see what changes two similar presets are making without closing out of the browser. There should be an option for a small drop-down menu, or perhaps an A/B functionality.

Secondly, the Levels section in SONiVOX Eighty Eight Ensemble contains three knobs – Layer, Solo, and Bass – that only work on certain presets but provide no user feedback as to whether they are functioning with the loaded preset. If you select one of my favorite presets, Piano Strings 1, the Layer knob adjusts the level of the string samples, however the Solo and Bass don't do anything. For the Piano patches, these three knobs don't do anything at all. Graying out those knobs when they're not in use would save the user a lot of frustration and/or confusion.

Finally, when using a key split patch, the neighboring patch doesn't automatically slide when you adjust the split, meaning that actually using the key split functionality requires graphic designer mouse precision if the split is near a black key. There should be a toggle for slide or manual overlap built into the UI. Also, I really would have liked to have a caret or some other delineator above the piano roll when in Key Split Edit mode, because grabbing the controls or telling which samples were loaded onto which keys via color blending alone was difficult to the point where I would often blow up all of my changes and start over if I couldn't make it do what I wanted.

Though none of these issues affect the overall sound of the plugin and they have mostly to do with the added samples and not the main piano functionality, I do feel it appropriate to deduct two stars from Usability. The plugin is advertised as an Ensemble product, however the Ensemble features leave very much to be desired in terms of usability. Making changes to fix these issues would make a huge difference in the overall workflow and the usability of the additional sample features.
Hear it in action
Below is a demo sample of SONiVOX Eighty Eight Ensemble with a custom preset. I started with the Grand Piano A sample set and tweaked with the settings listed in the Features section above.
(To keep things as fair as possible in this piano plugin review series, I am using this same MIDI file for each of the plugins I review. I apologize in advance, as clearly I'm not a concert pianist.)
SONiVOX Eighty Eight Ensemble Review – The Bottom Line
With the lowest retail price of all of the piano plugins I've reviewed, it's impossible not to view SONiVOX Eighty Eight Ensemble as a five-star value. The piano tones are wonderful and realistic, and there is a lot of additional functionality available via the Combination presets if you're willing to put up with some usability concerns.

With all of the features I expect from a piano plugin at this price point and some fun additional sounds to boot, Eighty Eight Ensemble has earned a 4.5 out of 5 stars in my review, and a wholehearted recommendation for those looking for a piano plugin on a budget.

---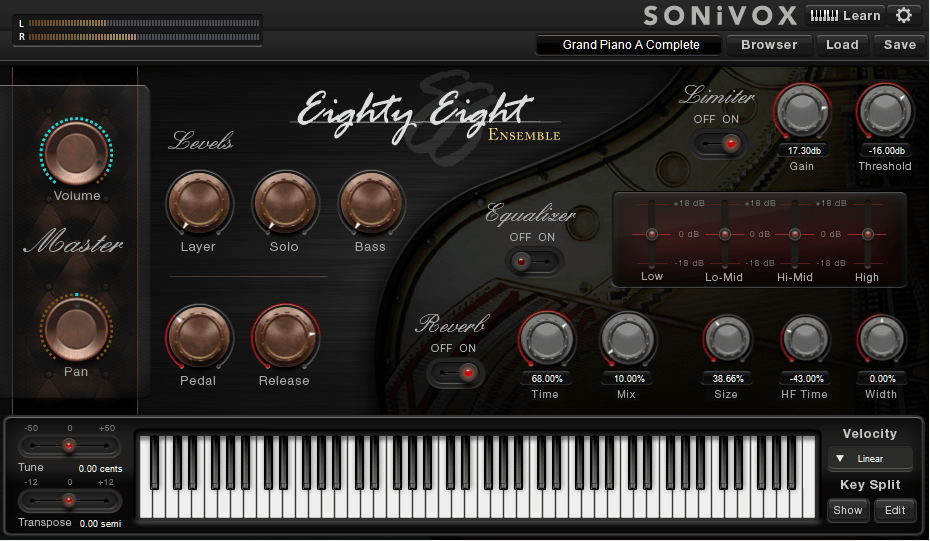 Wonderful and realistic piano tones plus a ton of additional ensemble functionality.