If you enjoy this review and decide to grab the deal, please consider clicking through one of my links before you buy. I earn a small commission at no cost to you, which helps support this site and keep the reviews coming. Thanks!
United Plugins and JMG Sound just released another plugin, this time a stereo width "psychoacoustic processor" called Expanse 3D. I took their newest offering for a spin to help you decide if it's a good choice for your stereo mixing and mastering needs in your home studio. Watch the video here, then find out even more about Expanse 3D in the paragraphs below:
---
Looks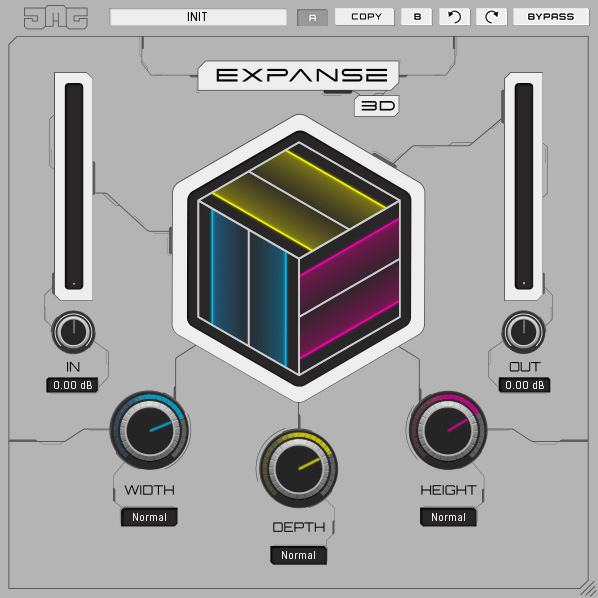 Expanse 3D has a squared, medium-gray backdrop with nifty futuristic circuit board design between the controls. In the middle is a colorful cube with three exposed faces, with a blue, yellow, or magenta gradient that adjusts based on the setting on the three main knobs. Flanking the cube are two input and output meters and gain controls. At the top is a toolbar with preset loader, A/B, undo/redo, and bypass. Simple in form and function with a fun, unique look make for a solid beginning to this review.

Features
Let's take a look at various knobs and the modes do in Expanse 3D:
Width, Depth, Height, and Gains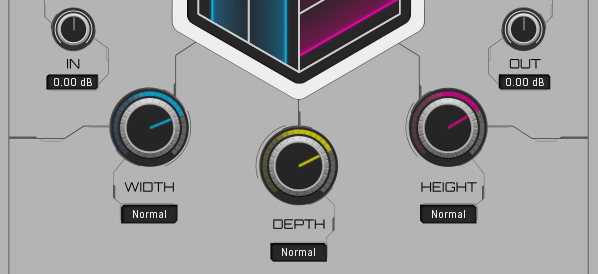 The bulk of the controls in this plugin are in the three main knobs: Width, Depth, and Height. Width uses spectral phase processing to create width in the stereo field. Depth deploys what JMG Sound refers to in the manual as "a psychoacoustic effect," and is a series of very short delays designed to increase the "space" in the input sounds without washing out the sound like a reverb would. Height uses the way your brain converts sounds – high frequencies above you and low frequencies below – and effects the signals by extending the lows and highs to increase the "size" of the input signal.
Each of the three knobs has a menu below it which gives you access to additional processing modes. The Width modes are Normal and Alternate, with both normal and inverted flavors of each for a total of four modes. This is useful for using different phases for different instruments in the same frequency ranges to make them pop better in the widened stereo field. The Depth modes include Normal, Tight, and Deep, which varies the delay times. The four Height modes are Normal, Extended Low, Extended High, and Extended Low and High, which extend the range of the Height control accordingly.
There are two gain controls, both input and output, which can be tuned using the meters. In the right-click menu is a Link control which allows you to inversely vary them both when you adjust either knob.
Toolbar with Preset Loader

Along the top of the plugin is a preset loader that comes with 19 factory presets. With names like "Guitar" and "Master," the presets are calibrated as starting points for various sources and tasks. There are also A/B controls with copy, undo/redo, and a large bypass button.

Usability
Though simple in operation, Expanse 3D has a lot of depth to its controls (pun intended). By slowly turning any of the three knobs a whole world of "psychoacoustic effects" are unlocked. The intelligent design of the Width control keeps the bass frequencies tight while widening highs and mids, and the Height is just plain addictive as it adds rich harmonics and soft saturation in addition to making everything sound huge. The Depth adds a pleasant room-reverb-like quality that doesn't push the sound back in the mix, leaving the mids clear and present. The Mode controls bring forth a ton of versatility for deploying multiple instances of Expanse 3D throughout your mix, as well as making sounds even more massive for just the right applications.


Hear it in Action
To hear the absolutely immense difference this plugin makes with just a few twists of a knob, listen to these two samples, starting with the before:
Now, hear the same exact track with Expanse 3D on the top of the mastering chain with all three knobs set to around 60-75% and in normal mode:
United Plugins Expanse 3D Review – The Bottom Line
Full transparency, when I first saw the simplicity of the controls in Expanse 3D I fully expected to be underwhelmed in terms of value. I mean, how much wiggle room could their possibly be in a stereo width plugin, and why would I want to shell out the full retail for three knobs? As stated above, there's actually a ton of depth to those three knobs, making Expanse 3D a new favorite for me among a whole galaxy of stereo width plugins and easily worth the price of admission.

Overall, Expanse 3D is an extremely easy to use and versatile plugin that is way more than the sum of its parts. There isn't a single source I can think of that wouldn't benefit from adding one or more of its three dimensions, and I'm certain that it will find its way onto most if not all of my tracks going forward. In summary, I give Expanse 3D an enthusiastic five stars and my full recommendation.

---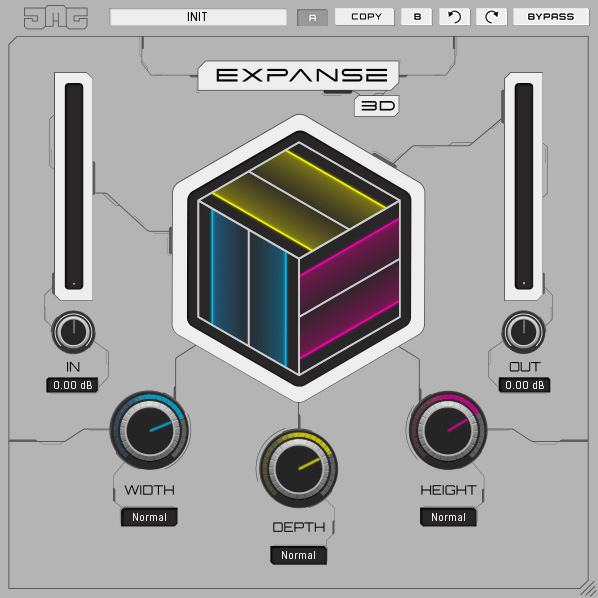 Stereo width "psychoacoustic processor" plugin with Height, Width, and Depth controls and numerous modes for mixing multiple sources as well as mastering.